2023 Holiday Wine Gift Guide
Buying gifts for wine lovers isn't easy, so we asked the pros for inspiration. From the perfect wine opener to camping-friendly glassware, these wine gifts will make wine enthusiasts giggle with glee.
By the way, when it's possible, we link wine gifts using an affiliate link. It gives the team a small kickback when an item gets purchased. Hope you enjoy!
---
This Stuff Is the Best
$11.50 – Chateau Spill 4 oz (Pack of 3)
A while back we asked Harry Smail, the creator of Chateau Spill, why it's so magical. Here's what he said:
"Basically surfactants are "dissolving" the stain causing molecules by coating them and keeping them out of the fabric. The immediate effect is the surfactant almost "popping" the stain molecule so it breaks down. "
---
Keep The Party Going
$11.99 – Rabbit Wine Charms Bottle Stopper
You'd be surprised with how often wine glasses get mixed up in a group setting, so having some wine charms close by is a great idea. Rabbit has been making elegant tools for wine enthusiasts since they invented the Rabbit corkscrew in 1983.
---
Yes to Hiking With Wine
$12.95 – Platypus Portable Wine Bottle
As it turns out, the only thing not camping-friendly about wine is the bottle. This USA-made pouch will safely hold your favorite bottle preserving the flavor with a food-safe lining.
---
The Perfect Polish
$14.99 – Wine Folly Microfiber Wine Glass Polishing Cloth
Keep your wine glasses, eyewear, and lenses sparkling for years to come with this extra-large microfiber polishing cloth. The large size keeps your hands from putting smudges on your glassware.
---
Keep the Sparkle Alive
$14.99 – WAF Patent Champagne Stopper
Hands down, this is the best Champagne wine stopper you can buy. The WAF patented design makes opening and closing a bottle of bubbly a one-handed operation that won't ever pop off. Great for home or restaurant use.
---
Corkscrew Invented by a Winemaker
$19.99 – Coutale Wine Opener
We searched the world for the best sommelier's opener and found it in Southwest France. Designed by the proprietor of Clos La Coutale, a Malbec winery in Cahors, who also happens to be an inventor.
---
The Crowd Pleaser
$22 – Kendall-Jackson "Grand Reserve" Chardonnay
Proud Sponsor! Win hearts at the dining table with classic California coastal Chardonnay. This bottle consistently delivers all the things we look for – it's toasty and creamy with pineapple, lemon curd, and a rich palate of crème brûlée. Use WINEFOLLY for free shipping over $75.
---
No More Broken Corks
$23.99 – Westmark "Monopol" Wine Opener
This is a particularly good find for a wine collector who may have older bottles hiding in their cellar. The 2-prong design never stabs the cork allowing you to slide the cork out without damaging it. A must have for the starter-somm.
---
Find All the Flavors
$24.99 – Wine Folly Aroma Chart Set
Improve your palate and tasting repertoire with this helpful guide arranging common wine aromas by the style. The set includes cards for red, white, rosé and sparkling wines along with common aroma compounds listed on the back.
---
A Killer Lurks Amongst Us
$25 – Maison Noir Wines T-Shirt
What do you call it when someone drinks a wine too young? Infanticide. And just like that, another vinocide is committed – a murder of passion and lust. Winemaker / Influencer extraordinaire André Mack is the genius behind these geeky wine tees.
---
Take Better Notes
$25 – Wine Folly Tasting Journal
This wine journal helps develop your palate while you log your wine notes. This pocket-sized wine notebook features the 4-step wine tasting method used by professionals.
---
Drink Outside the Box
$25 – Yeti 10 oz. Wine Tumbler
What's the best pairing with a great bottle of wine? An adventure! However, bringing along your best crystalware doesn't exactly sound thrilling (unless you like the sound of breaking glass). For off-piste wine tasting, a Yeti tumbler makes a happy camper.
---
Winecation Inspiration
$25.97 – Bottle Shield Bottle Sleeves
Have a trip in mind? You won't regret packing along a few bottle savers in your luggage when you realize at the end of your trip that you'd rather keep the wine over your dirty travel socks.
---
Pinot my Pinot
$28 – La Crema Sonoma Coast Pinot Noir
Proud Sponsor! This deep-colored Pinot Noir doesn't shy away. It has rich aromas of rich blackberry, red plum, vanilla, and subtle hints of black tea. It's smooth tannins lend a creamy texture on the palate – a taste that La Crema is famous for. Use WINEFOLLY for free shipping over $75.
---
A Taste of True Crime
$29.99 – Vintage Crime: A Short History of Wine Fraud
Vintage Crime delves into the the wine world's dark side including its history of toxic additives to counterfeit bottles. The book brings to life the sly fraudsters from ancient Rome to modern California, and those who've combatted deceit. It's a great read for both novices and aficionados written by Master of Wine, Rebecca Gibb.
---
Drinking Game for the Complex and Nuanced
$35 – SOMM Blinders Game
For each bottle round, each player gets 5 cards and they blind taste a wine. During a turn, players pick a new card and then discard one so that you will always have five cards in your hand. The goal is to match the right cards to the wine.
---
The Right Tool for the Job
$39.99 – Prestige Coutale Corkscrew
This sturdy, wood-handled waiter's friend has the same great French-made quality and ingenious design as the original Coutale but with a classic look and feel. This makes a great gift for a burgeoning wine collector.
---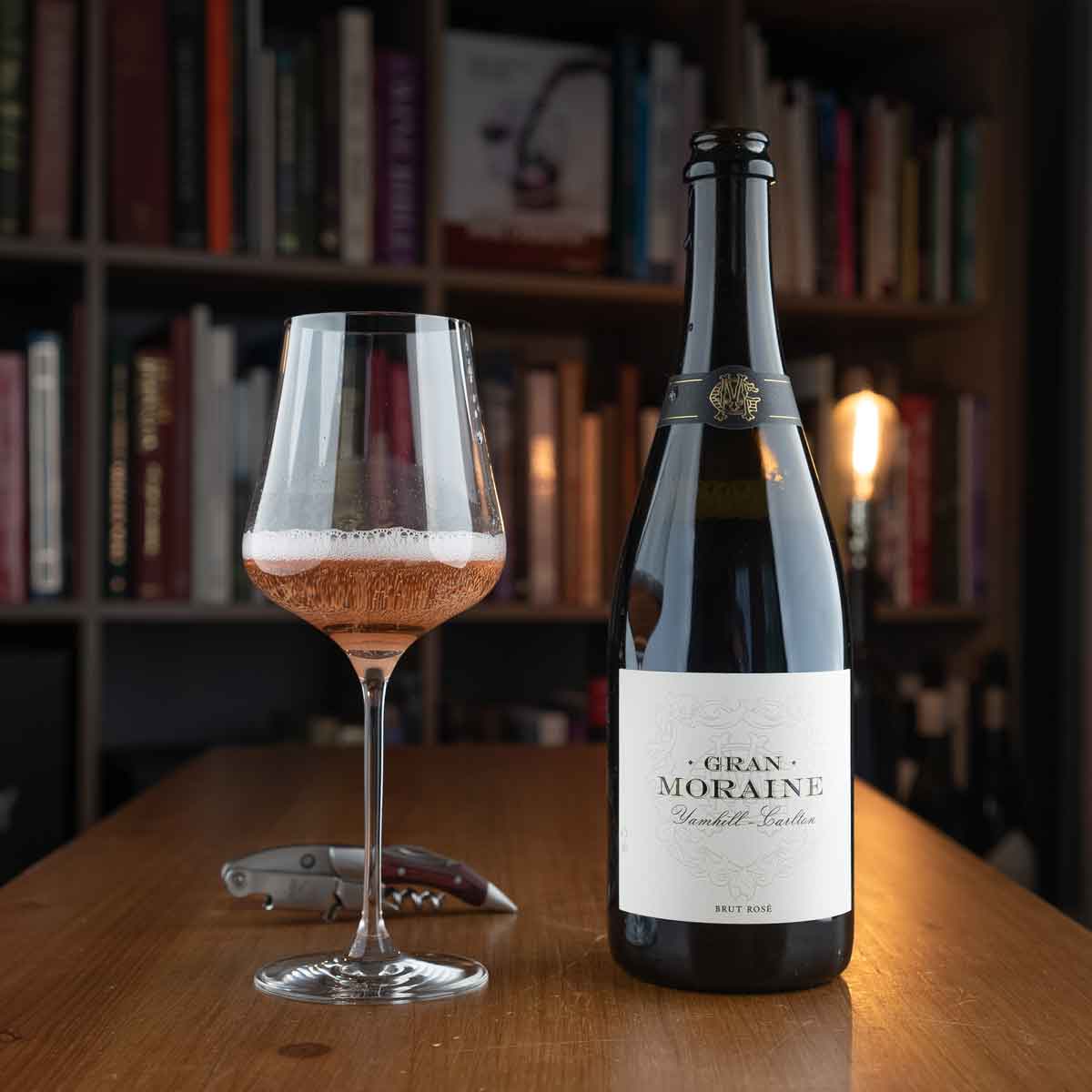 Northwest Rising
$55 – Gran Moraine Yamhill-Carlton Brut Rosé
Proud Sponsor! The Willamette Valley grows world-class Chardonnay and Pinot Noir which just so happen to be the key ingredients in Champagne! This Oregon-crafted rosé sparkling wine leads with 48% Chardonnay, 48% Pinot Noir, and 4% Pinot Meunier. Aromas of raspberries and strawberries support this creamy bubbly. Use WINEFOLLY for free shipping over $75.
---
More of This Please
$57 – Noble Rot Magazine (annual subscription)
Fortunately for us, the pet-natty London restaurant Noble Rot also publishes a periodical. 4 issues a year gets your wine-loving pal a deep dive into what's happening on the wine scene before it lands stateside.
---
Smart Pairing: A Book and a Course
$59.99 – Wine Folly's Wine 101 Learning Combo
A great pairing for those getting into wine. This option includes Wine Folly's James Beard Award-winning book alongside unlimited access to their Wine 101 course. Each lesson walks you through the basics while the book offers excellent visual reference.
---
Living the "Haute-Bas"
$60 – Veuve Clicquot Limited Edition Poster
We just passed Veuve Clicquot's 250th anniversary, honoring the sparkling wine house (and the woman behind it) that changed Champagne forever. Don't dally though, we only found a stash of 20 of these limited edition posters available.
---
The Importance of a Proper Glass
$67.99 – Gabriel-Glas Universal Wine Glass (Set of 2)
Factors like the shape of the bowl, the material, opening diameter, and rim width affect taste. A great glass makes wines smoother and fruitier. After testing 5 of the world's top wine glasses, we were delighted with Gabriel-Glas's performance for the value.
---
Know Your Way Around Tuscan Wines
$99 – Wine Folly Tuscany 101 Certification Course
For the Italophile with aspirations to taste their way through Italy's incredible wines, this course hones in on Tuscany – an ancient wine region established by the Estruscans. Not only does this course bring you up to speed on Tuscany's most important wines, you'll learn a little history as well.
---
Going to the Source
$112 – Wine Grapes
Today's wine enthusiasts are more enthralled than ever before in rare-and-esoteric varieties. This book is heavy in more ways than one: it holds one of the most complete collections on grape data that we have in print. Perfect for the aspiring Master of Wine or sommelier.
---
Your Sommelier Needs This
$25 – Wine Folly Pocket Journal
Take great notes with a wine pocket journal that's designed to keep you organized and fits perfectly alongside your phone. It uses the same great bleed-proof paper as Wine Folly's top-rated journal. 3 journals per box.
---
Isolation Is a Good Thing
$124 – Taster Place Wine Aromas Smell Kit
One of the greatest challenges facing wine lovers (or anyone interested in taste) is isolating aromas. This kit contains the root aromas of many red wines. Learning these smells will help you break down the building blocks of wine.
---
Old Bottle Saver
$145 – Durand Wine Opener
A restaurant with a deep Burgundy wine list has at least one sommelier stocking a Durand on their gueridon (little wine service cart). It's a must-have if you're popping bottles in the 30–40 year range when the corks become brittle.
---
Moderation Is the Key
$149.99 – Coravin Pivot+ Wine Preserver
Coravin revolutionized wine preservation. The Pivot+ is their next innovation in storing open wine. We use it in Wine Folly Club, where members taste 4–6 bottles at a time for comparative tasting. With the Pivot+, tasters can store open wines for a month.
---
Say "I really Appreciate You" in Wine-Speak
$151 – Zalto Axium Decanter
A decanter is one of those always appreciated gifts for a wine lovers. For red wines and medium to full-bodied white wines. Gives the wine an ideal amount of air contact: not too much, not too little. The perfect size for a 750 ml bottle.
---
One Glass to Rule Them All
$170 – Zalto Universal Wine Glass (Set of 2)
After testing 5 of the world's top wine glasses, the Zalto came out as a top choice. This hand-blown, razor-thin, crystal glass is surprisingly durable and performs well with red wines.
---
Learn While Tasting
$198 – Wine Folly Club 2 month membership
Build your wine knowledge while you taste with this education-packed wine club curated by the experts at Wine Folly. Each month delivers wines and learning objectives to grow your wine smarts. Multiple gifting options available from 2 months to a yearly subscription.
---
Quintessential Dusty Napa Cab
$200 – Freemark Abbey "Cabernet Bosché" Rutherford, Napa Valley
Proud Sponsor! Napa Cabernet can be many things, but we can't ignore a wine with that ideal blend of deep, dark fruit, bold-yet-velvet-like tannins, and subtle dusty-minty overtones. Freemark Abbey nailed it in 2019 with a wine that promises to gain tobacco and leather notes should you choose to cellar it for 15 more years. Use WINEFOLLY for free shipping.
---
Become Certifiably Wine Smart
$449 – Wine Folly's Wine 201 Certificate Course
Why not take a sommelier-level certification course in the comfort of your own home? After all, you're already doing the work (e.g. tasting all the wine!). This course is a great way to dig deeper and build a strong foundation in wine knowledge to think like a sommelier, and taste like one too!
---
Safe Keeping for Your Best Bottles
$2599.99 – Artevino III by EuroCave (200-bottle wine fridge)
Cellaring wine is complex. Low temperatures, humidity, and darkness not to mention a need for reliable storage longterm. And if you're going to take the time to figure all that out, you might as well get something that holds enough wine. This French-made wine fridge is built to last.
---
Get the Whole Kit and Caboodle
$290 – Jackson Family x Wine Folly Holiday Bundle
Proud Sponsor! Jackson Family was so delighted at this year's holiday gift guide that they quickly packed up a special Wine Folly holiday gift wine pack. Save 5% and get free shipping when you get the whole kit. Thanks and Merry Merry! 🙏
---
This Year's Curators
Unfortunately for the robots, there are still humans behind this Gifts For Wine Lovers round up. Let's say hello to your curators.
Madeline Puckette
When she's not blending wines together to the chagrin of classically-trained winemakers, she's peddling a road bike up to the higher elevation vineyards. Madeline Puckette is the founder of Wine Folly and a James Beard Award-winning author.
Christine Marsiglio
Christine is one of just a few Bollinger Award-winning Master of Wines in the world, but somehow the level of prestige doesn't get in the way of her making awesomely approachable wine education here on Wine Folly. Or the occasional emergency snack when her kids come home from school.