Tannat contains some of the highest levels of antioxidants in any wine. This deeply colored red grape originates in France and has an increasing presencein Uruguay.
Also known as: Harriague
Primary Flavors
Black Currant

Plum

Licorice

Smoke

Cardamom
Taste Profile
On the nose, Tannat delivers rich aromas of black currant and red plum, with subtle notes of licorice, smoked meats, and black cardamom. Depending on the climate where it grows, Tannat's aromas range from ripe and fruity to herbal and savory.
On the palate Tannat wines typically taste dry with a full-body, highly structured and astringent tannins, and moderately high acidity. These robust traits make Tannat a great choice for aging mid to long term, as wines soften over time.
Dry
Full Body
High Tannins
Medium Acidity
13.5–15% ABV
How to Serve Tannat Wine
Plan to decant Tannat-based wines for at least one hour or use an aerator. Varietal wines tend to perform best in larger "Bordeaux" glasses at slightly cooler-than-room temperatures to keep aromas fresh.
Cassoulet, with its rich meaty flavors, helps quell Tannat's rigorous
tannins. by Phillip Capper

SERVE
60–68°F / 15-20°C


GLASS TYPE
Oversized

DECANT
1 Hour

CELLAR
10+ Years
Tannat Food Pairing
Because of the high level of tannins, you'll find it pairs well alongside richly marinated, barbecue grilled meats and vegetables.
Try flame-grilled Porcini mushrooms or medium-rare t-bone steak, heavily seasoned to help soften those massive tannins.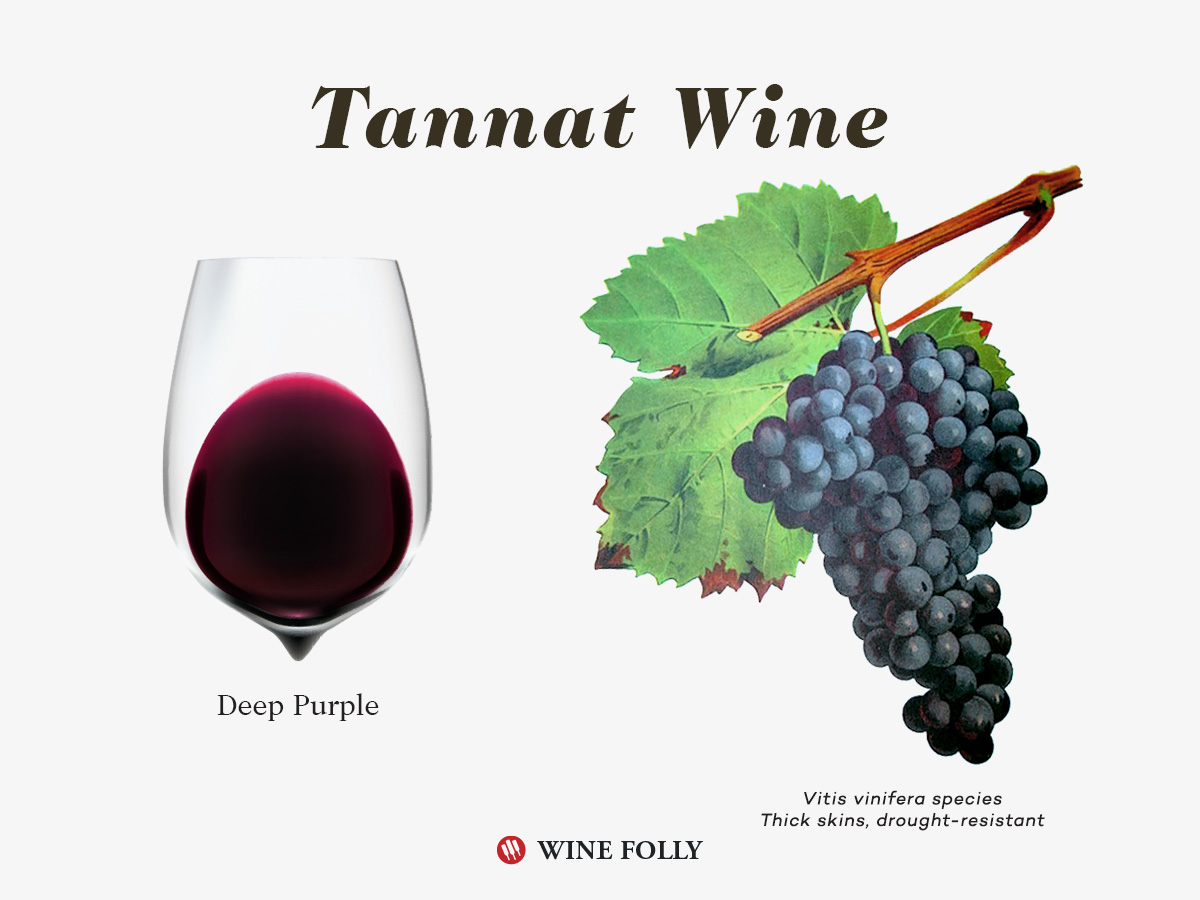 Tannat's high levels of color and tannin make it appear opaque ruby in the glass.
5 Fun Facts About Tannat
Originally from South-West France, near Madiran, Tannat was brought to Uruguay by Basque immigrants.
Tannat is the most planted grape variety in Uruguay.
Tannat is often aged in oak to help polymerize the tannins, making it taste smoother.
Tannat has been touted as one of the"healthiest" red wine grapes, thanks to much higher levels of antioxidants (like resveratrol).
Tannat is also known as Harriague in Uruguay.
Tannat grows mostly in South-West France with growing popularity in Uruguay.
Where it Grows
With more than 10,000 acres planted throughout the world, Tannat is a common wine grape. You'll find most Tannat grows in France and Uruguay.
France: 6,200 acres (2513 hectares)
Uruguay: 4,263 acres (1725 hectares)
Argentina: 2,068 acres (837 hectares)
USA: 610 acres (247 hectares)
South Africa: 282 acres (114 hectares)
Brazil: 269 acres (109 hectares)
Others: 162 acres (66 hectares)
Total Vineyard Area – 13,685 acres (5611 hectares) (data from 2016)
Uruguay
What to expect: Smoother tannins, riper black fruit,
delicate violet notes, elegant-yet-powerful wines.
Tannat from Uruguay is made in a more laid-back style than what is found in its homeland of France. With a focus on making wines that are ready to drink in a much earlier time frame, these wines don't necessarily need time in the cellar to be delicious.
Often blended with Syrah, Cabernet Sauvignon, and sometimes even Pinot Noir, Uruguayan Tannat is a great place to start your Tannat journey. Many producers here are using less and less oak to preserve the purity of the fruit flavors.
Madiran, France
What to expect: Wines that need time to age, brooding blackberry and plum, grippy tannins, and unmistakable power.
Madiran, a small appellation in the south-west of France, makes big wines based on Tannat. They have full throttle tannins and searing acidity. For this reason, it's often blended with Cabernet Sauvignon or Cabernet Franc to ease astringency. Still, French law requires a minimum of 60% Tannat on wines labeled "Madiran AOC."
Try setting one down for a decade (if you can wait that long!). Most winemakers age their wines in oak here so expect subtle spice and smoke notes.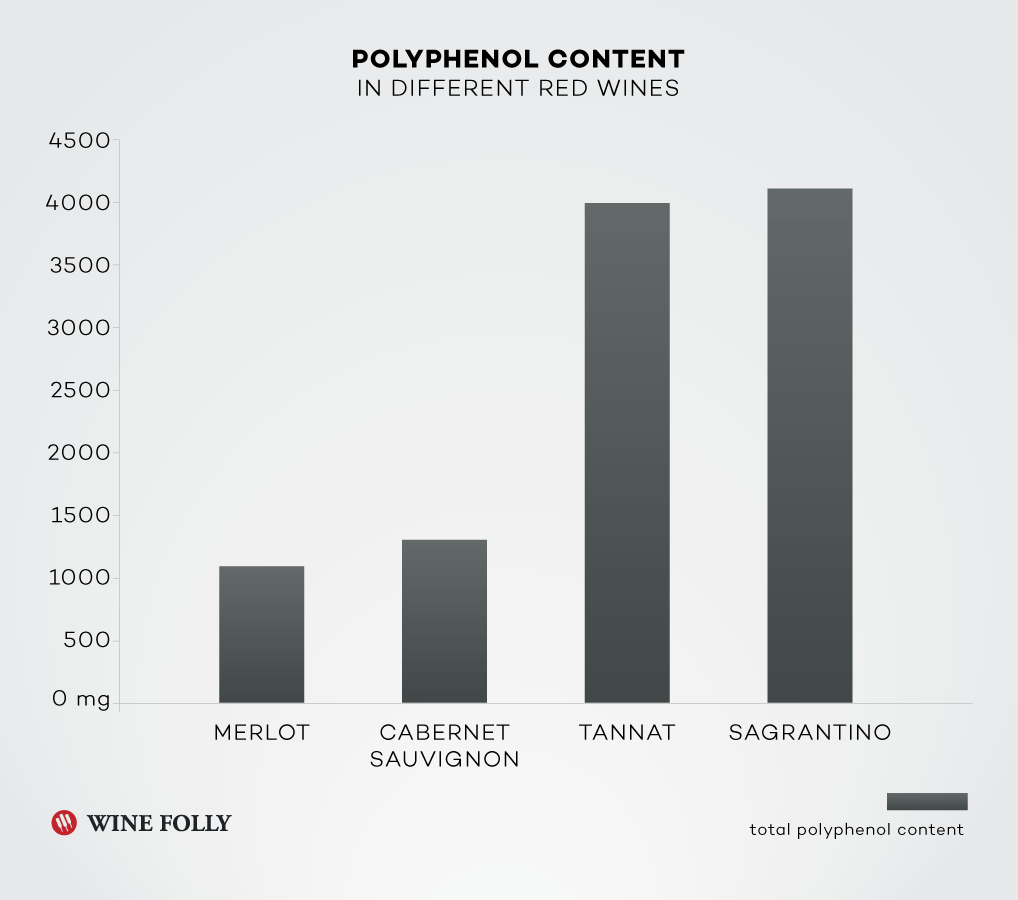 Total polyphenol content in Tannat more than doubles other high tannin varieties.
In-Depth Knowledge
If you saw the tasting notes for French Tannat and Uruguayan Tannat, you likely noted that Uruguay Tannat is described as having smoother tannins and more floral aromas. This difference is partially due to clonal selection.
The original grapevine clones brought from France by Basque immigrants produced wines that were likely very astringent and grippy, just like in Madiran. However, today in Uruguay, producers have selected different clones which produce smoother tannin wines with more elegance.
Winemaker's Secrets to Tannat
Wine writer, Stacy Slinkard, had the opportunity to speak with winemakers about Tannat, and here's what she found out.
Winemakers love Tannat because its thick skins make it:
relatively easy to grow in a variety of climate conditions (especially dry)
less likely to be attacked by vineyard pests, fungus, and mold
less susceptible to cold temperature variations and the dreaded frost
Of course, it can be tricky to manage in the cellar because it's such a big wine! The grape itself showcases extra thick skins and high seed counts (often 5 seeds per grape instead of the standard 2–3). These attributes contribute to robust polyphenol compounds in the wine.
Looking for velvety Tannat?
Here's what to look for in the winemaker's notes to find smooth, velvetyTannat wines:
Oak barrel aging – while oak introduces wood tannins, it also allows a steady oxygen entrance to the wine, which helps the wine taste smoother.
Micro-oxygenation (aka "microOX" or "microbullage" in French) – is the process of introducing teeny, tiny amounts of oxygen during the winemaking process to soften the overbearing structure and make the wines more approachable at a younger age.
Extended aging – one of the perks of aging a wine that is built to age (i.e. carries high tannins and high acidity) is that over time, the wine's tannins will break down and soften on their own.