Wine is delightful, but let's not get confused and think it's a health drink. It can be part of a well-balanced diet and lifestyle. If you're relaxing in the backyard and sipping on a grown-up beverage, there's something to be gained from making it a glass of red wine.
That's because wine has a handy little compound in it called "Polyphenols." You won't get superpowers from them, but they can help out your heart and even help you live longer. And that's sort of super!
What The Heck is a Polyphenol?
Pretty much everything in wine that's not alcohol or water is a polyphenol. These include tannins, color pigment, aromas, resveratrol, procyanidins, and about 5,000 other plant compounds.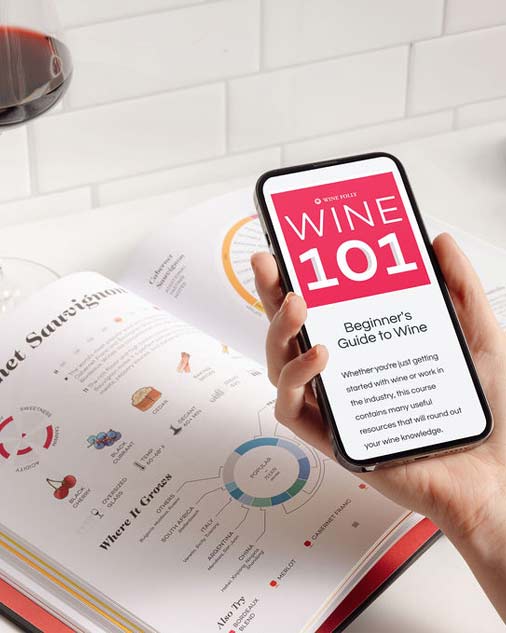 Buy the book, get a course.
Get the Wine 101 Course @ 75% OFF with the purchase of Wine Folly: Magnum Edition.
Shop Now
Of these polyphenols, the most abundant in wine for health reasons are Procyanidins, which inhibit cholesterol plaque in blood vessels. One of the reasons wine is heart-healthy.
Dr. Eric Rimm, Professor at the Harvard School of Public Health, has observed results from hundreds of studies on alcohol and its effect on health.
"There's no question that people who drink moderately have lower rates of heart attacks, lower rates of diabetes, and live longer."
– Dr. Eric Rimm, Professor, Harvard School of Public Health (2013)
Of course, not all alcoholic beverages are created equally in terms of health. Of the different kinds of alcohol (spirits, beer, and wine), one type consistently outperforms the rest: wine.
The beneficial attributes of wine outplay all other types of alcohol when it comes to longevity. However, not all wines are created equal. Some wines have significantly higher amounts of "good stuff" in them.
What to Look for in "Healthy" Wine
Here are the traits characterize wines that are better for you with respect to health:
Wines that are "dry," meaning they're not sweet and have little to no carbs (sugar).
Wines that are lower in alcohol (ideally, 12.5% ABV or less).
Wines that have higher polyphenol content, particularly procyanidins.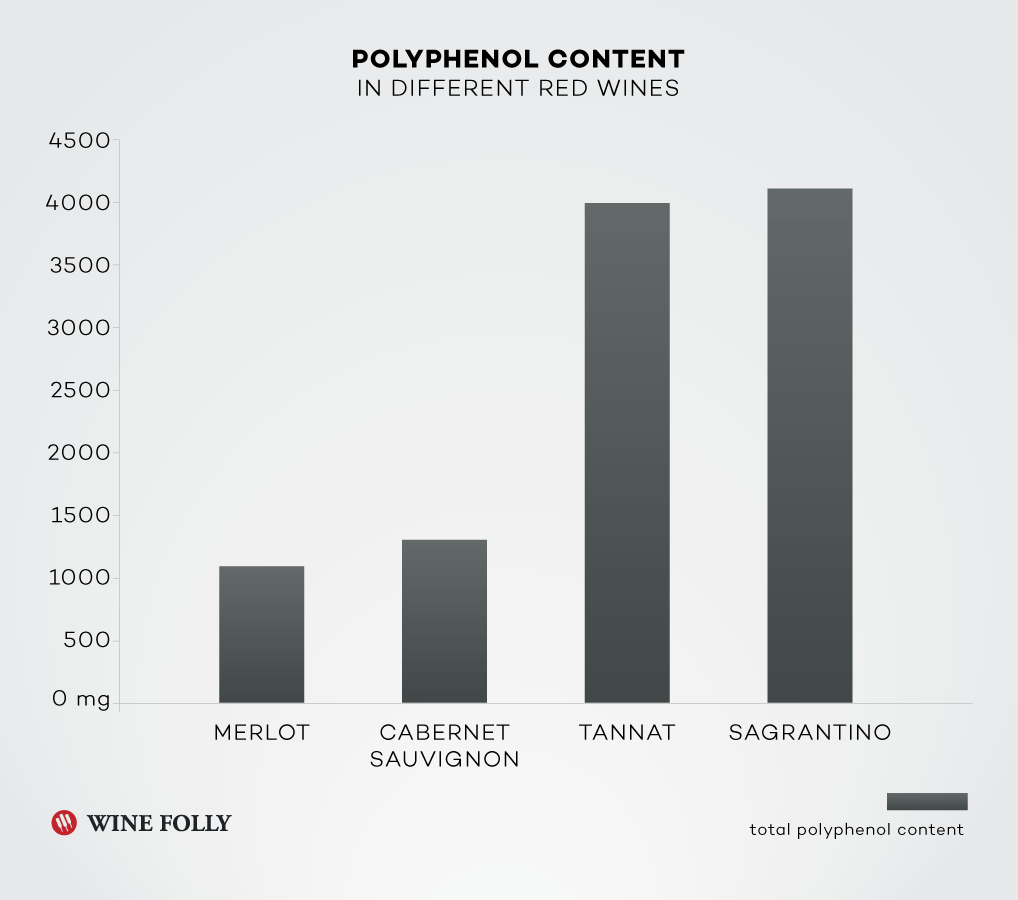 Which Wines Have the Highest Polyphenols?
Polyphenols are found in the skins and seeds of grapes, so only wines that are made with skin contact (including red wines and orange wines) have elevated polyphenol levels. Certain grape varieties have more concentrations of Procyanidin. Most notably:
Tannat The wine of Madiran in South-West France, that also grows in abundance in Uruguay
Sagrantino A rare grape from Umbria, producing deeply-colored wines.
Petite Sirah Also known as Durif, and primarily grows in California.
Marselan A successful crossing between Cabernet Sauvignon and Grenache with very small berries that creates wines with intense deep purple hues. A rarity found in tiny amounts in France, Spain, China, Argentina, Brazil and Uruguay.
Nebbiolo Nebbiolo is an important grape of Piedmont, Italy.
These grapes contain anywhere from 2–6 times as much polyphenol content as other more popular varieties like Pinot Noir and Merlot. Concentrations of polyphenols are highest when the wine is young. Of course, there are many other variables involved, including how the grapes were harvested and the wine was made. So, if you're looking for an easier answer, go for the taste.
---
What Do High Polyphenol Wines Taste Like?
The wines will have highly concentrated fruit flavors, higher acidity, and a bold, tannic finish. Most will have a darker color, so much so, that you won't be able to see through your wine glass.
The more bitter, the better.
High polyphenol wines are the opposite of smooth and supple: they're robust, bold, and often described as astringent. The bitterness in wine appears to directly correlate to the level of procyanidin in a wine. So, if you like a little bitter in your life, you're going to love these wines!
Of course, wine isn't the only food with high levels of polyphenols. Apples, beans, chocolate, grape seed extract (as a supplement), tea, and pomegranates are great alternatives to wine with higher levels of polyphenols.
Great Wines for Sipping
Because these wines are perceived by most as "hard to drink," you'll find yourself drinking with more moderation. This isn't a bad thing, considering the National Cancer Institute recommends men should have no more than 2 glasses per day and women no more than 1 glass (a glass is 5 oz). So, the next time you read "robust, bitter and age-worthy" on a label, you might avoid your initial instinct to run the other way!