Last updated Oct. 17th, 2017
Wine Folly's 2017 Wine Buying Guide will come in handy regardless of whether you're a novice or are a pro. It's organized by style of wine (from bold red to light white wines) with a focus on which regions, varieties, and vintages to seek out.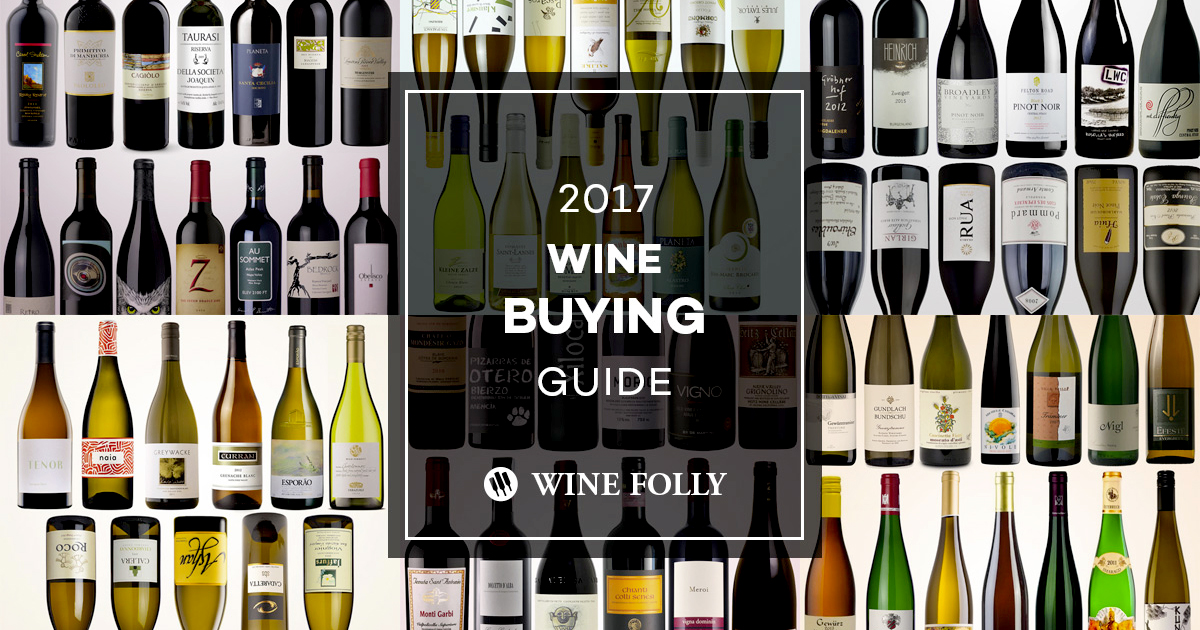 ---
Vintage Chart Compilation
We compiled vintage ratings and vintage assessments from Berry Bros & Rudd, Wine Advocate, Jancis Robinson, Wine Institute, Wine Spectator and other regional sites into one simple, user-friendly chart.
Full-Bodied Red Wines Cabernet, Malbec, Syrah, Etc.
Lovers of full-bodied red wines love wines from regions with tons of sunshine and relative dryness. It's in these unique conditions that warm climate grapes like Cabernet Sauvignon, Merlot, Syrah, Malbec, Mourvèdre, and Zinfandel achieve their ideal ripeness (and develop sweeter tannins).
---
Medium-Bodied Red Wines Sangiovese, Garnacha, Cabernet Franc, Etc.
Medium-bodied red wines feature distinct flavors and heightened acidity, both of which are traits ideal for matching with a wide range of foods. Many of the old world wine regions are famous for this style of wine due to winemaking traditions that limit the use of new oak aging, producing wines with more elegance.
---
Light-Bodied Red Wines Pinot Noir, Gamay, Etc.
Lovers of light-bodied red wines tend to love wine regions with cooler growing temperatures. It's in these cooler conditions that grapes like Pinot Noir, Gamay, Schiava, and Cabernet Franc ripen to deliver brilliant red fruit flavors, floral notes, and lower tannin. Here are the highlight wines and regions to seek out for light-bodied red wines:
---
Full-Bodied White Wines Chardonnay, Viognier, Etc.
Regions with a tradition of oak aging are the ones who produce white wines with creamy and buttery flavors. The star variety in this style of wine is definitely Chardonnay although there are several others to know. While the fashion of oak-aging has seen a downward trend in recent years, there are still several places to look to find outstanding full-bodied whites.
Here's a run-down on what regions (and vintages) to watch for:
---
Light-bodied White Wines Sauvignon Blanc, Pinot Grigio, Etc
Light-bodied white wines are dry and highlight heightened acidity and minerally flavors. They are perfect food pairing white wines. There are several favorite varieties in this category including Sauvignon Blanc, unoaked Chardonnay, Pinot Grigio, and Albariño but there's more to know beyond these! You can literally spin a globe and land on a region making great minerally white wines (especially if your finger lands in Europe and the Mediterranean).
That said, here are a few highlight regions to check out:
---
Aromatic White Wines Riesling, Moscato, Gewürztraminer, Etc.
Aromatic white wines have higher levels of a compound group called monoterpenes which produce aromas of flowers and sweet stone fruits (apricots, peaches, honey and rose). These wines can be made in both a sweet or dry style, but are often described as sweet due to their intense aromatics. If you're into this style of wine, you're in for a treat this year: