Take a peek at some of the oldest wineries around the world. These working relics show how wine has been with us and will continue to be with us for the next millennia.
Bronze wine pot from China.
credit
Where Did Wine Come From?
The ancient Egyptians drank wine. Back then, wine was consumed by high society and beer was the commoner's drink. The Egyptians got their inspiration from the Levant (modern day Israel, Lebanon, etc) who'd been making wine since 4000 BC. One ancient wine cellar was found in Armenia inside a cave on the side of a hill. The cellar dates back to 3500 BC and shows how ancient winemaking was done.
 
Wine is even older than that. In 2004, fluids left in 9000 year old pottery were discovered in China. What was in all those old pots? They were filled with a wine made from rice, honey and fruit. Apparently, the Chinese were making sangria before anyone made wine.
6 Most Fascinating Oldest Wineries in the World
Château de Goulaine
circa 1000
Château de Goulaine was owned by the Goulaine family except for a stint from 1788 to 1858 when it changed hands to a Dutch banker during the French Revolution. One of the last castles in the Loire to still make wine, Goulaine produces some Loire Valley white wines including Muscadet and Folle Blanche. It's been said that the previous chef of Château de Goulaine, Mrs. Clémence Lefeuvre, invented Beurre Blanc sauce.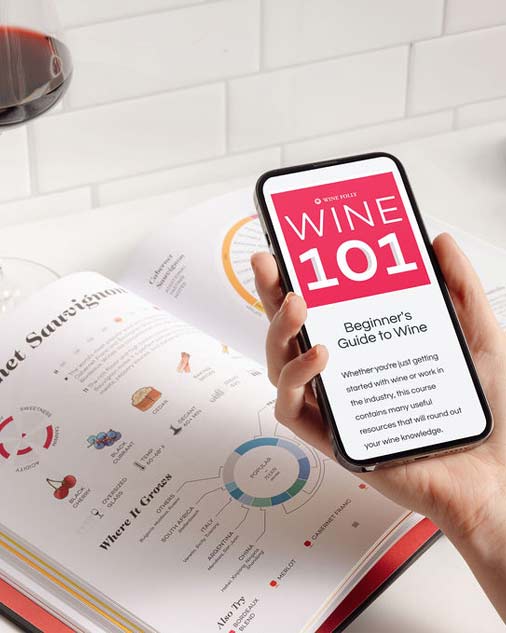 Buy the book, get a course.
Get the Wine 101 Course @ 75% OFF with the purchase of Wine Folly: Magnum Edition.
Shop Now
Today you can stay the night at Château de Goulaine or rent it for a wedding.
---
Barone Ricasoli
Established 1141
This castle was owned by a family in Tuscany when Florence and Siena were still city-states. The Ricasoli survived Italy's internal struggles in the mid-1200's, the Black Death in the mid 1300's, the rise of the Medicis until the 1700's and World War II. Today you can find their most prestigious wine, "Castello di Brolio", for about $70.
 
---
Schloss Johanisberg
circa 1100
There are records of an order for 6000 liters of wine during Charlemagne's rule in the late 700's. Schloss Johannisberg was destroyed once by marauding peasants in the German Peasant's War in 1525. It is home to the oldest Riesling vineyards in the world and also lays claim to making the first late-harvest wines in 1775. Before then grapes with noble rot were not considered suitable for winemaking.
 
---
Schloss Vollrads
Established 1211
The oldest documented sale of wine from Schloss Vollrads was in 1211 when a thirsty monastery in Mainz put in a written order. The Rheingau-based winery produces a wide range of Riesling wines. You can visit their restaurant to celebrate their 800 year wine dynasty and try their Rieslings with classic German fare like bratwurst.
---
Codorniu
Established 1551
The first sparkling wine house in Spain didn't start with bubbly. It had vineyards and a winemaking facility since the mid 1500's, however in the 1820's Codorniu started making Cava referring to it as Champagne. Today Codorniu is one of the top three Cava producers in the world with an annual production of close to 5 million cases.
---
Casa Madero, Parras de la Fuente
Established 1597
As far as New World wine production goes, would it surprise you to know that the oldest winery in America is in Mexico? Casa Madero is in Parras de la Fuente, a tiny fertile valley in Coahuila, Mexico which is the Northeastern Mexican state next to the Texas border. Casa Madero's flagship wine is equal parts Merlot, Cabernet Sauvignon and Tempranillo.
---
Besides the aforementioned few there's also Chateau Mont-Redon which was designated a vineyard in 1344 next to Chateauneuf du Pape. The United States didn't get started with wineries until 1810 with Brotherhood Winery in New York.
 
Want to see more? Check out 4 Unbelievable Wine Regions