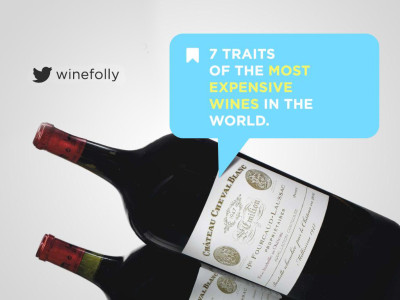 If you had an unlimited budget for wine, what would you buy?
Wine Folly recently spoke at Ignite Seattle . Ignite Seattle is a series of mini-presentations designed to inspire and educate people on any topic. For our talk, Madeline Puckette took a closer look at the world's most expensive wine.
What is the world's most expensive wine?
The most expensive bottle ever sold was a 6 liter bottle (pictured below) of 1992 Napa Valley Screaming Eagle Cabernet Sauvignon. It was sold at the Napa Valley Wine Charity Auction in 2000.
7 Traits of the World's Most Expensive Wine
Where are world's most expensive wines sold? Most collector wine is sold at auction houses in London, New York and Hong Kong. Wine from Burgundy and Bordeaux are the most popular wines sold at auction.
The owners of these icon wines can be wineries, but more often than not they are collectors or wine investment firms that treat wines like stock.
The Presentation
See the complete powerpoint presentation slides on
slideshare
---
The Man in the Picture The man pictured is former sommelier Christian Vanneque, who holds the record for the most spent on a bottle of Sauternes. He said he'd like to drink the $117,000 bottle of 1811 Château Y'quem in 2017 with friends on his 50th anniversary in the wine business.
The 7 Traits
The most high-priced wines are not fermented cobra blood or wine made with gold. Instead, the focus is on classic regions such as Burgundy, Bordeaux, Champagne and the Mosel Valley in Germany. Collectors typically invest in regions that have some sort of ranking system such as Premier Cru Classé in Bordeaux.
They are from a few wine regions such as Napa, Burgundy and Bordeaux
Most are aged in new French oak
They are not meant to be consumed early and last upwards of 30 years
They are traded like stock in several wine stock markets
There are many forgeries in circulation
There are 6 types of wine that are the most collectible
The cost is not necessarily proportional to the quality
What makes great wine?
Great Grapes The cost of producing a wine that has the pedigree of a true collectible is not cheap. First, you need excellent grapes, and depending on where they come from, wine grapes can cost many thousands of dollars. Older vines do seem to improve intensity, but some vineyards produce highly rated wines after just 10 years.
Oak Despite the environmental movement these days towards less oak, high end wines still emphasize oak aging. The top pick for fine wine barrels is a white oak called Quercus petraea from France.
Time A well made red wine is often undrinkable when it's young. As it ages, the abrasive tannins and acidity calm down. Some wineries are equipped to age wines for up to 15 years before releasing them. That means some wineries have millions of bottles in storage at any time. Providing an ideal cellar for aging wines is costly. Learn the 4 traits of age-worthy wine.
Respect All the most expensive wine in the world has some sort of story that makes them truly unique. For instance, Trockenbeerenauslese Riesling in Germany and Austria can only be produced when the vineyard conditions are perfect –something that may only happen every 5-10 years.