Thank you for being passionate, insightful, irritated, helpful, joyous, knowledgeable, and an all-around lovely group of people. –Madeline Puckette
I was just awarded Wine Communicator of the Year by International Wine and Spirit Competition (IWSC). Whooooa!
I couldn't have done it without all the amazing contributions, opinions, thoughts, and even the critical feedback from people like you.
So, thank you.
Show Me What You Do!
I'm happy to share with you that we have a huge resource of wine content online. Here are some current favorites to explore: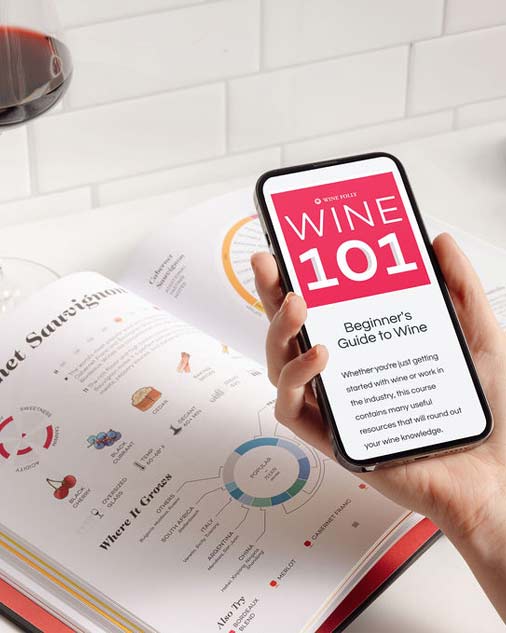 Buy the book, get a course.
Get the Wine 101 Course @ 75% OFF with the purchase of Wine Folly: Magnum Edition.
Shop Now
Credit Where Due
I'll be the first to admit communicators like GaryVee, Jancis Robinson, Kevin Zraly, and Evan Goldstein MS majorly influenced my work. (I still can't stop saying "give it a whirl" and "sniffy sniff!" ala Gary Vaynerchuk).
And, while we're talking influence, let's not forget all the incredible communication designers like Bureau Oberhaeuser and Federica Fragapane (Federica helped me with the design in book #2)!
Homage To Our Peers
The amazing thing about the wine community is that it's full of really incredibly motivated, and talented people. These four folks were shortlisted with me, and they have a great deal to offer:
Hat Tip To Burgeoning Creators Out There
If you've got big aspirations, don't give up! My partner and I started Wine Folly on a crazy whim that just maybe two twenty-somethings could contribute to the community. No, it's not easy. But, doing hard things gets easier the more you practice them.
Also.
Crazy ideas are crazy only until they work.
You can do it.
P.S. See you at Vinitaly?
Going to Vinitaly this year? I'll be hosting an awesome seminar this weekend: Pinot Noir in 5 Acts. I hope to see you there (or if not, at Bottega del Vini!)