If you know of anyone who turns their nose up at rosé, chances are they're moderately hip(ster) and think "rosé is so passé." You and I both know that they are full of lies. The reality is, rosé is still the fastest growing wine category in the United States, United Kingdom, New Zealand, South Africa, Australia, Hong Kong and everywhere else that's awesome.
Here's what to seek out in rosé wine in 2016, from the budget-minded to the very best.
There are essentially 3 tenets of rosé:
Thou shall enjoy sunshine, laughter and short shorts.
Thou shall covet rosé during brunch, lunch, or dinner… and still look classy.
All are welcome to drink pink.
Rosé All Day: What to Drink in 2016
2015 Provence Rosé
The south of France is the world's most dedicated area to rosé wine. Wines are made dry and have a pale pink, almost onion-skin color. Some of the best wines balance the red grapes with a smidgen of Rolle (aka Vermentino), a white wine with spicy acidity. Provence has several high-quality micro-regions for rosé including Saint-Victoire, Bandol, Pierrefeu, Fréjus and La Londe. These will be a bit more expensive, but are well worth exploring for the best-of-the-best in French Rosé.
2015 was a great vintage for French rosé
It's been a few years since we've had a really outstanding vintage from France and then 2015 came along… and it was great! If you love French wine, this is a time to seek out your favorites and rosé is no exception. Keep in mind, rosé doesn't age that well (except for special cases) so…
Drink it young and cool.
2015 Corsica Rosé
Corsican Rosé is a little bit of a challenge to locate but, if you're lucky enough to find it, they are well worth a try. The island has many indigenous grapes and rosé wines lean toward a richer style with fresh red fruit and a sophisticated herbaceous, salty character.
---
2015 Sancerre Rosé
The region of Sancerre is more famous for Sauvignon Blanc, but one-third of the region's vineyards are planted with Pinot Noir which makes lightweight, refreshing rosé wines. Wines will have soft, creamy, strawberry aromas along with a leafy herbal note and chalky minerality. This is definitely a wine for people who like savory flavors versus sweet ones.
---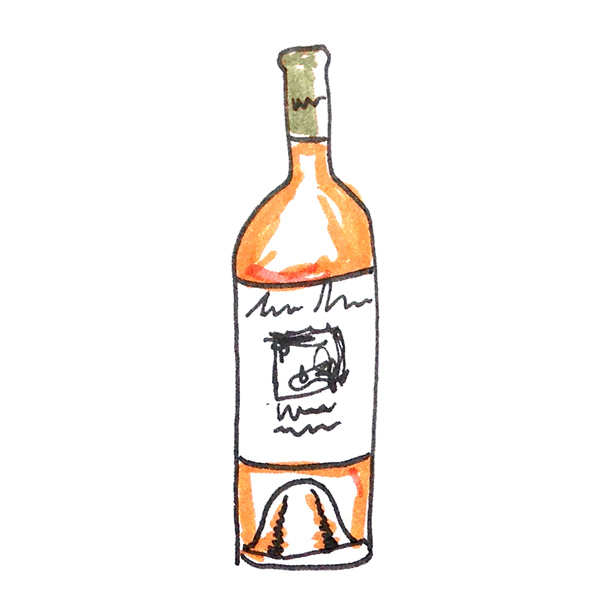 2015 Bordeaux Rosé
While Bordeaux is known for red wines, the region has increased its rosé wine production to the point where it's finally reaching stateside. Where Cabernet Sauvignon-dominant Bordeaux makes wines with a bit more pepper spice, Merlot offers lush creamy strawberry and orange zest flavors on a dry frame. Many of these red wines are made with the Saignée method and have substantially more body along with creaminess from subtle neutral oak aging.
---
California Rosé
Independent producers all over California are embracing rosé winemaking to great success. You can find top producers offering awesome affordable wines who usually make more expensive reds and whites. The best ones to look for come from the cooler coastal growing areas in California from the Sonoma Coast down to coastal Santa Barbara.
California Rosé Worthy Mentions
There is a ton of great rosé to try from California and to get you started, here are two quirky wines to know:
2015 Stolpman Santa Ynez Valley Rosé klwines.com
Pete Stolpman has a vineyard in Santa Barbara and he's been known to do some crazy [good] things. This wine undergoes a process called carbonic maceration where whole grapes go into the fermenter without being squeezed. This process creates a deeper, darker rosé wine with gobs of fruit but without so much alcohol (only 11% ABV!). A great wine if you're one who likes to drink more than a glass.
2015 Bedrock Wine Company "Ode to Lulu" Rosé klwines.com
Bedrock wine company is two people who seek out really old vineyards all over the North Coast of California (you know, Sonoma, Napa, Mendocino, etc). Then they make amazing wines with these forgotten grapes (often from under-loved grape varieties). This wine is based on the well-loved GSM blend (Grenache-Syrah-Mourvèdre) which originated in the Rhône Valley of France. Very simply, they are awesome and make great obtainable wines.
Got a California rosé to recommend? Add it in the comments below!
Spanish Rosado
Spain has quite a range of rosé wines, but perhaps the most known about is the Tempranillo and Garnacha-based rosado wines from Rioja. Tempranillo rosé wines typically offer a distinct meaty note which makes for a much more full-flavored style of rosé that matches with richer foods like carnitas tacos. To the northeast of Rioja is the region of Navarra which makes a brilliant red Rosado from Garnacha.
---
Spanish Txakolina ("chok-oh-lee-nah")
It's cool along the coastline in northern Spain around Bilbao and San Sebastián. This is where you'll find the zappy, herbaceous red wines of Txakolina. Red wines are dry, spicy, and herbaceous with notes of lime and cranberry often with a touch of fizziness.
---
More About Rosé
Did you know that rosé wines are made with red wine grapes? There are 2 primary ways in which rosé wines are made and each results in a different style of wine.
How Rosé Wine is Made