The 18 Noble Grapes Wine Challenge
Want to experience the entire range of wine?
—
It's time to ditch the same ol' wine you've been drinking and expand your palate.
No more of that bottom-shelf TJ's select or that bottle of Apothic Red.
Why? Well, because not only will you get to try all 18 noble grapes, but by doing so you'll be on the fast track to becoming a wine expert. Make a list of the grapes below and challenge yourself to try every one of them.
A Spectrum of Wine in Just 18 Noble Grapes
What Are The Noble Grapes? There are 18 red and white noble grapes (listed below) that define the complete range of wine flavors –from clear, zesty white to deep dark red wine.
Here is the list of the 18 major grapes that are readily available and define a unique flavor of wine. Once you master this list, you will intuitively understand the major flavor profiles of most red and white wines in the world. This list is missing a few sections such as Dessert wine, Rosé Wine and Sparkling wine.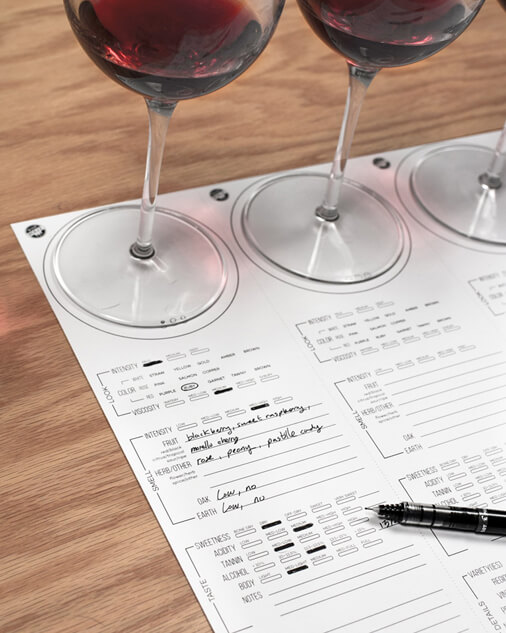 Unlock the Secrets of Tasting
Placemat sets specifically designed to help improve your palate!
Buy Now
random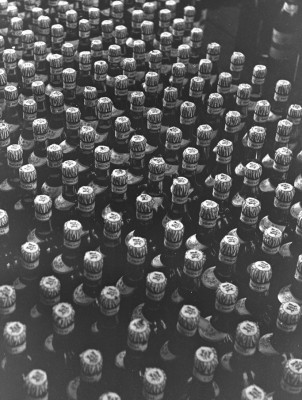 Why are some wines noble and others aren't?
Noble grapes are also known as International Varieties which are grape varieties that are widely planted in most of the major wine producing regions and have widespread appeal. History has a lot to do with the prevalence of French wine grapes like Cabernet Sauvignon and Pinot Noir.

Red Noble Grapes
The wines below are organized from lightest to darkest.

1. Pinot Noir
The lightest red grape, trying Pinot Noir will help you to understand acidity and aromatics in red wine. Pinot Noir Guide
Similar Varieties
Gamay, Schiava, Nerello Mascalese, St. Laurent
16123
2. Grenache
The candied red wine grape, Grenache shows how red wines can be light and fruit forward at the same time. Grenache Wine Guide
Similar Varieties
Zinfandel, Primitivo, Carignan
16083
3. Merlot
Merlot is can be lighter or bolder depending on how it's made. Usually it's fruit forward with smooth tannins. Guide to Merlot
Similar Varieties
Corvina, Negroamaro, Cinsault
4. Sangiovese
Sangiovese is aromatic like Pinot Noir, but has bigger tannins and is cherry fruit driven. Sangiovese Wine Guide
Similar Varieties
Touriga Franca, Counoise, Nebbiolo
16140
5. Nebbiolo
A savory high tannin/acid wine that is also very light in color –very few wines are like Nebbiolo.
Similar Varieties
Aglianico
16108
6. Tempranillo
Tempranillo is earthy with rustic tobacco notes and high tannin. Tempranillo Guide
Similar Varieties
Mencia
16151
7. Cabernet Sauvignon
One of the most balanced full-bodied wines of the world. Cabernet is savory with a very long finish. More About Cabernet Sauvignon
Similar Varieties
Cabernet Franc, Lagrein, Montepulciano
8. Syrah
Syrah offers big, bold, dark fruit flavors up front with a subtle finish and lighter tannin. Flavors from olive to blackberry and tobacco. Guide to Syrah
Similar Varieties
Barbera, Dolcetto, Mencía
9. Malbec
Candied similar to Grenache but instead of strawberry and cherry flavors it's more in the blueberry/blackberry realm.
Similar Varieties
Monastrell, Nero d'Avola, Touriga Nacional
---
Noble White Grapes
The wines below are organized from lightest to richest.
1. Pinot Grigio
Light and zesty high acid white wines.
Similar Varieties
Garganega, Assyrtiko, Albariño, Pinot Blanc, Grenache Blanc
2. Riesling
Dry to sweet white wines that smell like lime, honey and apricots with high acidity. Taster's Guide to Riesling
Similar Varieties
Furmint, Silvaner, Loureiro
3. Sauvignon Blanc
Green and herbacious. Sauvignon Blanc
Similar Varieties
Vermentino, Friulano, Grüner Veltliner, Verdicchio, Colombard
16142
4. Chenin Blanc
Zesty white wines that smell like flowers and lemon.
Similar Varieties
Albariño, white Vinho Verde (a regional blend)
16057
5. Moscato
Sweet wines that taste like peaches and orange blossom. Guide to Muscat
Similar Varieties
Müller Thurgau, Torrontés
6. Gewürztraminer
Off-dry to sweet white wines that taste of ginger and honey.
Similar Varieties
Malvasia, Torrontés,
7. Sémillon
Dry medium bodied wines with lemon notes.
Similar Varieties
Fiano, Grillo, Encruzado, Trebbiano (aka Ugni Blanc), Falanghina
8. Viognier
Medium bodied white wines that smell like flowers.
Similar Varieties
Marsanne
9. Chardonnay
Full bodied dry white wines. Chardonnay Wine Guide
Similar Varieties
Roussanne, Grenache Blanc, Trebbiano Toscano (aka Ugni Blanc)