Wine Folly Book Launch Week One This has been a crazy week!
Being a first-time author attempting to make a blip in the book world is not like riding a pony. To sum up: both Justin and I have been working 7 days a week for the last 7–8 months.
Fortunately, if you work for Wine Folly you get to drink wine at work, so it's really not all that bad.
We also had some help: Penguin's publicist Louisa, and part-timer, Chelsea, have made certain that press copies got out.
Wine Folly Book Launch
On launch day (that was Tuesday) the book reached #85 in the top 100 best-selling books on amazon. It could have been higher up on the list, but the book sold out in the first hour (all to preorders!). There weren't even enough printed to restock. After a quick scramble, Avery has the book on a second print-run and they'll be back up by Sept. 27th. Of course, there are still plenty at local bookstores!
A sincere thanks to everyone who ordered in the first week.
If you've read the book (or are reading it), it would be wonderful if you could take 30 seconds to leave a short review, it would mean so much to us. Here are the links for Amazon or Barnes & Noble I've read all of the reviews and commented on many of them. And, if you've left a review already, thank you, so many of these comments are not only great, but incredibly useful for would-be buyers.
The real excitement started when feedback started to pour in and I'd like to share with you some of the places the book popped up in social media and in the press!
 
---
"It's the sections on food pairings and blind tasting that elevate the book above a simple collection of data."
Seattle Weekly
"In particular I find the tips on where to find value, terrific wine region maps and color icons of wine flavors really make this book a keeper."
Cooking With Amy
"Smell sulfur? Don't worry, it's not sulfites."
Parade Magazine
"I've decided to find a Thanksgiving wine with the Carignan grape, based on recommendations of Wine Folly. "
Vine Me Up
---
"striking visuals and eye-catching infographics
both entertain and educate"–Wine Enthusiast
---
"I can now fire back an accurate retort to those egocentric wine snobs who come in to the restaurant with the sole objective to make their knowledge known."
Claire S., Amazon
Released today! Congrats to @WineFolly and thanks for a copy of the #winefollybook. pic.twitter.com/pbEI5vSfD7

— Jameson Fink (@jamesonfink) September 22, 2015
"why wasn't this book around when I was studying to be a sommelier?"
Wine Diva
---
"I wish I had had a smart, fast, super-easy-to-understand book
like Wine Folly when I was starting out."
–Karen MacNeil, author of The Wine Bible, 2nd edition
---
"Once you know your way around… and are looking to go deeper, a pure beginner's guide is no longer so useful. Enter Wine Folly–"
Food Wine Click
Pour a glass of Riesling & peruse Germany's wine regions in the new #WineFollyBook! https://t.co/pZHhBxudle @WineFolly pic.twitter.com/YMaWHGfpuT

— Wines of Germany US (@GermanWineUSA) September 23, 2015
"Wine Folly's Essential Guide to Wine will be my new manual for teaching my staff wine basics."
Thomas Gilberti, Amazon
---
---
"This is a fantastic book…this is going to be a big, big deal."
Christopher Chan, Interview on Happy Hour Radio
"different than those thick, encyclopedic tomes that feel like a death march through the world of wine."
Great Northwest Wine
"The information is presented in super easy to understand, bite-sized pieces with useful charts, and images. Despite simplifying the information, it is far from simplistic."
Whatareyoudrinking.net
---
"[the book] will teach you what you need to know so that the sommelier doesn't take you for a rube and your dinner date doesn't take you for a pretentious asshat."
–Cornichon.org
---
"The book takes wine education to a charming and magical place."
Vine Me Up
"It's all about encouraging exploration"
SixOneWine.com
"it's the kind of material one will reference regularly."
San Diego City Beat

---
---
"we can't get enough of it."
Ribera and Rueda Wine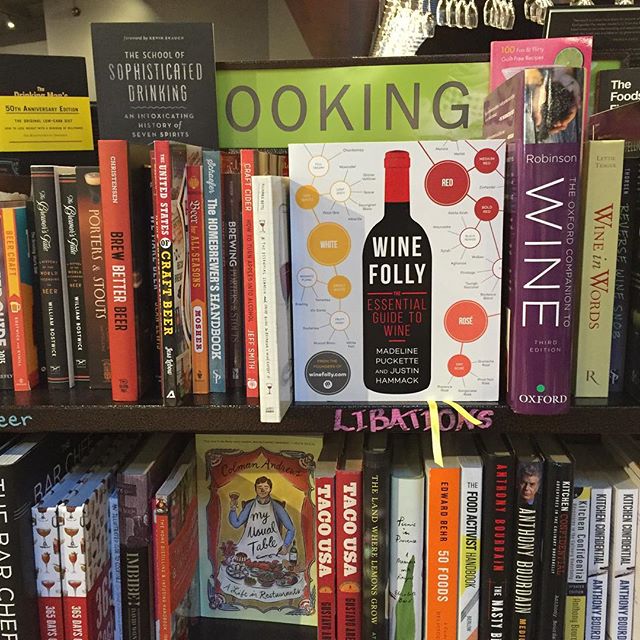 "This book and a bottle of wine make a great hostess gift…"
Mommy's Memorandum

---
---
"Madeline Puckette is the ultimate Renaissance woman. She's the graphic designer responsible for some of the greatest wine infographics that have ever been made….and now, she's responsible for the #1 selling wine book on Amazon of the same name."
Half Hour Intern
"Madeline has an undeniable "artist" vibe. She dreams of retiring as an old woman who masters the slide guitar. She notices the stunning wispiness of the clouds overhead. She wants to talk about her favorite video editing software as much as she does about wine tannins and lees — which is to say, a lot."
Ribera and Rueda Wine
---