There's no doubt about it: trying to find the best Champagne is intimidating. While it's exciting to traipse through the sparkling wine aisle, it can turn stressful pretty fast when you see the French names, opulent branding, and hefty price tags. You ask yourself,
"How much should I be paying? Is it any good? Will people actually like it?"
You panic, grab the prettiest label, and speed off to your celebration, hoping it tastes as good as it looks.
The Best Champagne on Any Budget
This helpful guide is full of tips and tricks on how to avoid common bubbly-buying mishaps and get a great taste for your dollar.

Large mechanized production makes sparkling wine possible under $10.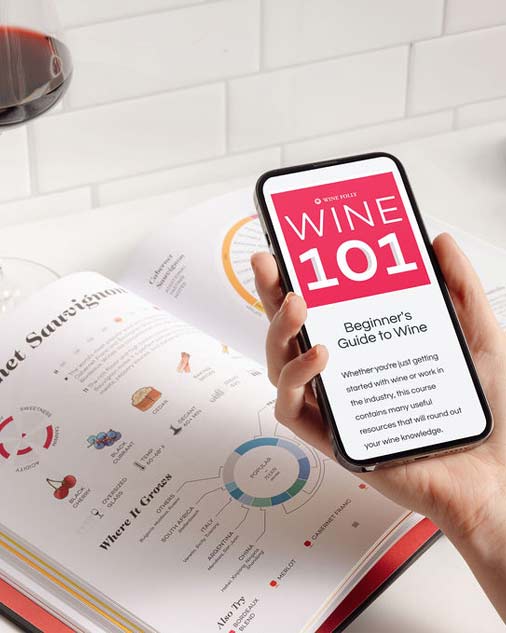 Buy the book, get a course.
Get the Wine 101 Course @ 75% OFF with the purchase of Wine Folly: Magnum Edition.
Shop Now
$0–$10 – Mass Consumption
So, you're buying for a crowd. Or maybe you're switching out your PBR for something a little more special. Or maybe you just need to bring something.
I'm not going to lie; it's not easy to find quality in this price range!
When you do find bubbly in this price range, frequently, it's the sweeter kind. The kind that causes a headache.
Still, there are a few affordable gems from lesser-known regions and producers who have mastered efficiency and flavor. The first to come to mind: Spain and their lean and lively version of bubbly, Cava.
What To Seek Out: Cava, Prosecco, Domestic Sparklers
Some Helpful Tips
A Few Examples
---

Sparkling wines like Crémant d'Alsace and Cava offer tremendous value for the price.
$10–$20 – Basic, But Delicious
Now we're closer to the great champagne. If you're looking for a good sparkler for a good price, this is your sweet spot. You've found a crowd-pleaser – a drink you'll toast to and want to keep in your mouth. You bring this to share with your friends, and it shows you care. Who's the MVP of the party? You are (or at least you will be.) No, you won't find any real Champagne here. Not the biscuity, nutty, rich, or aged flavors that come with extended aging.
What you will get are outstanding fresh, fruity, drink-now sparklers that pair with a surprising number of bites. Though, if you play it smart, you might find a decent "Reserva" Cava or creamy South African or domestic bubbly that will surprise you!
What You Get: Crémant (Good), Prosecco (Good), Domestic Sparklers (Good), Cap Classique (Good), Cava Reserva (Good-Great), Sekt (Decent)
Some Helpful Tips
A Few Examples
---
Expect excellent quality sparkling wines from all places but Champagne.
$20–$30 – Getting Sophisticated
What does $10 more get you? About as close as you get to Champagne's quality without paying for it. As this is a step up, these wines are for events where you need to do precisely that. An impressive wine that impresses. Perfect for your boss' place, a fancy dinner party, or a sophisticated shindig where seemingly everyone knows something about wine. (Think anyone in New York or equally self-important cities.)
Bonus: You can buy at least one quality cooperative Champagne (What's a cooperative?) by Nicolas Feuillatte for $29.99. While we have some examples, at this point, it's useful to do a little extra homework on your smartphone (see tips below).
What You Get: Domestic Sparklers (Good), Reserva or Gran Reserva Cava (Excellent), Crémant (Excellent), Franciacorta (Good), Blanc de Blanc (Great), Sekt (Good)
Some Helpful Tips
A Few Examples
---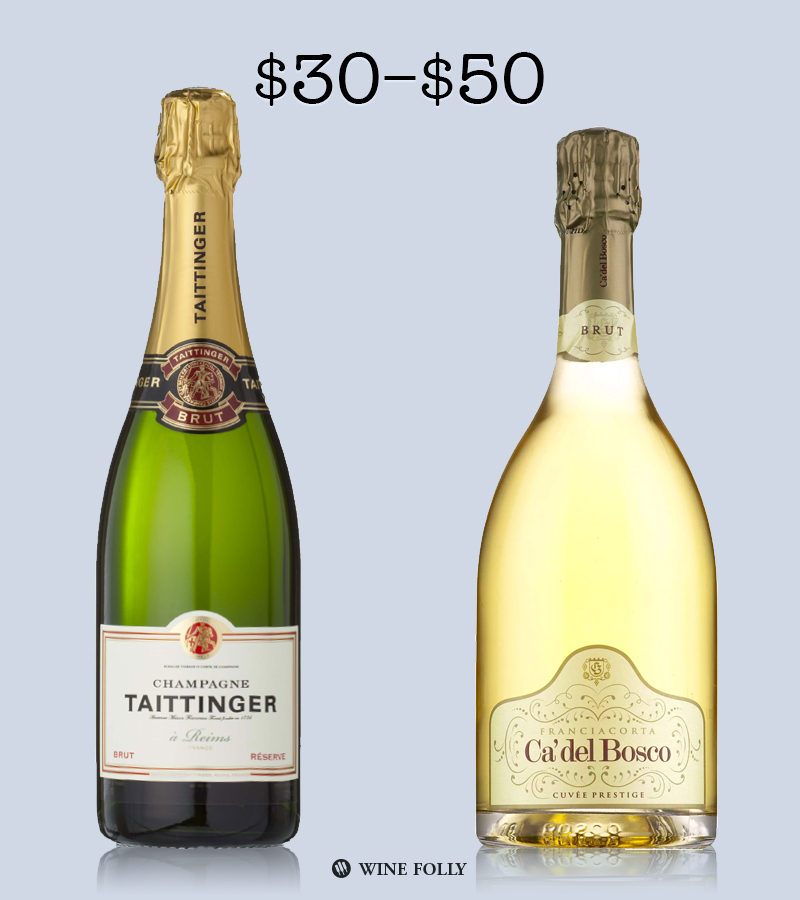 Introductory Champagne is finally attainable, but you can also find incredible Italian "Metodo Classico" in this range.
$30–$50 – Brand-Name Champagne
Welcome to the big leagues. Base-model, non-vintage Champagnes from the classic houses (such as Veuve Clicquot, Moët & Chandon, Taittinger, and Piper-Heidsieck) are now available to you. However, if you stick to non-Champagne regions, you're in for a real treat: top-quality, single-vintage, extended tirage wines that are truly transcendent.
There are also some domestic sparklers at this price-point and they are top-notch. These wines are not just for anyone. They're for people you care about: partners, parents, siblings, and good friends.
What You Get: Champagne (Base-Model, Non-Vintage), Gran Reserva Cava (Top-Tier), Domestic Sparklers (Excellent), Franciacorta (Excellent), Trento (Excellent)
Some Helpful Tips
A Few Examples
---
Fantastic Champagne of all kinds can be had for under $100.
$50–$100 – Vintage Territory
We have arrived at the best champagne. The wine for husbands and wives…for births, milestones, and moments. If people don't understand the magnitude of what they're drinking, it's your sworn duty to tell them. If you have dear friends who know their wine, break it out. These aren't wines you drink so much as the ones you think about and remember. Not only do you start finding vintage champagne in this price range, you also get access to some fantastic grower Champagne and amazing non-vintage and rosé Champagne examples. If you have any one of these bottles on hand, life is very good for you and you should take a minute to acknowledge that.
What You Get: Vintage Champagne (Great to Excellent), Non-Vintage Champagne (Excellent), Blanc de Blancs (Excellent), Blanc de Noirs (Excellent), Grower Champagne (Varies), Premier Cru and Grand Cru Champagne (Site Specific Champagne)
Some Helpful Tips
A Few Examples
---
At around $150 you can acquire top-tier Champagne from the finest vintages, best vineyard sites, and those that spend the longest time on the lees.
$100+ – Prestige
Oh ho, we've got a badass over here! You did really good this year, or so far in this life, and it's time to take a moment to taste success. Or, at least drink like you're going to die tomorrow… These are the wines that kings and queens drink. Literally.
In Champagne, they call them "tête de cuvée" or "top of the batch." They are the most obsessively conceived wines the chef de cave makes. Some producers, like Krug or Salon, only make a tête de cuvée, aging them on tirage (the dead yeast particles called "lees") up to seven years before they launch in the market. All that time waiting in the cellar is part of the reason these wines are so expensive.
The style of top-dollar Champagnes is often rich, fruity, creamy, and nutty all at once. Of course, you don't always get this style at this price. Most of the large brands will indeed opt for a toasty, biscuity style, but many smaller producers choose to champion the fruit of their Grand Cru vineyard with a leaner Champagne.
So again, read the tasting notes. To give you a leg up, since I know you'll ask, here are a few Champagne brands that consistently deliver an oxidative, leesy, aged Champagne at this price:
A Few Examples
 
The Champagne brands listed are to get you started and represent mostly large, well-distributed wines that are available in most markets. So, keep searching!