It seems unlikely that the thin, long country of Chile is a larger producer of Cabernet Sauvignon than the US, but it's true!
Chile's vineyard area dedicated to Cabernet Sauvignon is second only to France. The country has become a winemaking hot spot due to the cooling effect Chile receives from the Pacific Ocean and the Humboldt Current. In other words, Chile has an ideal climate for wine. Chilean red wines have gone from good to exceptional in recent years and yet, they still offer good value.
Red Wines by Numbers
Cabernet Sauvignon 94,900 acres
Merlot 26,280 acres
Carménère 23,470 acres
Syrah 17,000 acres
Pinot Noir 8,170 acres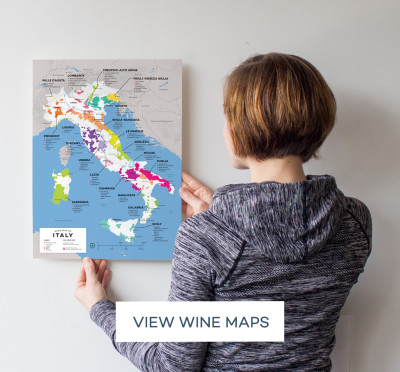 2016 Wine Map Update
Now Available: Appellation maps to explore all of the major wine producing regions of the world. Discover art made to be handled.
Chilean Red Wine Guide A Quick Overview

A detail map of the primary wine regions of Chile
Cabernet Sauvignon and Bordeaux Blends
Most of Chile's vineyards are located in the Central Valley Region, which is a large region that contains several smaller valleys including Maipo, Colchagua and Maule Valley. Most of the Central Valley is wide and flat and this is where the bulk of Chilean wine is made. If you're looking for age-worthy wine however, the fine wines of Chile tend to be found in the foothills (areas with higher elevations), especially the sub-regions of Puente Alto (in Alto Maipo or "High Maipo") and Alto Cachapoal ("High Cachapoal"). Chilean Cabernet Sauvignon and Bordeaux blends have a signature tart-and-fruity style, typical of a cool-climate wine. The tartness (aka acidity) comes from cool ocean breezes being pulled inland by the incredibly tall Andes Mountains.
Typical Flavors: Medium- to full-bodied wines moderate acidity and flavors of black currant, fresh berry sauce, violets, chocolate, and graphite
Tips: Under $15 will afford you excellent daily drinkers that often improve quite a bit with a few years of bottle-age. Look for 2007, 2009, 2011 and 2013
Regions of Interest: Puente Alto, Cachapoal Valley, Alto Maipo (contains Puente Alto and Pirque sub-zones)
Cost: $10–$15
---
Carmenère
The history of Carménère is a tale of mistaken identity. In the 1800s, grape cuttings were imported from Bordeaux that were thought to be Merlot (the vines do look similar). It wasn't until 1994, when a grape researcher, (aka ampelographer) Jean Michel Bousiquot, figured out the Chilean Merlot was actually the Bordeaux variety Carménère. Carménère wines are savory, juicy and medium-bodied with an unmistakable red bell pepper note. The wine's savory flavor has a bit of a cult following. Today, the grape is nearly extinct in Bordeaux, making Carménère something uniquely Chile.
Typical Flavors: Medium-bodied wines with spicy notes of raspberry, bell pepper, pomegranate, chocolate, green peppercorn, and graphite
Tips: Richer styles of Carménère are often blended small percentages of Petit Verdot and Syrah to offer bold flavors of chocolate and violets along with Carménère's signature savoriness.
Regions of Interest: Peuno in Cachapoal Valley, Alto Cachapoal, Apalta in Colchagua Valley
Cost: $10–$15
Pinot Noir
Fog collects in the coastal valleys throughout the summer in Chile. The cool mornings in Chile feel a lot like mornings in Monterey or San Luis Obispo, CA–which are, by the way, are regions well-known for making great Pinot Noir. Because of this cooling effect, the coastal valleys of Chile have become a hot spot for moderate- to cool-climate varieties like Chardonnay and Pinot Noir. Of course, it does get sunny in the afternoon which ripens the grapes, delivering a style of Pinot Noir that is rich with plum, strawberry and raspberry flavors.
Typical Flavors: Light-bodied and smooth with flavors of strawberry, raspberry, creamy vanilla yoghurt, blood orange zest, and minerals.
Tips: Pay attention to the oak program on these wines as it will greatly affect the flavor. Low-oaked wines are lighter and zestier where as oaked Pinots have more notes clove, vanilla and smoke.
Regions of Interest: Casablanca Valley and San Antonio Valley
Cost: $18
---
Syrah
Syrah, or Shiraz as it's sometimes labeled, shows a lot of potential in Chile. There are two primary styles: a plump, smoky, and "Aussie Shiraz" style grown in the valley areas of Maipo, Colchagua, and the large encompassing Central Valley Region; and a lean, peppery, elegant style found in high-altitude areas such as Cachapoal and Elqui Valley. International critics have raved for that latter style due to its complex mineral notes, and age-worthiness, but both are worth investigating if you love Syrah.
Typical Flavors: Wines tend to be full-bodied and spicy with flavors of black cherry, graphite, sugar plum, black pepper, raspberry and chocolate.
Tips: Keep your eyes peeled for reserve-level wines which typically offer excellent value.
Regions of Interest: Colchagua, Cachapoal, Choapa Valley, Curicó Valley
Cost: $10–$15
---
Other Red Wines of Interest
It would be a shame not to highlight a few other Chilean red wines that are off-beat but definitely worth exploring:
Malbec

Chilean Malbec is very different than its next-door neighbor, Argentina. Expect a much lighter and juicier style of Malbec that is almost like a boozed version unsweetened pomegranate-blueberry juice. The wines are aromatic with notes of violet and peony, perfect for a spring-into-summer wine. Expect to spend around $20 for a great bottle.

Cabernet Franc

Typically used a blending grape tossed into the ubiquitous "Bordeaux" blend, Cabernet Franc is occasionally made into a single-variety wine. These wines are savory, lean, and snappy, with flavors of juicy red fruit, black pepper, red pepper and herbs. For under $15 you can find excellent Chilean Cab Franc; a perfect red for outdoor drinking.

País

One of the most planted and least talked about Chilean varieties is País (aka "Mission Grape" or Listan Prieto). País has had a disappointing past as the grape was used for bulk wine production and produced abrasive, rustic, earthy, and tannic wines. Today however, you can find very intriguing old-vine País wines from the Maule Valley, Bío-Bío and Itata. When the tannins are controlled, País wines have a tangy and almost sweet taste with flavors of red cherry, plums and roses.

Cariñena (Carginan)

Cariñena (sometimes spelled Carignane) vineyards in Chile used to be the site of bulk winemaking during the 1960s and 1970s, but that is starting to change. Today, there are many old Cariñena vines that are being reserved to produce delicious, fruit-forward red wines that sometimes have a subtle, peppery, cured meat-like notes that are a fascinating find for savory dry wine lovers. Wines are surprisingly affordable for the quality, expect to spend under $15 for a great bottle.
More on Chilean Wine
Chilean wine expert, Jake Pippin provides a much more detailed look into Chilean wine with a synopsis of the differences of the major regions and what to look for.
The Real Frontier of Chilean Wine

 


Sources

Distinguishing Carmenère from Similar Cultivars by DNA Typing
The Humboldt Current delivers cold Antarctic waters northward which moderates the weather in coastal Chile
The Consorcio Vinos de Chile