Find out what top wine experts love to drink when it comes to Oregon Pinot Noir. Refer to the following wines the next time you're failing to pick out a wine in the wine isle at the grocery store. If you need help remembering the wines below we recommend staring at your screen until your eyes hurt.
 
Experts weigh in on the Best Oregon Pinot Noir, organized by price (from low -> high).
Best Oregon Pinot Noir
Mouton Noir O.P.P. (Other People's Pinot) 2010 $17
Why yes, I am down with Other People's Pinot (Noir). Because when you find a great deal on Oregon Pinot that's not your own, it's possible to offer a wine that delivers when it comes to both value and flavor. Cheers to Mouton Noir for bringing a lively, interesting, and unique Pinot to a wine glass near you for around 20 bucks.
Jameson Fink Wine Writer, Seattle, WA
Jigsaw Willamette Valley Pinot Noir 2010 $20
This wine hails from Ransom Wine Co., a winery that is also a distillery famous for gin. The Jigsaw is their second label wine that comes right in under the $20 mark. With a clear ruby-red core, smelling the wine reminds me of a bouquet of irises and tart cran-raspberry sauce poured over brown bread. It's easy and juicy–the perfect wine to suck-down while watching re-runs of Portlandia. I'm a sucker for opulent vintages such as 2009, 2008 (fingers crossed for 2012!).
Madeline Puckette Wine Folly Co-founder
Arterberry Maresh Dundee Hills 2011 $25
I noticed a bottle of Dundee Hills AVA Pinot Noir on Dundee Bistro's wine list for I swear- like $24 buckaroos, AT A RESTAURANT. I was all like, "holy crap, that's only a double-sawbuck plus thirty-two bits for Dundee Hills wine?!" Supposedly [Arterberry Maresh] have been growing and selling grapes in the Willamette Valley for quite a while, then decided to make a little wine with their fruit for grins. The 2011 Arterberry Maresh Dundee Hills Pinot Noir showed more fruit than earth, but it was so light and elegant, I felt classy for the first time in my life. Like 2010, 2011 was a cooler vintage, and the resulting wines are balanced, and built for food.
Joe Herrig Wine Portfolio Manager, Atlanta, Georgia
St. Innocent Zenith Vineyard Pinot Noir 2009 $33
St. Innocent Zenith Vineyard Pinot Noir is not necessarily cheap; but at $36, it is worth well above its price for its complexity and ageability. Besides being an aesthetically pleasing centerpiece for the dinner table, Mark Vlossak represents single vineyard Oregon Pinot Noir deftly with this wine. Its core remains true to the quintessential Zenith Vineyard fruit: exotic, perfumed, dark cherries. But it offers up plenty of interest at every layer, with underlinings of cardamom and smoky herbs. And it is beautifully textured, maintaining a taut balance of juicy acidity, satiny tannin, and fleshy fruit. In short, at the risk of sounding inappropriate, it feels just as good in your mouth as it tastes!
Rina Bussell Advanced Sommelier, Canlis Restaurant, Seattle, WA
Brick House "Les Dijonnais" 2010 $49
Winemaker/Proprietor Doug Tunnell is simply producing incredible bottles. Wines with focus and complexity and- dare I say it- soul. In particular I was mesmerized by the 2010 "Les Dijonnais" bottling. The 2010 vintage was cooler and rainier in Willamette; somewhat vilified when compared to the blockbuster, opulent 2009 vintage. But, if you're a person who digs structural integrity, elegance, acidity, and subtlety… this is your wine.
Joe Herrig Wine Portfolio Manager, Atlanta, Georgia
---
Meet The Wine Experts
Rina Bussell, The Nose
Advanced Sommelier, Canlis Restaurant
As a kid, I could smell a watermelon being cut in the kitchen from my bedroom, a sensory superpower. Since then, I love to stick my nose into wine glasses, wine books, and other people's business…that is, if they want to learn more about wine. I may be found on either side of the dining table: as a diner or a sommelier. Official trademarked title? Still pending. A friend once suggested Wine Dominatrix, but I don't believe drinking wine should ever be painful–unless it is corked.
---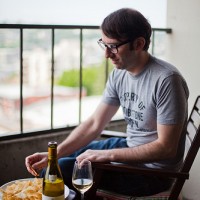 Jameson Fink, The Egalitarian
Eight years ago I moved from Chicago to Seattle to pursue all things wine in a full-time manner. When not pouring wine at Bottlehouse, I daydream about Champagne and popcorn together forever. I also enjoy watching Pawn Stars while drinking rosé.
---
Joe Herrig, The Sardonic Wino
Certified Specialist of Wine | WSET Advanced
Wine writer suburbanwino.com
I started drinking wine in college because it had more alcohol-by-volume than beer. However- out of a realization that I had to compensate for a lack of chiseled features in the dating scene- I developed a burning desire to learn more about food, cooking, what I was drinking, and how it was all intertwined. Today, I spend my days developing a wine portfolio for a large beer distributor in Atlanta, GA. I hold several certifications in wine that do not trump practical application, am sitting for Certified Sommelier in March, and am happily married. I guess it all worked out.