For most of us, being into wine means being into red wine. Perhaps it's because red wines are known to deliver more depth and complexity than most white wines.
However, there are several white wines that go above and beyond the typical fruity-fresh white style and deliver a savory complexity that is worthy of even the most ardent red wine fan.
White wines for red wine drinkers
First of all, what makes red wine so awesome?
There's more to what makes red wine great than just red grapes. For one, nearly all red wines go through a process after their fermentation while resting in oak barrels called malolactic fermentation (MLF for short). The process alters the primary type of acid in wine from sharper-tasting malic acid to smooth-and-soft lactic acid.
It's useful to note that MLF usually happens while wines age in wooden barrels.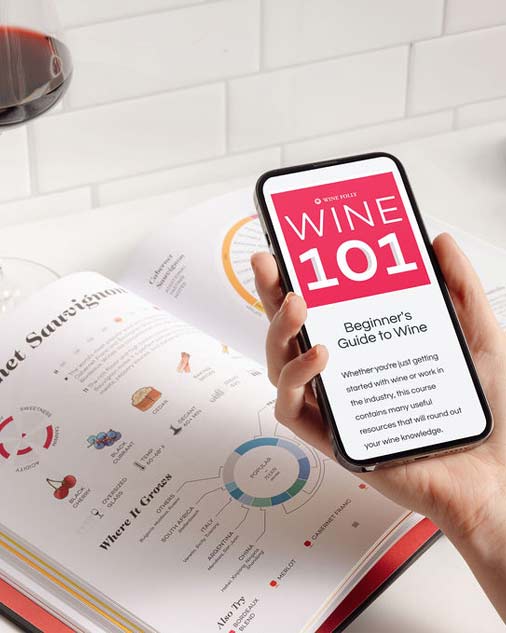 Buy the book, get a course.
Get the Wine 101 Course @ 75% OFF with the purchase of Wine Folly: Magnum Edition.
Shop Now
Thus, if you're looking for white wines with a similar full-bodied character to red wines, look for:
White wines aged in oak (neutral or new oak)
White wines that have undergone partial or full malolactic fermentation
Chardonnay
Toasty notes of crème brûlée, vanilla, and cream that are found in full-bodied Chardonnay wines come from aging wines in oak and the malolactic process. Since Chardonnay does best in cooler-climates, the best examples of this wine come from either warm areas where there's morning fog (such as the California coastal regions) or from growing regions closer to the poles (think Oregon, Burgundy and Chile).
It's in cool growing conditions that wines produce more savory fruit flavors of lemon, quince and apple than sweet notes of mango and pineapple (which are generally found in warmer climates). So, if you were never a fan of Chardonnay to begin with, it could be that you weren't drinking the wines that matched up with your savory red wine palate.
Sémillon-Sauvignon Blanc
(White Bordeaux)
When you match Sauvignon Blanc and all it's herbal flavors to a richer full-weighted variety like Sémillon and then add oak-aging and MLF you get a truly amazing full-flavored white. In fact, the most expensive white wines in the world is exactly this blend: Chateau Haut-Brion Blanc.
It's a little harder to find, but there are producers in Sonoma, Napa, Washington State and beyond making outstanding examples. For those of you who prefer a more herbal and savory style of wine, this would be a great option to explore.
Marsanne-Roussanne
These two white varieties originated in the Rhône valley and have shown amazing potential since they were brought to the US by Tablas Creek Nursery in Paso Robles. While the French will tell you Marsanne is the hero of the blend, Roussanne grown in the US has proven to be quite amazing.
You'll find the grapes growing in the Central Coast of CA (particularly in Paso Robles) as well as Washington State. Wines offer lemon, baked apple, tangerine and beeswax flavors but also a rich full-bodied oily texture when aged in oak.
Rioja Blanco
The Rioja region produces a tiny amount of white wines and they are impressive. Producers make a fresh and fruity style, but for the depth and complexity a red wine lover idealizes, you'll want to seek out the aged styles. It's not uncommon to find these wines aged 10 years on release.
Time in bottle does amazing things to Rioja Blanco. First, it deepens and darkens the color into a rich gold hue. Second, the flavors become more nutty and tertiary (aged) with notes of petrol, beeswax and chamomile. Finally, as the wines age and slowly oxidize in old oak barrels, the acidity softens to a richer, more lush taste profile.
White Rioja wines are usually a blend of Viura (aka Macabeo), Garnacha Blanca (aka Grenache Blanc) and Malvasia.
Orange Wine
And now for something completely different…
Orange winemaking is a very old process that's been reborn primarily in Slovenia and northeastern Italy. Orange wines are made with white grapes but using a process that looks closer to red winemaking: grape skins stay in contact with the juice during the fermentation. The natural tannins of the grape skins and seeds are extracted into the wine, which adds a layer of depth typically only found in red wine.
Orange wines are very unlike other white wines in that the dominant flavors are not fruit flavors but secondary (fermentation) and tertiary (aging) flavors from the process of orange winemaking.
Find out more about Orange winemaking along with some producers worth exploring in "All About Orange Wine"
Ribolla Gialla
In the far northeastern reaches of Italy, in Friuli-Venezia Giulia, you'll find some of the most interesting rich white wines coming from the country. This area is home to a very intriguing variety called Ribolla Gialla ("rib-ola jah-lah") that offers up full-bodied flavors of baked apple and tangerine. While the region produces the wine in both fresh and aged styles, you'll find a few producers making it in a more "Orange" style to produce an unctuous rich white wine. Keep your eyes peeled for Collio Bianco.