If you've been skeptic about wine investments it's time to take note of all of the recent changes that have made it easier to do. Today, there are even investment funds that focus only on wine as well as 3 wine stock exchanges that are chock-full of potential investment gems. Should you need to protect your wine assets while they build equity, there are now dozens of professional storage solutions for long-term aging.
 
 
But how do you get started in wine investing and what should you expect? –And perhaps more importantly– How do you liquidate your assets (and I don't mean drinking!) when you are ready to sell?
 
Getting Started with Wine Investments
Wine investing is an enticing prospect because
"Worst case scenerio, I can drink it"
However, if you plan on making money in wine investing, you need to separate some of your more quirky taste preferences into specific wines that have time-growth potential. You will also –most likely– not even physically touch the wine you invest in. Let's find out what the prerequisites are to wine investing, including how much to expect to spend.
 
Wine Investing Prerequisites
Prepare to Wait 6-10 Years

Wine is not typically a fast turnaround investment. Once you invest, expect to wait a minimum of 5 years before selling. If you want to build a short term portfolio, look into En premier wines from Bordeaux.

Minimum 3+ Bottles of Investment Wine

Most wine auction sites prefer to sell wine in sets of 3, 6, 12 and 13 (the latter is for a collector who wants to try a bottle). By purchasing 3 or more bottles, you also give yourself the opportunity to start collecting verticals of single wines. Some wine exchanges require full cases.

Professional Storage is Recommended

Storing wine in an insured temperature controlled facility is the best way to guarantee that your wine has excellent provenance and will sell. Think of it this way, if you were buying wine from auction, would you risk your money on a case that wasn't professionally stored? Wine storage starts at about $18/mo for a locker that will hold 7-9 cases of wine. Brokers and merchants in the UK prefer a wine that is "In Bond" which means it's purchased and stored in a bonded warehouse that avoids the costly 20% excise tax.

Expect to Spend $8,000+ to Get Going

When you add up the cost of wine storage (at a minimum of $360/yr), insurance and the hassle of selling your collector wine, it's a good idea to start with a sizable value of wine assets. As an example of what to expect, the Wine Investment Fund in London requires a minimum of a £10,000 for a startup expense.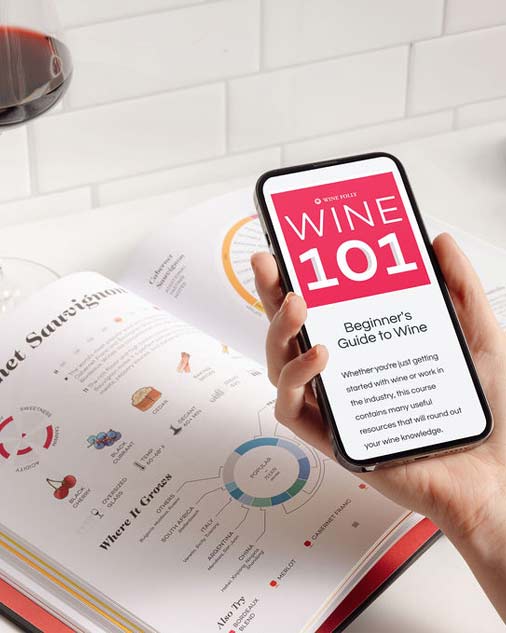 Buy the book, get a course.
Get the Wine 101 Course @ 75% OFF with the purchase of Wine Folly: Magnum Edition.
Shop Now
Set Wine Investment Goals
Getting started with investing in wine is a lot like any regular investment. Figure out what you want your wine to pay for. Perhaps your next wine country vacation? Or maybe you'd like to have an underground cache of rare gems to be enjoyed with family and friends. What you choose will affect what kinds of wines you should buy as well as what types of ancillary expenses you'll have. For instance, if you want to have a cache of wine in your home, you'll need a cellar and wine insurance.
 
Wine Insurance!?
Wine insurance is very useful if you store expensive wines in your home. We were advised to check out
InsureYourWine.com
by cellar management team,
Cellar Advisors
.
---
What are Investment Wines?
An investment wine should have all the traits of an age-worthy wine, but it also should be in demand when it sells. The most in-demand investment wines are fine Bordeaux and Grand Cru Burgundy. Prestige wines such as these start at $600/bottle and are offered in 6 bottle wooden boxes. When buying in this market, buy by the case and do everything you can to create a paper trail of provenance to show the wine is not fake. If you plan on investing in French wines, it's importantant to make your wine easy to sell on the internationl market.
Besides wines from France, Napa Cabernet Sauvignon and tête de cuvée Champagne are also very collectible. When you buy wines from regions other than Burgundy and Bordeaux it is important to buy flagship wines –successful wineries that have made a name for their respective region. While flagship wines might not appeal to your sense of discovery, they are more likely to sell 10 years down the line.
 
Cult Wine Collecting
In recent years, collecting US cult wines have offered great investment turnaround because of a growing international appeal. A few cult wines that have become knockout successes are:
---
Selling Your Wine Investment
Wine Auctions and How They Work
If you're in the US you'll most likely be liquidating your wines through an auction of some kind. In a wine auction your wine is sent to the auction warehouse and then auctioned to the highest bidder. Online wines auctions act a little more like ebay than a traditional auction. There are many different auctions houses around the United States including:
When you consign your wine the auction house will take a cut of the sale. The commission ranges from about 0% (if you accept store credit) to 20% of the sale. There is also usually a minimum consignment amount anywhere from $1,000 – $10,000 of wine. With online bidding, oftentimes you'll have the power to either accept or decline a bid(if it's under the valued mark).
 
The Wine Stock Market
UNITED KINGDOM ONLY There are now three wine exchanges in the UK: Berry Bros. & Rudd (BBX), London International Vintners Exchange (Liv-ex) and Cavex. The three programs focus mainly on top Bordeaux and also handle logistics. In the UK, wine investments are stored in 'bonded' temperature controlled warehouses. Bonded wines avoid the 20% excise tax but also must remain in a warehouse until the tax is paid. These wines are very desirable to international buyers, restaurants and brokers. If you invest in these markets it is possible to never even see your wine.
 
Berry Bros & Rudd and Cavex are available for any consumer with a few prerequisites.
 
Did you know
Raw coffee beans are also controlled by an exchange market where prices fluctuate day-to-day.
A 10 Year Example Plan: Conclusions from a Wino
If I were to build a Wine Investment Portfolio, I would most likely specialize in a specific region and select a few producers that I know will continue to prosper. I would attempt to get on those wineries' allocation lists and I'd also pay the winery a visit to taste their wines and get a feel for who they are. I'd pay close attention to vintage variation reports as the reports would help me decide to purchase either 1 or 2 case lots. I would not buy any less than a case. After 5 years, I would have about 22-24 cases of wine and 5 year verticals of notable producers. Then, I'd have to wait another 3-5 years to start selling.
 
Reality Check: Divorce
If you're married, you'll need to decide who gets the wine upon divorce. This will ensure that you don't become your own worst enemy with improper storage/moving when breaking up.