Some wines start in one location and then gain even more acclaim in another (see Carménère or Malbec), but Grüner Veltliner is one of those grapes that begins and ends in the same place: Austria.
In this week's Tasting Challenge, you'll learn about what makes Austria's signature grape so unique to its homeland.
What is the Tasting Challenge? The challenge is a way to improve your wine palate each week with 34 wines from 12 countries — The Wine Tasting Challenge.
The perception of Austria that many people might have is that it's "Germany's little brother that we don't hear too often from." But Austria's wine industry is exceptionally unique, and for proof, you need go no further than their flagship wine: Grüner Veltliner.
At 42,092 acres (17,034 hectares) planted, Grüner Veltliner is Austria's most planted varietal, taking up nearly a third of the country's entire grape production.
So what makes it so special? A big possibility there is the unique flavors that combine in a single glass.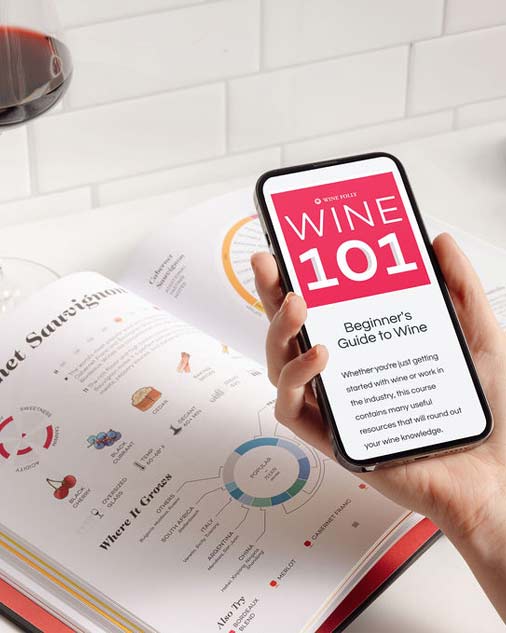 Buy the book, get a course.
Get the Wine 101 Course @ 75% OFF with the purchase of Wine Folly: Magnum Edition.
Shop Now
For a white wine, Austrian Grüner Veltliner is abundantly complex. It's known for being light and zesty, with high acid and citrus notes undercut with flinty stone flavors and the spice of white pepper.
That's fruit, spice, and minerality, all in one wine: no wonder the Austrians are proud of it.
We chose a Grüner from the Wachau Valley region, Austria's most famous wine region (even if it only comprises 3% of the country's vineyards).
To make things even more interesting, we chose a "Terrassen" wine, which means that the grapes were grown on terraces, often at higher altitudes.
---
2019 Domäne Wachau 2019 Federspiel Terrassen Grüner Veltliner
Look: Pale straw.
Aromas: Yellow apple, lime, crushed rock, asparagus, white pepper. I know a lot of you might be scratching your head at the "asparagus" part, but believe me: between that and the pepper, there's an almost savory quality to this wine's nose!
On The Palate: Huge acidity on this one. Between the acid and the flavors of lime and slate, you're left with the mental image of someone crushing citrus on a rock for some of the most hardcore limeade you've ever had in your life. Which I suppose this is.
Food Pairing: You hear a lot about pairing Austrian white wine with Asian cuisine, and there's a reason. The light, dry, spiciness of this Grüner Veltliner would cut elegantly through a carton of sesame chicken or stir fry. I also kept thinking about how lovely the lime would go with some fried flounder. And is it too much of a stereotype if I say Wiener Schnitzel?
---
What We Learned About Austrian Grüner Veltliner
The reason that Grüner Veltliner from Austria makes such a difference has everything to do with the climate and the terroir. Based on its location and the higher altitude of many of its vineyards, Austria tends toward a cooler wine growing climate.
This sort of climate leads to slower growing grapes, which leads to a higher level of acidity. And the rocky terraces of Wachau in particular lead to that telltale flint minerality in Grüner Veltliner. But that doesn't mean it lacks variety.
While that light lime, flint, and pepper combination might be the easiest sign that you're drinking a Grüner, that doesn't mean that all of Austria's examples of their wine taste exactly the same.
Different styles exist all over Austria: you've just got to learn a little bit of the lingo.
If you find a bottle from Wachau labelled "Smaragd," then you've stumbled upon something very special.
Higher in alcohol and aged for longer than its lighter cousins, this style of Grüner Veltliner keeps the high acidity, but offers notes of honey, lemons, and an appealing nuttiness. It's a truly unique experience.
And speaking of unique experiences, can I just give a big shout out to Austria for making their wine commonly available in 1 liter bottles? Zum Wohl!
Last Impressions
There's no doubt about it: that is distinct. With its spice and a lightning strike of acidity, Grüner Veltliner really stands out from most other whites. It's got the spice of Sauvignon Blanc, the acidity of Riesling, and the laid-back drinkability of Pinot Grigio.
It really is no wonder that Austria is so proud of this wine.
What Grüner Veltliner did you try this week? Tell us in the comments and don't be afraid to show us some pictures!
---
Want to get to know Austrian wine a bit better? Pick up our Austrian wine region map and drink your way across the Danube!