Some of you flush with rage whenever you hear that chocolate and red wine don't match but it's true.
There are logical reasons why certain foods make wine taste bad. Once you know them, it's easy to think differently about pairing wine and food. Learn how to pair wines with 6 unmatchable foods. Don't worry, there's even a wine for chocolate.
Don't worry, there's even a wine for chocolate.
Perfect Pairing vs Terrible Pairing
Perfect Pairing: when two ingredients combined create a better tasting and more balanced flavor than they would on their own.
Terrible Pairing: when a combination of ingredients results in flavor imbalance that either hangs on your palate or, in extreme examples, causes you to throw up.
6 Foods That Don't Pair With Wine
1. Chocolate
Why It Doesn't Work
Tasting chocolate adds a few sensations to your palate including textured chocolate tannin, fattiness, sweetness and an earthy flavor. When you finish this taste with a dry red wine, the wine scrapes the fattiness and sweetness from your palate leaving harsh tannins and a sour note of wine. To make matters worse, the wine's initial fruit flavors of blackberry or cherry are lost in the overpowering flavor of chocolate. While there may be a few rare cases where it works, including using a white chocolate (which contains no chocolate tannin), in most circumstances if you actually taste using the technique described above, the components taste worse together than they do apart.
Wines that Pair With Chocolate
Sweet Red Wine.
The classic choice with truffles and chocolate mousse is Late Bottled Vintage Port or maybe a 10 Year Tawny Port which will usually add this wonderful cinnamon and Five Spice note.
There's a lovely low alcohol sparkling red from Italy, called Brachetto d'Acqui, which will do well with fruit-driven chocolate desserts.
Vin Santo Rosso and a sweet Amarone, called Recioto della Valpolicella, go well with orange and chocolate desserts.
From France, you'll love the rich raspberry flavors that Banyuls and Maury add from their base wine of Grenache.
Another potential pairing partner is Bual Madeira which is a fantastic option for desserts with chocolate and nuts.
---
2. Brussel Sprouts
Why It Doesn't Work
Brussel Sprouts are a cruciferous vegetable that, in their best preparation, are nutty, earthy and subtly sulfurous. The earthy notes and sulfur flavors are what cause problems with wine pairing. The reason brussel sprouts make wine taste bad is because the vegetable's organosulfur compounds actually mimic the taste of a wine fault. The same compounds can be found at various levels in garlic, broccoli, cauliflower and asparagus.
Wines that Pair With Brussel Sprouts
There are a few wines that transcend the problem of pairing with this type of vegetable.
Perhaps the best pairing is a dry Madeira, like Sercial Madeira. You can serve a Sercial slightly chilled and it will taste more like a bold white wine.
Biodynamic white and 'orange' wines with nutty flavors such as Savenneires.
French Muscadet can do a good job because of it's 'lager'-like taste that transcends typical white wine flavors.
Austrian Grüner Veltliner from a cool vintage has enough herbaceous punch to compliment both bitter and sulfur-driven vegetables.

1. Chocolate with Banyuls; 2. Brussel Sprout & Madeira; 3. Asparagus & Sherry; 4. Blue Cheese & Port; 5. Sushi and Bone-dry Champagne; 6. Soy Sauce & Carignan
3. Asparagus
Why It Doesn't Work
The same problem of sulfur compounds in brussel sprouts happens with asparagus as well. However, this time there is an additional green herbaceous quality caused by the heightened chlorophyll in the vegetable. With most green vegetables you can usually just get away with a zesty white wine like Sauvignon Blanc, but in the case of asparagus even this might not work.
Wines that Pair With Asparagus
A surprising pairing with asparagus is slightly chilled dry Sherry such as Fino, Oloroso or Manzanilla Sherry. It will add subtle nutty flavors to an asparagus-driven dish. Try this pairing with cream of asparagus soup.
---
4. Blue Cheese
Why It Doesn't Work
While most cheeses pair easily with most wines, blue cheese and other blue-veined cheeses are difficult. This is most likely because the blue cheese has a high presence of a particularly odiferous aroma compound called alkan-2-ones which is also found in sphagnum swamp moss. Nummy. Ultimately, the stinky perfume of blue cheese overpowers most dry wines.
Wines that Pair With Blue Cheese
Port Wine.
You need an equally powerful sweet wine to counter balance blue cheese. One of the best pairings with blue cheese is Port wine. In this pairing, the earthy flavor of the cheese is cancelled out by the acidity of the wine and the creaminess of the cheese locks together with the sweetness of the wine creating a perfect pairing. Other great choices would be a bold, high alcohol Zinfandel, Shiraz or perhaps a sweet white dessert wine.
---
5. Sushi
Why It Doesn't Work
The combination of raw fish, seaweed and sesame are difficult pairing buddies with most common wines. In the case of fish, a study in Japan (of all places) was conducted to understand why fish and red wine don't match. The results of the test indicated that the tiny amounts of iron in red wine would latch on to the fish oils and stick to the taster's palates causing a fishy metallic aftertaste.
Wines that Pair With Sushi
Bone Dry White Wine.
Keep your eyes peeled for cool climate growing regions.
Try a Grüner Veltliner from Austria.
You'll love Muscadet or Sauvignon Blanc from the Loire Valley in France.
Look for Northern Italian Pinot Blanc from Alto Adige in the Alps.
Try Extra Brut or Brut Nature Champagne, especially from the Vallée de la Marne where the use of Pinot Meunier makes the sparkling wines taste savory.
---
6. Soy Sauce
Why It Doesn't Work
The flavor of soy sauce comes from fermented soy beans, wheat and salt. The aromatics of soy are reminiscent of wheat berries and the flavor has a bold salty-sour umami flavor. The challenge with this pairing is the fermented sour taste of soy with a not-so-sour wine. It can make make the wine taste flabby. Fortunately, there are some unique benefits to the saltiness of soy sauce that can actually reduce the bitter taste of tannin in some wine.
Wines that Pair With Soy Sauce
There are basically 2 directions you can go when pairing wine with soy sauce: complementary or congruent.
A complementary way is to create a 'salty sweet' pairing by matching a sparkling Moscato or Brachetto d'Acqui. These wines act like plum sauce or mirin would and create a teriyaki-like flavor when paired with soy dishes.
A congruent method for pairing would be to add more umami. Umami wines include Carignan-based wines from Languedoc-Roussillon such as Faugères; Southern Rhône red blends made with Grenache and Carignan; Cannonau (a.k.a. Grenache) from Sardegna; or Southern Italian Aglianico de Vulture from Basilicata and Gaglioppo from Calabria. You'll find that a congruent pairing such as this will actually make the wines taste more fruit forward.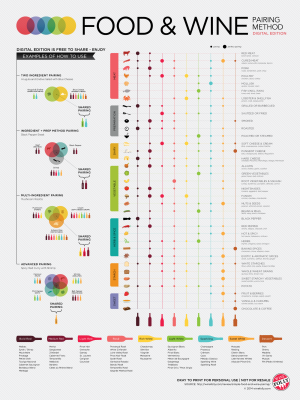 Pair Wine with Food Everyday
See the advanced food & wine pairing chart to match wines with different ingredients and preparation methods.