Formal dining is something that doesn't happen too often and when it does, most of us approach the task with stilted awkwardness. This makes perfect sense because dinner (on average) only requires one dish and one utensil.
So, when the time comes for a multi-course wine dinner (like Thanksgiving!), we literally have no idea what to expect. Let's break down a wine dinner from starters to dessert and figure out which styles of wine fit neatly into each course. As you've probably already guessed, there's a trick to making wine dinners awesome.
What's a wine dinner?
A wine dinner is a meal where every course is paired with wine. Thus, the number of courses you have will determine how many wines should be paired. And yes, a wine dinner will pair wine with dessert too! You can create and host your own wine dinners using the format below.
A Wine Dinner From Starters to Dessert

Nearly all wine dinners follow a similar format starting with lighter, more delicately flavored wines (and food) and ending with bolder, more intense wines. The reason for this is because our sense of taste becomes more dull over the course of the entire meal. It's also why popular desserts are so rich and intense!
We created a theoretical 6-course meal to provide a myriad of pairing options for you to think about. You certainly don't have to use all 6 courses! For example, a popular wine dinner features a 3-course meal with an appetizer, main dish and dessert.
Wine #1: Pairing with Hors d'oeuvres
Sparkling Wine or Unoaked Dry White Wine
The ideal wine to serve with appetizers is something cold with high acidity. You need something brilliant to get people's gustatory juices working. The style of wine that fits these requirements perfectly is sparkling wine. For most occasions, you'll want to select a sparkling wine that's dry, around brut sweetness-level or lighter.
TIP: Serve a sparkling wine the moment people walk in the door.
You're already serving an amuse bouche you just don't realize it!
Amuse Bouche literally translates to "amuse the mouth" and the purpose of this micro starter is to give guests something to do with their mouths while they wait. It's a single bite-sized hors d'oeuvre that's served to each guest. You might think that you're too low-brow for an amuse, but if you've ever had a bowl of nuts or potato chips then you've essentially served an amuse.
---
Wine #2: Pairing with Soup Course
White Wine
Most creamy soups pair shockingly well with unoaked white wines from Sauvignon Blanc to Albariño. In the case where you're serving asparagus soup (which is particularly tricky to pair with wine), you might opt for a chilled Sercial Madeira, Grüner Veltliner, or Soave ("swah-vay").
Planning a soup course
If you're hosting your own wine dinner, the amazing thing about soup is that it tastes even better when it's a day old. So if you're serving soup, prep it the day before so you only have to heat it and decorate it with something green on top. Wine dinners love to feature a creamy soup to pair with a chilled white wine.
---
Wine #3: Pairing with Fried Appetizers
Full-Bodied White, Rosé and Light-Bodied Red Wines
We need to bump it up a notch based on the previous pairings. You have a couple of options: full-bodied white wines, rosé or light-bodied reds. For example, you might serve an oaked white wine like Chardonnay, Viognier, Reserva White Rioja or a Côtes du Rhône Blanc. Or you might even spring for a brilliant ruby Spanish Garnacha Rosado. You could also opt for a Beaujolais or Pinot Noir.
Humans love fried appetizers
There are thousands of options for appetizers but the world's favorite choice is something fried. It doesn't matter if you're at a 3-star Michelin-rated restaurant eating sweetbreads or sitting in PF Chang's with pot stickers, the key ingredient is a crisp crunch provided by hot oil.
---
Wine #4: Pairing with Salad
Rosé, Light Red, Sparkling or Orange Wine
The problem with salads at this point in a wine dinner (and why I like them usually pre- or post-soup course) is that green things are hard to pair with red wine. Fortunately there are several options and a couple of workarounds. First, you can pair a rosé or light red with a salad pretty successfully, just be sure the wine has higher acidity so that the vinaigrette doesn't make the wine taste flabby. Second, a great alternative (and very bold) white wine option is to serve orange wine. Orange wines are white wines made using non-interventionist practices and end up tasting rich, nutty and tart with a refined lack of fruit flavors. If that doesn't sound great to you, a clever chefy workaround would be to include cheese or a creamy dressing in the salad to add fat to absorb the bitter tannin in red wine. Finally, my favorite solution is to whole-heartedly embrace the "palate cleansing" ideology behind the salad course and serve more sparkling wine.
Salad is the natural palate-cleanser course
The traditional formal dinner drops the salad in either right before or right after the main course as a palate cleanser. This is a great way to lighten the mood, especially if you plan to serve a lighter main entrée such as fish.
---
Wine #5: Pairing with the Main Entrée
Medium to Full-Bodied Red Wine
Given the case that you're not having fish, a medium-bodied to full-bodied red wine is going to match perfectly with your main course. For this, there are a myriad of options from which to choose. Suffice to say, pick what you like – or better yet, what your guests like. If you need some inspiration, check out this awesome infographic on the different types of wine.
---
Wine #6: Pairing with Dessert
Dessert Wine
Dessert wine pairings will change the way you think about wine, they're that good. Take for example the classic post-dinner Port and Stilton pairing, which when tasted together (take a bite of the cheese and then a sip of wine while chewing) will create a completely new flavor.
Chocolate Dessert
Full-bodied, rich, fortified wines are a wonderful choice with chocolate, such as Port, Banyuls, Maury, Boal Madeira and PX (Pedro Ximinez is the grape of Montilla-Moriles, which is next to Sherry country in Spain).
Caramel Dessert
Accentuate the caramel flavors with a late-harvest white wine or, better yet, Vin Santo from Italy.
Berrys and Cream
Match the intensities of this fresh dessert with a sparkling sweet wine like Moscato or Brachetto d'Acqui (a sweet sparkling red). If you want to get serious, seek out an ice wine.
Pie
When matching wine with pie, look inside the pie for inspiration. If the pie is red with berries opt for a late harvest red wine. If it's apples, peach or something light, pick a late-harvest white.
---
Make it Your Own

The above is advice to get you excited and inspired to make great wine pairings at home. There are more options to explore and develop on your own. Salut!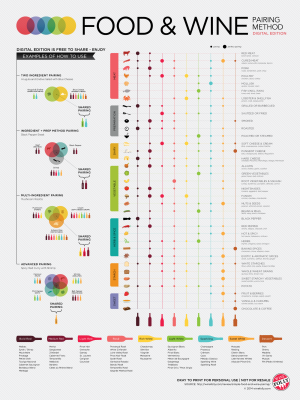 Pair Wine with Food Everyday
See the advanced food & wine pairing chart to match wines with different ingredients and preparation methods.