Saint Patrick's Day is right around the corner – pints of Guinness and tumblers of Whiskey abound! If malted barley isn't your thing, you might be feeling left out. Fear not. Here are five great St. Patrick's Day food and wine pairings that will keep you chewing and sipping in tune with your favorite Irish jig! And, check out our wine-based green cocktails too.

Corned Beef with Cabernet Franc
Food: Corned Beef
Wine: Cabernet Franc
Alternate Pairing: Sauvignon Blanc (preferably from New Zealand)
Pickling spices, such as allspice, coriander, peppercorns, and cloves take an ordinary beef brisket up to level ten deliciousness. The curing brine helps to both flavor and tenderize the marbled meat, leaving you with soft, succulent slices and an aromatic, zesty bite.
Why the pairing works: The corning process allows for the use of a cut of meat that's not overly fatty, and thus doesn't require an overly tannic wine counterpart. A solid red match is a Cabernet Franc. It's elevated acidity and moderate tannins perfectly suit a rich, but not overly fat-laden corned beef. Cabernet Franc also makes a nice counterpart to flavors such as herbs, or the pickling spices imparted by the curing process. For a white wine alternative, grab an aromatic Sauvignon Blanc, preferably a slightly weightier style (as opposed to a racy Sancerre), such as those typically found in New Zealand. The shared principles of Cabernet Franc and a New Zealand Sauvignon Blanc (think lifted acidity and an often herbaceous quality), both lend themselves to be a delicious match to the rich, savory profile of corned beef and its traditional counterpart, cabbage.
---
Potato Leek Soup with Grüner Veltliner
Food: Creamy Potato and Leek Soup (Also works with Irish Colcannon or Boiled Cabbage)
Wine: Grüner Veltliner
Alternate Pairing: Sauvignon Blanc
Still feeling the chill of winter? It's time for some velvety, potato leek soup. The richness of soft, yukon gold potatoes with heavy cream, balanced by the savory oniony bite from sautéed leeks. A hug in a bowl. Yum.
Why the pairing works: The elevated acidity of a Grüner Veltliner will help to cut the creamy, weightiness of the soup, refreshing your palate between spoonfuls. Grüner's classic peppery, green notes will be a perfect complement to the vegetal flavor profiles of the leeks and any herbs you might want to throw into the pot. A crisp, grassy, Sauvignon Blanc, such as a Sancerre or smoky Pouilly Fumé (especially if you're dotting your soup with bacon) would be a great alternate choice. Also high in acid, and full of herbaceous notes, both grape varietals make a perfect pairing match. Grab any of these wines with your Irish Colcannon casserole or boiled cabbage dish too!
---
Shepherd's Pie with Sangiovese
Food: Shepherd's Pie
Wine: Chianti Colli Senesi (a Sangiovese!)
Alternate Pairing: Syrah
Maybe you want to skip the blender and dress those potatoes up a notch. Mash them and fold atop of hearty mixture of fragrant, spiced, ground lamb in the traditional Irish Shepherd's Pie.
Why the pairing works: Sangiovese, the main grape of Chianti and the sub-region Colli Senesi, is a winning food pairing wine. It's lively acidity, moderate tannins, and savory notes will balance the richness of the spiced lamb meat. If you want to punch up your wine a bit, grab a peppery Northern Rhone Syrah instead. The savory, meat-juice flavors of a Cornas Syrah, for example, will meld perfectly with the gaminess of the ground lamb. Now I'm getting hungry.
---
Irish Beef Stew with Aglianico
Food: Irish Beef Stew
Wine: Aglianico
Alternate Pairing: Merlot
Traditionally, Irish Stew was made using mutton, or at times, lamb. These days there are as many variations on this classic dish as there are Irishmen. Today we'll pair a modern-adaption of Irish Stew, one made with succulent cubes of beef and hearty root vegetables, with the perfect wine.
Why the pairing works: You could certainly grab your favorite Cabernet Sauvignon for this beefy dish. But if you're feeling a little more adventurous, try an Italian Aglianico instead. It's full-bodied, and with rich tannins, it is a perfect match for hearty, rich stew. And, its and savory, earthy, and gamey flavors will complement the root vegetables and meat equally. As an alternate pairing that you might already have on hand, try a Merlot. Try one from a moderate climate (like Bordeaux!) to emphasize more integrated tannins and bring out the spicy, fleshy notes that will meld seamlessly with your stew.
---
Irish Pancakes with Dry Hard Cider
Food: Boxty- traditional Irish Pancakes
Wine: Hard Cider
Alternate Pairing: Chardonnay
Irish Boxty are potato pancakes made with mashed and/or grated potatoes. Often served early in the day, they make a great platform for a variety of tantalizing toppings.
Why the pairing works: Hard Cider is wine too! It's got all those apple undertones, often with an oxidized fruit quality, that will lend depth to the mild flavor of the potato. The sharp effervescence of the cider will ensure you're not bogged down by your Boxty. If you're determined to stick with wine, try a Chardonnay. The same apple-y notes that worked with the Hard Cider will be in play here too. The undertones of lemon, apple, and even pineapple in most Chardonnays are subtle enough that they won't overwhelm the Boxty. If you're frying your pancakes up to an extra crispy crunch, you could opt for a buttery, oaked style to pair. And if you're topping your Boxty off with salmon lox and crème fraîche, grab a crisp, minerally basic like Petit Chablis.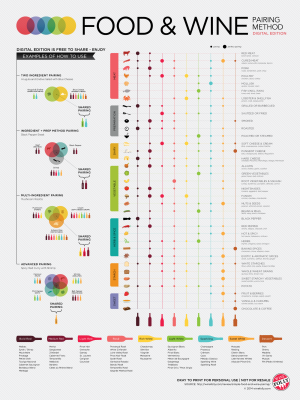 Pair Wine with Food Everyday
See the advanced food & wine pairing chart to match wines with different ingredients and preparation methods.