Basics to Pairing Wine with Ham
Fruity Wines – Ham, with its sweet-and-salty richness, pairs best with wines that have a touch of sweetness, plenty of acidity and bold fruit. Great ham-wines include Riesling, Moscato, Chenin Blanc, Rosé, Lambrusco, Grenache, and Zinfandel.
What wine goes with ham? The general profile of ham is sweet, salty, textured and rich, but you'll find quite a bit of variation in ham depending on what you get. Because of this, you can pick from a range of wines that work great!
A Li'l History: Ham has been a big deal for a very long time–at least as far back as the time of Gaul. In the 1700's, ham was a primary component of the sailor's diet and demand spread throughout the world.
Today, the pig-based cured meat has quite a range of tastes; from the specially smoked Westphalian hams of Germany (made from acorn-fed pigs), to the thick-sliced deli-counter "honey ham" that you've been putting on your croque-monsieur.
Pairing Wine with Ham
Pairing Wine by Style of Ham
There are 3 major production methods of ham, which include salting (dry-curing), wet-curing and smoking. However, since some producers use a combination of all 3 methods, we've organized ham by taste (and cited a few examples) so that you can get a better idea of the flavor pairing ideology.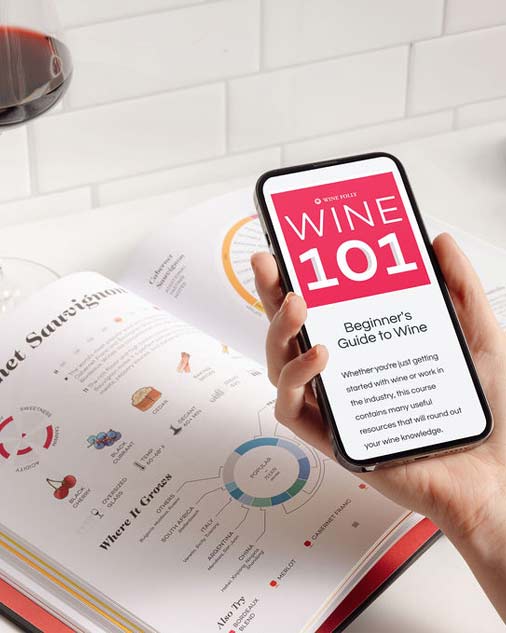 Buy the book, get a course.
Get the Wine 101 Course @ 75% OFF with the purchase of Wine Folly: Magnum Edition.
Shop Now
---
Dry-Cured, Aged Ham
Thinly-sliced, bold flavored hams with a chewy texture and typically higher salt content.
A classic example of this style of ham, that nearly all of us know, is the Italian favorite, Prosciutto. You'll find ham in this style typically served in micro-thin sheets as a melt-in-your mouth appetizer.
Prosciutto
Bayonne Ham
Serrano Ham
Jamón Ibérico
Speck
Recommended Wines:
The high saltiness factor and dryness of the meat begs for sparkling wine. You'll also do very well with a sparkling Rosé or even a sparkling red. Other great pairing options include still Rosé, crisp minerally and herbaceous white wines, dry Sherry (perhaps a Fino or Manzanilla Sherry), and dry Madeira (such as a 5-year Verdelho or Sercial Madeira).
---
Savory and Smoky Ham
Medium to thick cut sliced ham with a medium to bold flavor that's not sweet.
This style is typically smoked but ranges in size from full-sized fresh hams that you bake in the oven to pre-sliced ham that you buy at the grocery store. This less-sweet style of ham could also include processed ham like Mortadella and Spam. Since this style of ham is juicier and not as salty as a dry-cured ham, it is one of the better choices to match with lighter red and rosé wines.
Black Forest Ham
Country-Cured non-glazed Ham
Smoked Ham Hocks for Soup
Mortadella
Spam
Recommended Wines:
With less sweetness and more texture, you'll be delighted with a medium-bodied fruity red with moderate acidity. There is a great range of wines to choose from in this style and here are a few favorites to know: Grenache-based reds (such as the GSM blend), Zinfandel, new-world style Pinot Noir, Zweigelt (from Austria!), Dornfelder (Germany), deeply-colored Rosé, The Corvina-based red wines of Valpolicella, Aged Tempranillo, Nebbiolo, Sangiovese, Primitivo-Negroamaro blends from Puglia, and "Secco" (dry) Lambrusco.
---
Sweet and Salty Ham
These are typically medium to thick cut hams with a chewy texture and noticeably sweet flavor.
Think Canadian bacon. Since this style of ham is sweet, you'll want to match with wines that are also sweet or taste very fruity. You might be surprised by some of the recommended pairings but they taste outstanding!
Canadian Bacon
Honey Baked Ham
Glazed Baked Hams
Mortadella
Char Siu (Chinese Barbecue Pork–Technically not ham, but fits the flavor profile!)
Recommended Wines:
The best way to pair with foods that have sweetness is to have a wine with sweetness too. On the more dry side, pick a Riesling, Chenin Blanc or White Zin/Merlot. On the sweeter side go for Moscato, Brachetto d'Acqui, Vin Santo and White Port. You can probably get away with more new-world style reds including Australian Shiraz, South African Pinotage and American Petite Sirah.
---
Pairing Ideas
Here are a few pairing ideas for wine with ham to get you started.
Hawaiian-Style Pizza

Canadian bacon and pineapple may be a kid's favorite but some of us still love it! This pizza pairing is ideal with the sparkling red wine Lambrusco. Another great choice would be equal parts cheap red wine and Coca Cola. In Barcelona they call it Kalimotxo ("Cali-Mocho").

Prosciutto and Arugula Pizza

The Italian classic combination deserves a classic Italian red wine. For this pairing, we love the wines of Sardegna, particularly a red called Cannonau (which is actually Grenache) and Carignano (aka Carignan). They are medium-bodied, leathery, and fruity, and can be found for under $14 a bottle!

Croque-Monsieur (Monte Cristo) Sandwich

The French were really the ones who started the whole fried-ham-and-cheese-sandwich-thing, which is why we like to call it a croque-monsieur ("croke-mon-sewer"). While this sandwich is outstanding with a racy off-dry Riesling (think Rheingau) we also love the herbal flavors that wines like Sauvignon Blanc, Vermentino, Grüner Veltliner and Verdejo add to this dish.

Split Pea and Ham Soup

Split pea is one of the hardest foods to pair with wine because it tends to make wine taste like dirt. However, if you turn to red wines with high acidity like Zweigelt (from Austria) or Valpolicella Classico (from Veneto) you'll find a match. Another great off-the-wall option that's surprisingly good is a dry-style Sercial Madeira.

White Bean & Kale Soup with Smoked Ham Hock

Saveur has a drool-worthy recipe for an Italy-inspired soup using ham hock. So, to match the Italian motif of bitter vs. sweet try a Negroamaro or Negroamaro/Primitivo blend from Puglia. Negroamaro translates to "black bitter" but the wines are a perfect balance of dark fruit and tannin.

Eggs Benedict

This dish is so rich with creamy hollandaise and sweet ham that you actually need something to cut it. Most opt for orange juice but we think that a Grapefruit and French Crémant Mimosa would be the bees knees.
Classic Regional Ham Pairings
In Europe, there are many different types of ham with Protected Designation of Origin (PDO) status. PDO is a classification method similar to wine or cheese (think Parmigiano-Reggiano) that guarantees the regional specialty.
Try local regional wine with it! Here are a few great examples:
Spain

Jamón Ibérico with dry Sherry

Italy

Prosciutto with Moscato d'Asti

Germany

Speck with Rheingau Riesling
---
See Also:
Hungry yet? Add your favorite wine ham pairing to the comments!