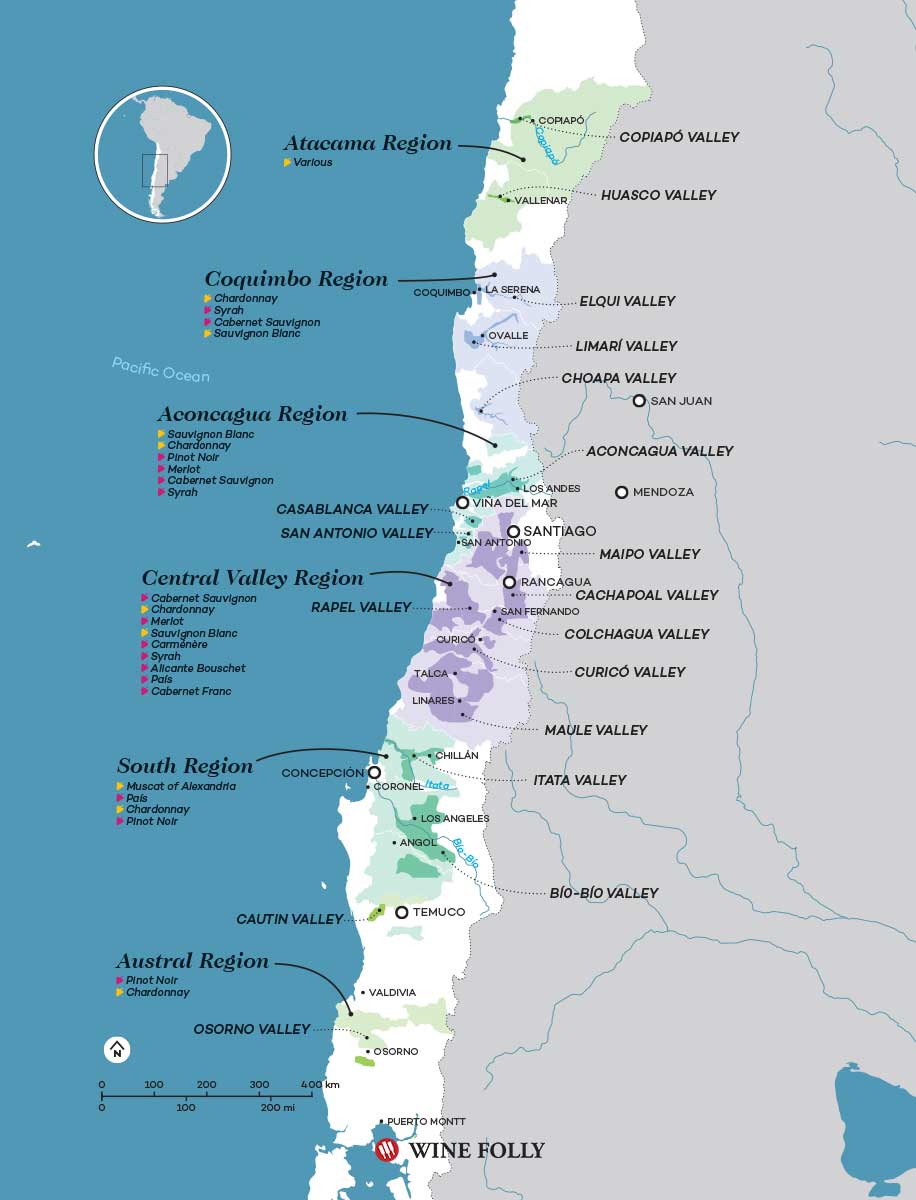 Chile
Explore Chile, one of South America's most significant wine producers, and possessing a vast range of wine styles grown in a surprising range of terroir for such a small country. Primarily growing Chardonnay and Syrah.
Table of Contents:
Introduction
Francophiles in South America.
The French were excited by the prospects of Chile's ideal climate and soils for fine wines and invested in the region early on. Their influence shaped Chile's wine market towards a focus on Bordeaux varieties like Merlot and Cabernet, focusing heavily on exports. Then in the 1990s, it was discovered that much of the country's Merlot was actually a nearly extinct variety called Carménère. Chile suddenly had its own unique wine.
Wine Regions
Chile is a thin strip of land sandwiched between the Pacific ocean and the Andes mountains. Its position creates a massive air conditioner effect – sucking cool ocean air inland. Each wine region has 3 unique growing zones: The Costas (cooler coastal regions), Entre Cordilleras (warm inland valleys) and Los Andes (exposed mountainous areas).
The coastal regions are best suited for cool climate grapes like Pinot Noir and Chardonnay. Sauvignon Blanc grows well here too!
The inland valleys are warmest and known for their soft and supple Bordeaux Blends.
The high elevation Andes create wines with more structure (tannin and acidity) and this has lead to intriguing Syrah, Cabernet Franc, Malbec and Cabernet Sauvignon.
Good to Know
The first wine grapes were planted by Spanish missionaries in the mid-1500s including País (aka Listan Prieto).
To date, the vineyards in Chile are not affected with phylloxera–a louse that infests Vitis vinifera roots.

Medium-Bodied Red Wine
Carménère
Carménère is directly related to Cabernet Franc and shares its red fruit flavors and herbaceousness. At the moment, the best wines are found in and around Colchagua, Cachapoal, and Maipo Valleys where wines are richer and more chocolatey.
Raspberry, Plum, Green Peppercorn, Milk Chocolate, Bell Pepper

Full-Bodied Red Wine
Cabernet Sauvignon
The most planted wine grape of Chile is known for producing more elegant and herbal styles of Cabernet. That said, the regions of Apaltagua, Maipo, and Colchagua show outstanding potential and produce wines with richness, similar to fine Bordeaux.
Dried Blackberry, Black Cherry, Green Peppercorn, Dark Chocolate, Pencil Lead

Full-Bodied Red Wine
Bordeaux Blend
With several French producers situated in Chile's major wine growing regions it's no wonder that Bordeaux blends are an important style of wine. The best producers are mostly found in Maipo and Colchagua and produce balanced, age-worthy blends.
Black Currant, Raspberry, Pencil Lead, Cocoa Powder, Green Peppercorn

Medium-Bodied Red Wine
Merlot
Chilean Merlot has much more lean fruit and more herbal aromas, especially in the Central Valley where much of the country's bulk wines are made. That said, Merlot from Cabernet's top regions offer awesome value because they're always overlooked.
Plum, Black Cherry, Dried Herbs, Cocoa Powder

Light-Bodied Red Wine
Pinot Noir
The coastal regions including, the famed area Casablanca Valley, and the Southern parts of Chile are where Pinot Noir shines the best.  Chilean Pinot exudes flavors of fresh, macerated berries with subtle woodsy notes, often from judicious oaking.
Blueberry Sauce, Red Plum, Sandalwood, Vanilla, Clay Pot

Full-Bodied Red Wine
Syrah
Syrah shows some of the best potential as an up-and-comer.  Wines range in style from succulent reds with black fruit and brooding chocolate notes to wines from higher elevations which tend to be more elegant with lighter red fruit flavors, higher acidity and minerality.
Boysenberry, Plum Sauce, Mocha, Allspice, White Pepper

Medium-Bodied Red Wine
Cabernet Franc
Cabernet Franc is one of the unsung workhorses of the Chilean Bordeaux Blend and seems to flourish all over the country's varied climates.  That said, you'll find a wide range of variation with the best wines mainly coming from Maipo and Maule Valley.
Black Cherry, Roasted Red Pepper, Cedar, Wood Smoke, Dried Herbs

Light-Bodied Red Wine
País
Also known as the Mission grape and widely-planted, but rare outside of the country. País has enjoyed a rediscovery with many old vines in Maule and Bío-Bío.  Wines are juicy with bright red fruit and crunchy tannins. País is very much the Beaujolais of Chile.
Candied Raspberry, Rose, Violet, Cherry Sauce, Dried Meat
Medium-Bodied Red Wine
Carignan
A variety with fervent local support due to the high number of century-old vines – some of which are dry farmed and plowed by horse.  Wines have both deep concentration and heightened acidity that play between fruit and savory notes of grilled meats and herbs.
Grilled Plum, Dried Cranberry, Nutmeg, Iron, White Pepper

Full-Bodied White Wine
Chardonnay
The cooler Costa areas is where you'll find the best Chardonnay.  The most popular style is buttery from oak aging, and comes from Casablanca and San Antonio Valleys. The outer regions of Limarí and Aconcagua offer the most minerality and are uniquely salty.
Baked Apple, Pineapple, Starfruit, Butter, Flan

Light-Bodied White Wine
Sauvignon Blanc
Chilean Sauvignon Blanc is highly aromatic with zippy acidity.  What makes this wine unique is the contrast between its fruit notes of white peach and pink grapefruit by intense green, herbal notes of lemongrass, green pea, and freshly wetted concrete.
Kiwi, Green Mango, Fresh Cut Grass, Chervil, Fennel

Light-Bodied White Wine
Viognier
Still a rare find as a single-varietal wine from Chile, Viognier is often blended with Chardonnay to add stone fruit flavors or splashed into Syrah to intensify color (believe it or not!) and aromatics. If you do find one, Chilean Viognier is quite lithe and minerally.
Honeydew Melon, Fennel, Green Almond, Asian Pear, Saline
Join Our Newsletter
Jumpstart your wine education and subscribe to the Wine Folly newsletter right now. Always awesome. Always free.