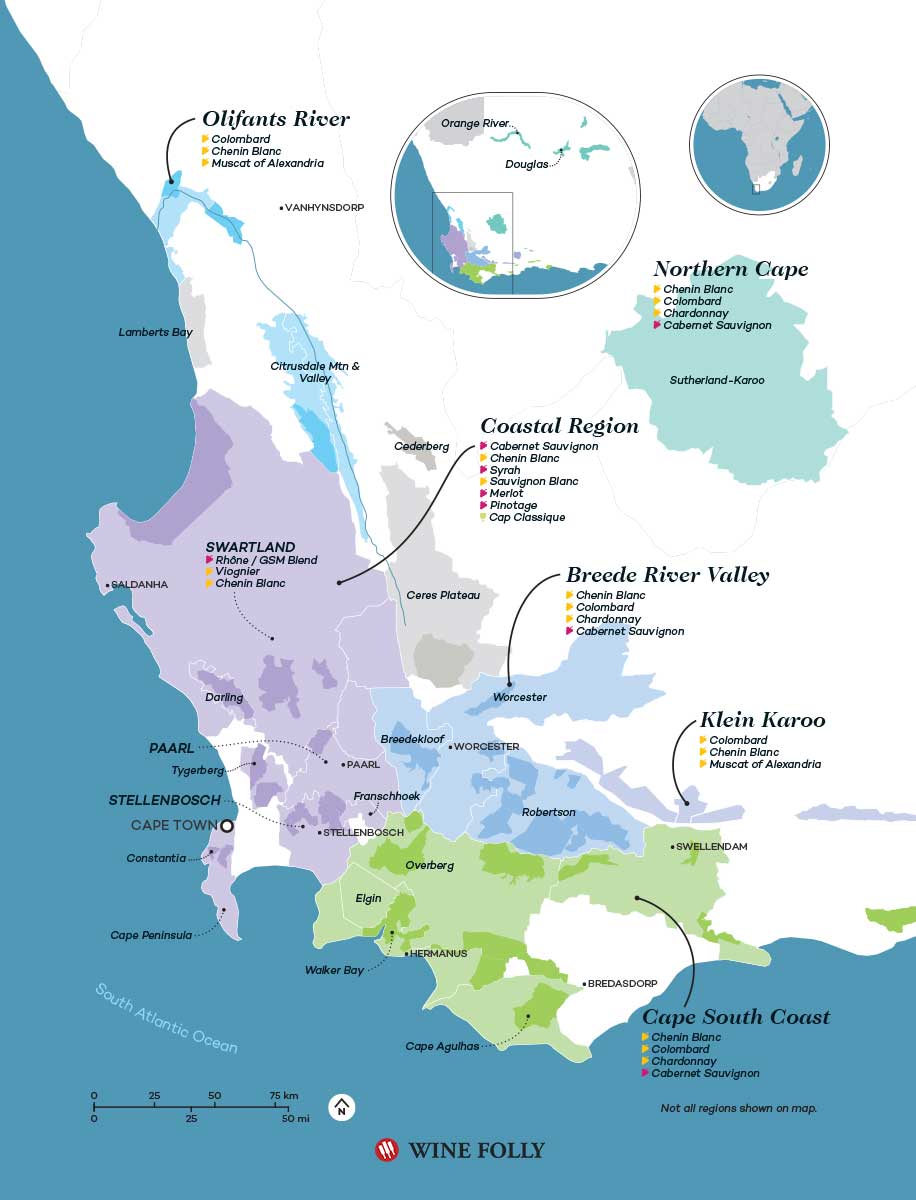 South Africa
Explore the most significant example of old and new world winemaking coming together. South Africa produces unique wines thanks to some of the most ancient soils on earth, resulting in bold red and white wines.
Table of Contents:
Introduction
Old world meets new world.
Wine grapes first arrived in South Africa by way of the Dutch East India company. And, by the mid-1700s, the country's Chenin Blanc-based dessert wine, Constantia, was famous across Europe. What makes South Africa unique is its warm climate paired with ancient granite soils (over 600 million year old) which results in bold red and white wines with high aromatic intensity.
Wine Regions
With the exception of Lower Orange River and Douglas in the Northern Cape, nearly all South African wine comes from the Western Cape.
The Coastal Region has a hot climate making it an ideal place for bold red wines including Cabernet, Pinotage, and Syrah. There are several cooler microclimates too, producing lush styles of Chardonnay and Sémillon. Highlights include wines from the regions of Stellenbosch, Paarl, and Swartland.
Breede and Olifants River Valleys are still very much considered the value wine areas of the country. You'll also find many thousands of acres of white varieties including Chenin Blanc that are used for brandy production.
Cape South Coast is tiny, but shows some of the highest potential for great quality, cool-climate wines including those of Pinot Noir, Chardonnay and even sparkling wines (from Elgin). The region is very spread out and producers here are very individualized and unique.
Good to Know
In South Africa, "Estate Wines" are from registered vineyards farmed as single units (there are 207 in total).
South Africa's growing season starts in September and the majority of harvest happens in February

Full-Bodied Red Wine
Cabernet Sauvignon
The most planted red grape offers a range of styles and quality levels. Top quality examples easily rival the best in the world with their structured tannin and big, varied aromas. Even on the low end, South African Cabernet Sauvignon is known to over-deliver.
Black Currant, Blackberry, Bell Pepper, Dark Chocolate, Violet

Full-Bodied Red Wine
Pinotage
South Africa's own grape variety is very difficult to grow and make and thus, the variety has suffered a poor reputation. Fortunately, several estates have taken extra care with this grape, and produce rich, lush, and smoky wines which are shockingly affordable.
Blueberry, Spiced Plum, Rooibos, Sweet and Sour, Tobacco Smoke

Full-Bodied Red Wine
Bordeaux Blends
Where there is great Cabernet you'll also find exceptional Bordeaux-style blends. South African blends are elegant and savory, resembling more of an old world style that you might imagine coming from Italy or France.
Black Currant, Cocoa Powder, Green Peppercorn, Tobacco, Cigar Box
Full-Bodied Red Wine
Rhône / GSM Blends
Swartland is a rugged, dry region with many old vines of Grenache, Syrah, and Mourvèdre. It produces juicy and fleshy reds with sweet black fruits, olive, and pepper flavors supported by robust tannins. A region with serious potential.
Blueberry, Blackberry, Dark Chocolate, Black Olive, Sweet Tobacco

Full-Bodied Red Wine
Syrah
A surprising find from South Africa that's only just becoming well-known outside the country. The region's granite-based soils boost peppery aromas, and in Swartland, Franschhoek and Jonkershoek they're known for their elevated, age-worthy tannin.
Cherry Syrup, Menthol, Blackberry Brambles, Clay Dust, Sweet Tobacco

Full-Bodied White Wine
Chardonnay
Traditionally, Chardonnay performs best in cooler climates, but there are a few microclimates that excel for this variety in South Africa. Regions that focus on this variety include Elgin in Cape South Coast and Banghoek ward within Stellenbosch.
Pineapple, Yellow Apple, Graham Cracker, Pie Crust, Toasted Almond

Light-Bodied White Wine
Crisp Chenin Blanc
While everyone else looks to France and Vouvray, South Africa hums along making some of the best Chenin Blanc wines in the world for a fraction of the price. The dry styles are a delightfully tart and refreshing alternative to Sauvignon Blanc.
Lime, Quince, Apple Blossom, Passion Fruit, Celery

Aromatic White Wine
Rich Chenin Blanc
The more serious Chenin Blanc wines of South Africa often receive extended aging regimes in oak where they develop sweet, candied apple notes and meringue-like creaminess on the palate.The Chenin Blanc Challenge cites top wines each year.
Passion Fruit, Baked Apple, Honeycomb, Nectarine, Lemon Meringue

Light-Bodied White Wine
Sauvignon Blanc
Where there is good Chenin Blanc you can bet there is good Sauvignon Blanc as well. Wines are savory but punch a pucker on the palate with moderate body. Some producers will even oak their wines to deliver even more body.
White Peach, Gooseberry, Honeydew Melon, Lovage, Granite

Full-Bodied White Wine
Viognier
Viognier is still quite small in terms of production but it's well-distributed throughout the country. You'll find it often blended with other white varieties where it adds heady floral aromas and increases the mid-weight oiliness in the palate. Viognier grows very well in South Africa's climate!
Lemon, Apple, Vanilla, Violet, Lavender

Full-Bodied White Wine
Sémillon Blends
A unique specialty in South Africa are Sémillon-based blends. Many are aged in oak to produce a full-bodied, creamy, and savory white wine. The region most focused on this style is Franschhoek, which is a slightly cooler area producing wines with high aromatics.
Meyer Lemon, Lanolin, Yellow Apple, Bread and Butter Pickles, Hazelnut
Sparkling Wine
Cap Classique
An association created in 1992 dedicated to producing high-quality sparkling wines made with the traditional Champagne method. Chardonnay, Pinot Noir, Pinot Meunier, and the unique addition of Chenin Blanc give these wines sweet-citrus like notes.
Orange Blossom, Meyer Lemon, Yellow Apple, Cream, Almond
Recent South Africa Articles
---
Join Our Newsletter
Jumpstart your wine education and subscribe to the Wine Folly newsletter right now. Always awesome. Always free.