If you love Cabernet Sauvignon, start looking for
South Africa's hot values.
Before the last 10 years South African Wines barely crested the bottom of the grocery store shelf. Most of the wine produced in the country went directly to be distilled into brandy. Today the story is changing. South African wines have emerged as both some of the best valued red and white wines and in the highest quality.
Did you know? South Africa produced one of worlds most famous wines during the early 1700s… (before Cabernet Sauvignon became famous!)
Discover South African wine with this simple guide. Download the South African wine map, learn the major wine varieties produced and get the dish on what to look for when buying wine.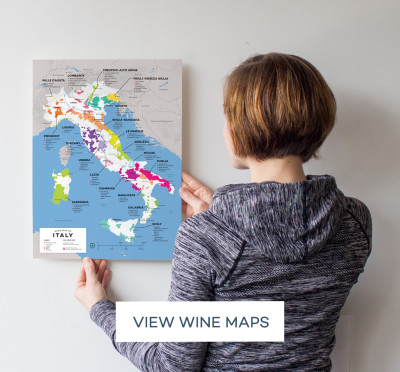 2016 Wine Map Update
Now Available: Appellation maps to explore all of the major wine producing regions of the world. Discover art made to be handled.
---
South African Wine Map

South African Regional Wine Map ➜
South Africa's most planted wine grapes are
Chenin Blanc and Cabernet Sauvignon
South African Red Wines
Cabernet Sauvignon 30,000 acres (2011)

There is a savory complexity to South African Cab, which makes it a delightful alternative to the more fruit-forward Cab values from Paso Robles or Sonoma, California. Imagine black pepper, bell pepper rounded out with currant, blackberry and plum. South African Cabernet Sauvignon fits somewhere inbetween new world and old world; it's savory, but without all the grit of a French Bordeaux Superieur. Check out these wine regions:

Paarl & Stellenbosch (Coastal Region)
Franschhoek (typically more herbaceous)

Syrah 25,500 acres (2011)

The Chocolate Block which is mostly South African Syrah has taken the US (and Costco) by storm. Syrah from South Africa is becoming popular due to its dark spiced fruit flavors with a chocolate like richness. It's important to note that since Syrah grows thoughout South Africa, it has a wide range of styles. You will find more savory wines from cooler regions such as Paarl and Stellenbosch and more richly intense wines from dry areas such as Robertson and Swartland.

Paarl & Stellenbosch (Coastal Region)
Robertson
Swartland (includes Malmsbury and Darling)

Pinotage 16,000 acres (2011)

Pinotage is South Africa's very own grape variety; a cross between Pinot Noir and Cinsault. However, watch out Pinot Noir lovers, just because it's made with Pinot Noir doesn't mean it tastes the same! Pinotage offers juicy raspberry to blueberry fruit flavors with spiced chocolate and tobacco. The wines are much more dense, higher alcohol and typically more savory than Pinot Noir. Pinotage often gets blended with Syrah.

Merlot 15,800 acres (2011)

Merlot is widely used a blending grape with Cabernet Sauvignon. Still you can find several single-variety Merlot from the Coastal Region.

Other South African Reds

Several other red wines are growing in South Africa, including Malbec, Petit Verdot, Pinot Noir and Cinsault (spelled 'Cinsaut' in SA). While most of the aforementioned varieties end up being blended, South Africa's cooler climate regions (including Elgin and Walker Bay) are making single variety Pinot Noir.

Other Wine Varieties: Petit Verdot, Malbec, Pinot Noir, Cinsault and Cabernet Franc
Esoteric Wine Varities: Cornifesto, Roobernet
---
South African White Wines
Chenin Blanc 42,500 acres (2011)

The most planted grape variety in South Africa is known by the same Steen. Most of the Chenin Blanc produced goes into brandy production but there's a growing excitment internationally for South African Chenin Blanc. A peachy and floral grape variety not unlike Alsatian Pinot Gris and Viognier although most affordable examples are only slightly floral and dry on the palate. You could easily substitute your usual Pinot Gris for a bottle of South African Chenin Blanc.

Colombard 29,000 acres (2011)

Known in South Africa as 'Colombar' this esoteric white wine grape from the central France (close to Bordeaux) is actually quite commonly used to add Sauvignon Blanc-like zestiness to Chenin Blanc based white wine blends. Still, a large chunk of the wine production goes towards brandy making.

Sauvignon Blanc 23,800 acres (2011)

If you're tired of spending nearly $20 for a bottle of New Zealand Sauvignon Blanc, South Africa has you pegged. The flavors of Sauvignon Blanc in South Africa have a lot of similarities to New Zealand; they are zesty, grapefruit-y and grassy and usually around $10 a bottle.

Chardonnay 20,000 acres (2011)

As a cool climate variety, a lot of South Africa's regions aren't particularly well suited for Chardonnay. However, the coastline along the South stays cool. Look for Chardonnay from Walker Bay.

Other South African Whites
A lil' History on South African Wine
The Dutch East India Company used Cape Town as a resupply stop on route to India during the 1600s. Settlers planted wine grapes to quench thirsty sailors. As you can imagine, the wine sucked until the second Governer of Cape Town, Simon van der Stel, focused on making a better vineyard. He began producing a dessert wine called Constantia.
During the mid-1700s to mid-1800s, dessert wines were actually some of the most in demand wines of the day. Constantia was as famous as other dessert wines of the day including Hungarian Tokaji and French Sauternes. Sadly, South Africa's wine market took a turn for the worse when grape phylloxera completely obliterated its vineyards.
Sources
Wine Routes and South African Wine Areas wosa.us
Wine Map derived from Wosa.co.za
James Moleworth South African wine recommendations on Winespectator assets
Image of Western Cape with topographic overlay on wikimedia commons