A winemaker has the opportunity to create an amazing flavor profile by blending wines from different barrels, vineyard plots, or grape varieties. We can learn more about modern blends by looking at several classic regions that specialize in wine blending.
How Are Wine Blends Created?
Over the past few centuries we've learned that different grape varieties are usually best vinified (i.e. made into wine) separately and then blended later. In ancient times, wine grapes were picked and vinified together – we call this a "field blend." (In fact, Port is one of the few wines that you can still find made this way!)
After the wine is safely stowed away in barrels (or tanks), then it's time to create the blend. At this point, it's hard to use your sense of smell because of the intense yeast aromas. Winemakers tend to rely on taste and texture to create a wine blend.
The Art of Wine Blending
It takes several years (if not a lifetime) to master the art of blending. Great winemakers often use a combination of technical analysis and tasting. Some blends go through an iterative process of 50 or more tries until the perfect "recipe" is created.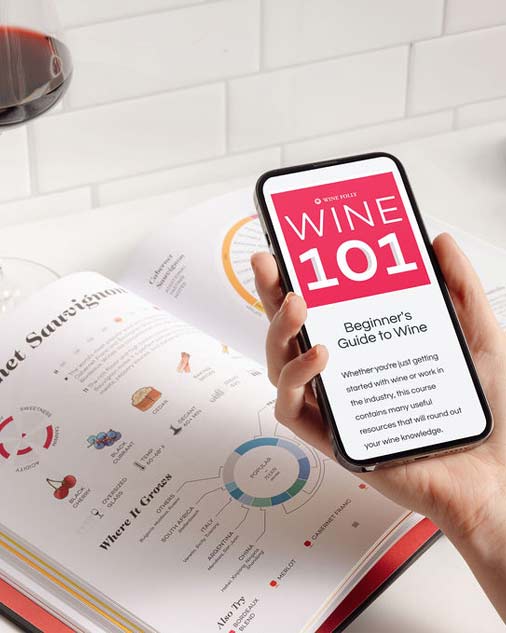 Buy the book, get a course.
Get the Wine 101 Course @ 75% OFF with the purchase of Wine Folly: Magnum Edition.
Shop Now
Of course, blend recipes can only be used once. Each year the weather creates a new set of conditions that changes the way grapes ripen and make wine.
Famous Wine Blends & Why They Work
When you look at wine blends in the market today, do you notice the common themes? Cabernet is commonly blended with Merlot. If Syrah is blended, it's with Grenache and Mourvèdre.
What's interesting, is you rarely, if ever, find Cabernet with Pinot Noir. Why is this?
Tradition: Historic wine producing regions developed wine blends over a long period of time. Classic French blends are today's benchmarks.
Climate: What grows together, goes together. Grape varieties that adapt to the same climate generally make good blending partners. (And this is probably why Cabernet and Pinot make awkward bedfellows).
---
Bordeaux Blend
"Bordeaux Blends" reference the red blends from Bordeaux, France. (After all, 95% of the grapes planted in the Bordeaux region are red). The top five varieties are Cabernet Sauvignon, Merlot, Cabernet Franc, Malbec, and Petit Verdot.
Rhône / GSM Blend
The Southern Rhône of France inspired what most areas call the "GSM" or Grenache-Syrah-Mourvèdre blend. In the Rhône, up to 19 grapes (including white grapes) make this red wine. Still, Grenache is the most important, followed by Syrah and Mourvèdre.
For what Grenache lacks in color it makes up for in fruit, alcohol, and finish. Grenache typically offers startling red berry flavors and a juicy mid-palate that ends on a tingly, sometimes herbal-citrus finish.

Syrah comes into this blend right up front with bold, black fruit and meaty black pepper flavors, as well as deep color. The softer finish in Syrah helps smooth out some of the tingle in Grenache.

The most savory of the bunch with rich, black fruit flavors, game, black pepper, and sometimes tar that builds layers into its longer, thick finish, Mourvèdre adds body.
Others
France isn't the only place that has created unique and interesting blends. Any place with diverse vine varieties and a unique climate has the opportunity to develop a regional blend. Here are a few we've observed:
---
Get The Art Print
Famous Wine Blends (18×24) is a 7-color lithographic print on archival paper. We proudly print on paper made in the USA.