How do you get into Italian Wine? With over 350 regional wines and over 500 native wine grapes, it can overwhelm even a veteran wine drinker.
We've picked five red wines as a great place to start – especially for beginners – because they absolutely encapsulate what Italian wine is all about!
The Five Best Italian Red Wines Beginners Must Try
Sangiovese This is Italy's most important red wine variety that's the base grape of Chianti Classico. (A Tuscan daily drinker!)
Barbera This variety is a richer, more plummy red, but still packs "wow! pow!" acidity. It's a wine from Piedmont.
Nebbiolo This is Piedmont's other, more well-known wine (although it is less-planted than Barbera). Imagine a ballerina with boxing gloves.
IGT (aka Super Tuscan!) Italians are very proud of their grapes. So, many wineries that grow and make international grape wines (like Cabernet or Merlot) get "declassified" to IGT status.
Sicilian Reds Surprise, surprise – Sicily produces a large amount of Italy's total wine production! There are some lovely red grapes grown here, such as Nero d'Avola and Nerello Mascalese. Try one!
---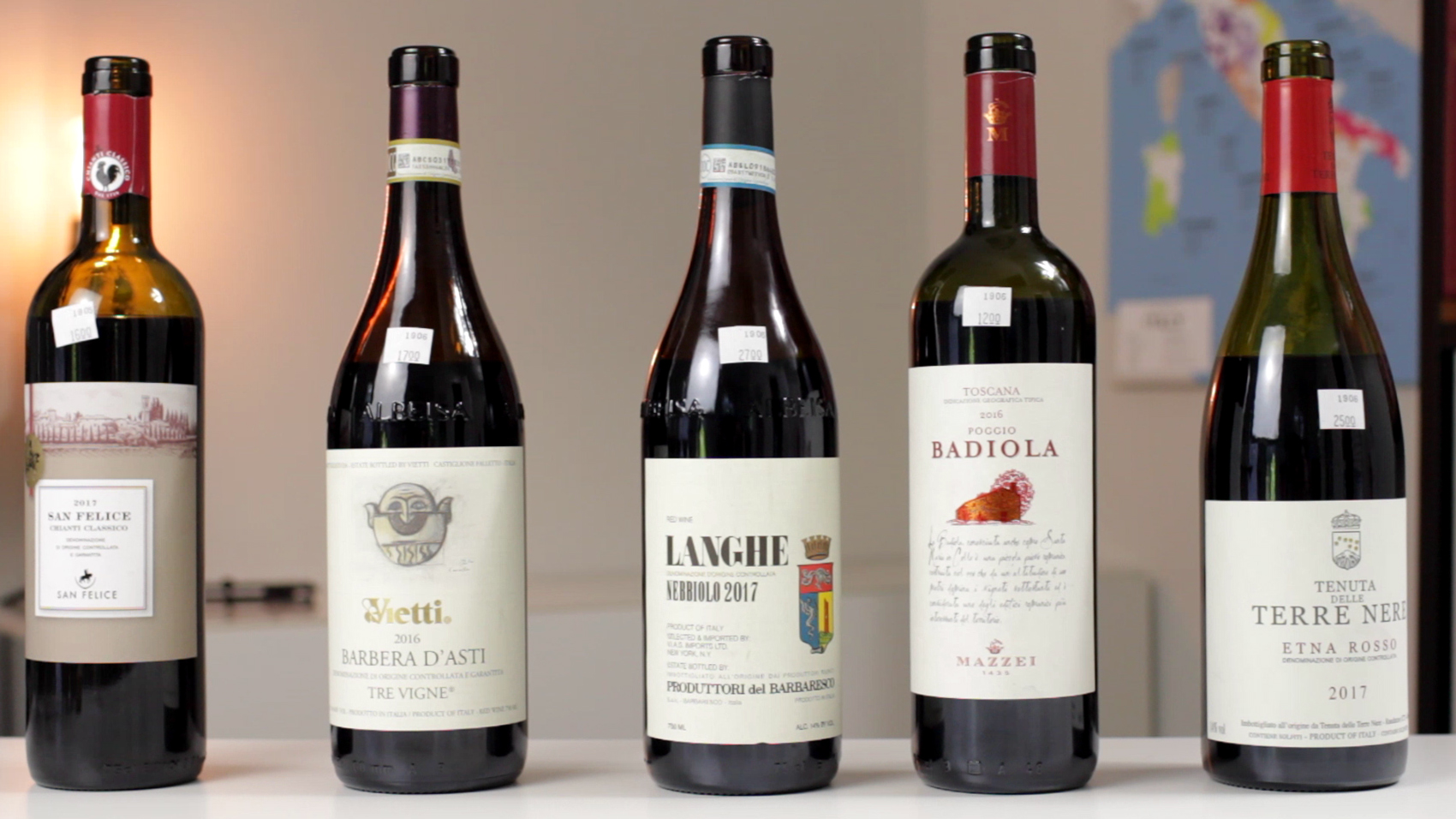 The Wines
If you can't find the exact Italian wines listed below in your area, don't stress! Just seek out similar bottles using the same grape variety from the same region.
Chianti Classico

San Felice Chianti Classico DOCG 2017 ($16)

Chianti Classico has several quality tiers, including Riserva and Gran Selezione.

This is definitely a great example of the "base model" Chianti Classico with super spicy acidity and sour cherry flavors. This is one of those wines you're definitely going to want to pair with food.

Buy the book, get a course.

Get the Wine 101 Course @ 75% OFF with the purchase of Wine Folly: Magnum Edition.

Shop Now

Barbera

Vietti Barbera d'Asti DOCG 2016 ($17)

Vietti is a well-known, pretty solid producer in Piedmont who makes everything from Moscato d'Asti to high-end Barolo.

For Barbera, this is a classic style with more earthy fruit flavor. Some modern producers use a bit more oak, resulting in richer, softer (less acidic) reds.

Nebbiolo

Produttori del Barbaresco Langhe Nebbiolo DOC 2017 ($27)

The producer here is a regional cooperative in the Barbaresco region. Generally speaking, Barbaresco-area Nebbiolos are a bit softer on tannin and this wine definitely is! For a first-timer, this is a perfect example of Nebbiolo done right.

Super Tuscan (IGT)

Mazzei "Poggio Badiola" Toscana IGT 2016 ($12)

Super Tuscans aren't just made in Tuscany! Any wine grown in Italy using "unofficial grapes" is classified as IGT, or Indicazione Geografica Tipica. Besides Tuscany, look into Lazio for fantastic wines (and values). This one in particular was 65% Sangiovese, 30% Merlot, and 5% Petit Verdot. Definitely a nice find for around $10 a bottle!

Nerello Mascalese

Tenuta delle Terre Nere Etna Rosso DOC 2017 ($25)

Etna Rosso DOC is one of the most talked-about regions in Sicily right now. And, it's a region that happens to be camped right at the base of a live volcano!

The specialty here (the thing that everyone is getting excited about) is wine made with the Nerello Mascalese grape. It tastes like Italy's "Pinot Noir."
There are A LOT of Italian wines to choose, so we've built this handy flow chart for selecting the exact wine to suit your palate.