There are hundreds of wine grape varieties from Italy and very few of these varieties are known outside of Italy. So don't worry, you're not the only person who thinks Italian wines is challenging!
Tips on Enjoying Italian Red Wines
Here are a few tips to give you a head start on enjoying Italian reds:
Try several varieties: Italy has over 500 unique varieties. Be sure to try several while you explore Italy's great wines.
Fruity vs Earthy: Italian red wines tend to be fruitier in the South and earthy in the North.
Be sure to decant: It's a great idea to decant all Italian red wines before drinking.
Italian Red Wines Flow Chart
See the white background version here.
The 8 Major Italian Red Wines
If you're looking for a great place to start, check out these famous Italian reds:
Sangiovese
Montepulciano (the grape)
Barbera
Nero d'Avola
Primitivo (aka Zinfandel)
Valpolicella Blends
Dolcetto
Nebbiolo
---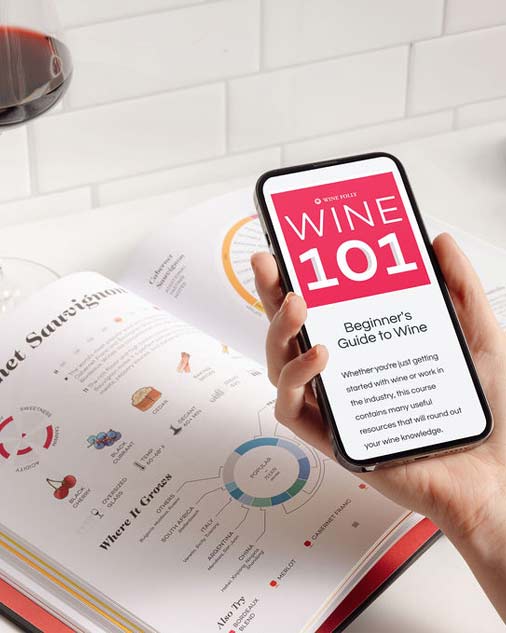 Buy the book, get a course.
Get the Wine 101 Course @ 75% OFF with the purchase of Wine Folly: Magnum Edition.
Shop Now
Sangiovese
Drink By: Typically best after 4-7 years, although fine examples last longer.
173,000 Acres – All of Italy – Italy's champion red variety, Sangiovese, goes by many names. You've probably heard of a few of them:
Vino Nobile de Montepulciano (nothing to do with Montepulciano, the grape)
Morellino di Scansano
This grape grows all over Italy and because of this, you'll notice that Sangiovese wines vary widely from one region to the next. In Tuscany, you can find very earthy Sangiovese wines with black cherry notes and bold tannins, and in Southern Italy, around Campania, you can find lighter Sangiovese wines tasting of strawberries and roses with medium tannins.
---
Montepulciano
Drink By: Typically best after 4-7 years of vintage, although fine examples last longer.
75,000 Acres – Central Italy – Even though Montepulciano is Italy's second most planted grape, many have never heard of it. Montepulciano grows in Central Italy and can be found under a few common names as well:
Montepulciano d'Abruzzo
Rosso Conero
Rosso Piceno
Montepulciano is deeply colored, similar to Syrah, and with very bold tannins, although some producers will blend it with other grapes to round out the flavor. Supposedly, there are less than 100 acres of this grape growing outside of Italy.
---
Barbera
Drink By: Typically best within the first 3 years.
70,000 Acres – Piedmont – Barbera is the most produced Italian red wine of Piedmont. Over 60% of the world's Barbera vineyards exist in the region. Barbera almost always has a unique note of licorice in the taste, which is what makes it so unique. While American Barbera can be quite fruit-forward, Italian Barbera is often herbaceous with juicy acidity and tart black cherry flavors.
---
Nero d'Avola
Drink By: Typically in 5-7 years, although fine examples last longer.
47,000 Acres – Sicily – A bold but fruit-forward variety hailing almost exclusively from Sicily. Nero d'Avola can, at times, be surprisingly similar in style to Shiraz or Cabernet Sauvignon.
---
Primitivo & Negroamaro
Drink By: Typically best within the first 3 years.
60,000 Acres – Puglia – Primitivo is Italy's name for Zinfandel (which is actually a Croatian grape called Tribidrag!) and Negroamaro grows alongside it in Southern Italy. These sweet tasting fruity and lighter bodied Italian wines often exhibit strawberry, raspberry, blackberry, and leather notes. Primitivo provides the fruity punch and Negroamaro has more dark fruit flavors and structure. It's common to find them blended together.
---
Valpolicella Blend
Drink By: Varies by style of Valpolicella.
22,000 Acres – Veneto – Varies on Style. A blend of Corvina, Molinara, and Rondinella. This signature blend of grapes makes everything from Veneto's tart and simple Valpolicella Classico to the highly prized Amarone wines –a wine made by partially dehydrating Valpolicella grapes to increase the intensity of the resulting wine.
---
Dolcetto
Drink By: Typically within the first 3 years.
18,000 Acres – Piedmont – A deeply colored red wine with high tannins but lower acidity. Dolcetto is one of the easiest wines to drink immediately instead of after several years of cellaring. This wine is made mostly in Piedmont, although it grows in Lombardy too. It can commonly be found by these names:
Dogliani
Dolcetto d'Alba
Dolcetto d'Ovada
Dolcetto di Diano d'Alba
---
Nebbiolo
Drink By: Typically best after 7-10 years.
12,000 Acres – Piedmont – Piedmont's most well respected red wine is actually quite tiny in terms of how much exists in the world. Just so you have a relative comparison, there are nearly 50 times more Cabernet Sauvignon grapes planted in the world than Nebbiolo. Nebbiolo has many regional names and styles:
Barbaresco
Barolo
Valtellina
Roero
Ghemme
Gattinara
Sforzato (a rare Nebbiolo made with the same method as Amarone)
Nebbiolo from the hotter growing areas can be very bold, tannic, and long-lived, as is the case with Barolo. In the north, as with Ghemme and Gattinara, Nebbiolo can be quite delicate and tart in taste, smelling of roses and bing cherries.