This year there's lots to be thankful for, particularly for the exceptional recent vintages that offer a spectacular selection of wines to pair with your Thanksgiving feast. We'd like to introduce you to some classic wine choices for Thanksgiving as well as a few new intriguing options that you might not have considered.
Thanksgiving Wine Pairings
Why these pairings work:
If you're wondering why the following wines were chosen as ideal Thanksgiving matches, let's take into account what these wines share in common. Each of the following red wines were chosen for their bold, red fruit flavors, subtle earthiness, light tannin, and moderate acidity. Why? Because these traits beautifully complement a traditional Thanksgiving menu and here's how:
Zinfandel
Zinfandel could very well be the #1 All-American Thanksgiving wine choice given that it was once the most planted variety in California (prior to the Prohibition era). Here's how this wine will behave when paired with food:
It will amplify Thanksgiving spices such as clove, cinnamon, and allspice.
It often adds a touch of smokiness to the taste profile.
It's typically bolder and richer (higher alcohol) and thus, pairs well with dark meat turkey.
Here are a few great American Zin options to get your mouth watering: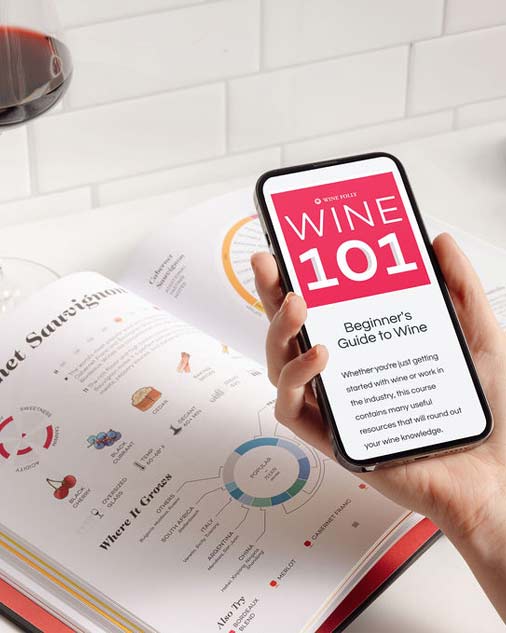 Buy the book, get a course.
Get the Wine 101 Course @ 75% OFF with the purchase of Wine Folly: Magnum Edition.
Shop Now
---
Pinot Noir
Pinot Noir is the fine-wine lover's #1 pick for Thanksgiving, which is due (in large part) to the grape's prestigious pedigree tracing back to Burgundy, France.
A great pick for classic Thanksgiving dishes with simple spicing (salt + pepper) or cream based dishes like creamy mashed potatoes or casserole.
Pinot works well with both dark and white meat turkey.
It will do great to accentuate cranberry-like flavors.
The following wines highlight Pinot Noir's brilliant red fruit and spice flavors:

---
Beaujolais
Beaujolais is the Francophiles #1 choice for Thanksgiving wines due to the perfectly timed arrival of Beaujolais Nouveau. This wine is made with 100% Gamay, which has a lot of similarities to Pinot Noir, except with way more bang-for-the-buck. Here's why:
It pairs exceptionally well with wild rice, salads, roasted squash, and cranberries.
It balances Thanksgiving dinners that have a high sweetness factor (yams, etc.) with Bojo's savory and earthy quality.
Its lighter, less tannic style works well with white meat turkey.
---
GSM/Rhône Blends
This is the wine collector's top pick for Thanksgiving because bottles are usually best served after aging (anywhere from 4–10 years). A GSM Blend contains Grenache, Syrah, and Mourvèdre as its main ingredients.
The bolder blending varieties of Mourvèdre and Syrah make this wine pair well with smoked turkey.
The tertiary flavors of fig or dried berries from a properly aged GSM Blend match well with roasted squash and stuffing.
The earthy and meaty quality of the wine accentuates the savory quality of turkey gravy.
A few examples of Rhône Blends from all over the world include:

---
Rosé or Blanc de Noirs Champagne
This is a sommelier's must-have wine for Thanksgiving because, for a somm, you can't really start a meal without a splash of something sparkling wine. Here's why:
It's a great choice for a pre-Thanksgiving aperitif.
It's bold enough to pair alongside dinner (for Champagne pairing with the main course).
Its strawberry, white currant and white raspberry flavors accentuate the cranberry flavors in the dish.
It acts as a palate cleanser to rich gravies and meats.
A few examples that are both awesome and affordable:

---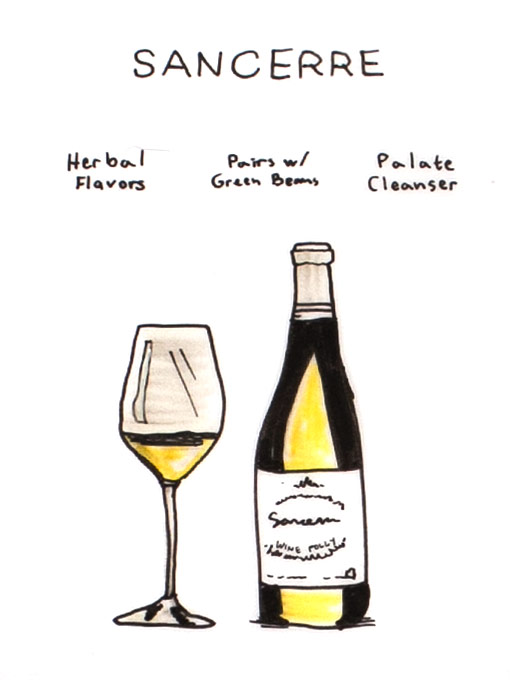 Sancerre
If you feature brussels sprouts or green beans prevalently in your meal, consider a lean, herbaceous Sauvignon Blanc as a highlight wine pairing. The 2015 vintage was exceptional in the Loire Valley and Sancerre is one of the international favorites of this region. Here's why:
It pairs exceptionally well with green bean casserole, brussels sprouts, and roast asparagus.
It acts as a palate cleanser to rich gravies and meats.
A few examples include:

---
Amarone della Valpolicella
If you're featuring ham as your main dish this year, the rich dried-cherry and chocolately wines of Valpolicella are amazing. Here's why:
Its redolent cherry flavors accentuate the sweetness of ham.
Its moderate acidity acts as a palate cleanser, which is ideal for complementing rich meats and gravies.
Its dried fruit aromas of fig and raisins add to the harvest taste palate.
Of course, Amarone della Valpolicella is an expensive wine due to its production process. Here are some favorites we found:

Have a variety that fits the profile? Write in your comments below!