If you're just getting started with Chardonnay, here's what you need to know. There are 3 primary styles of Chardonnay. Once you learn the secrets to this grape, you'll be able to find great Chardonnay wines on your own.
Since Chardonnay is made everywhere, you can begin to familiarize yourself with regional differences. The climate plays a lot into these differences, although things like winemaking style and tradition can play a hand.
---
Creamy, Oaked Chardonnay
Bolder styles of Chardonnay match wonderfully with bold, creamy dishes like mushroom risotto, lobster bisque and chicken, leek and ham pie.
If you love a more full-bodied white, this is your style. Wines range in taste from a richer profile of lush tropical fruit, grilled pineapple, butterscotch and vanilla to a lighter profile of poached pear, lemon curd, baked apple and a textural chalky minerality.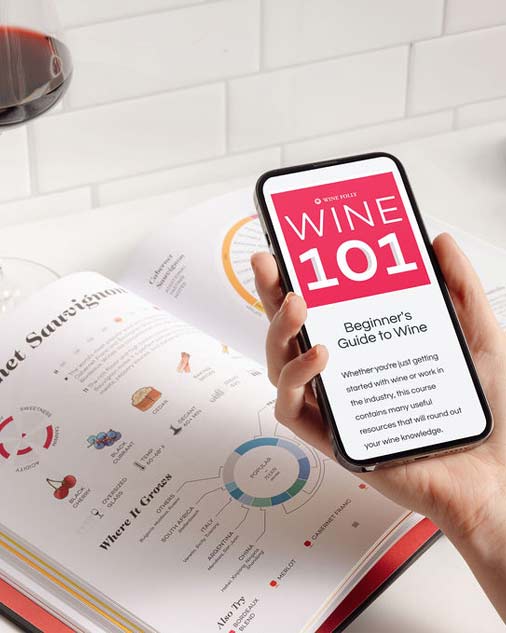 Buy the book, get a course.
Get the Wine 101 Course @ 75% OFF with the purchase of Wine Folly: Magnum Edition.
Shop Now
How It's Made and What to Look For
What really defines this style of Chardonnay is the use of oak in the winemaking process. Oak aging offers a few different features:
Oak introduces more oxygen in the winemaking process which results in more baked apple, pie crust and hazelnut-like flavors.
The use of toasted new oak adds a few aroma compounds to the wine including vanilla, clove, cinnamon, and coconut.
As the Chardonnay rests in oak barrels it often goes through an additional process (called Malolactic Fermentation) which increases the richness of the texture in the Chardonnay to an oily, butter-like texture.
When seeking out this style, look for these clues:
Seek out Chardonnay wines that are aged in oak or fermented and aged in oak.
Look for tasting descriptors that imply oak was used, including vanilla, crème brûlée, baked apple, coconut, toasty oak, brioche, butter, cream and butterscotch
Most oaked Chardonnay wines should be consumed within 3–5 years of the vintage, although a few stand-out wines will age well for 10 years.
If you love this style of wine, definitely look into the alternative varieties of Marsanne, Viognier and Trebbiano. When oaked, these varietals make great alternatives to oaked Chardonnay.
---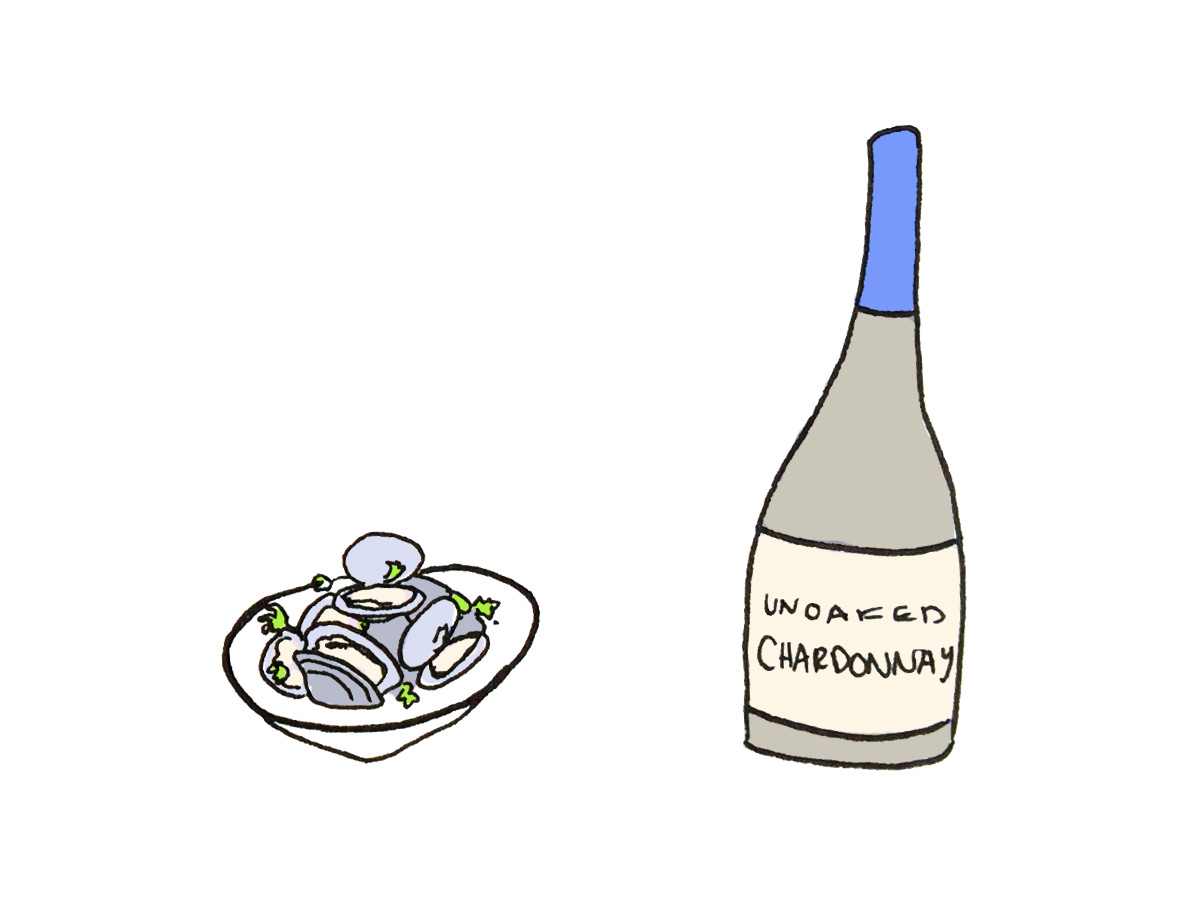 The light, unoaked style of Chardonnay was made popular by the French region of Chablis. This wine matches wonderfully with delicate flaky fish, scallops and oysters and makes a great cooking wine option for Beurre Blanc sauce.
Citrusy, Unoaked Chardonnay
If you love a light white wine with floral and citrus flavors then unoaked Chardonnay is your style. Wines range in taste from a fruitier profile of yellow apple, fresh pineapple and mango to a leaner, more floral profile of white flowers, green apple, pear and citrus peel.
How It's Made and What to Look For
This style of Chardonnay is more "varietal pure" due to the fact that it doesn't rely on additional flavors from oak. Wines are made in a reductive (less oxygen) environment in order to preserve the freshness and acidity in Chardonnay. In order to do this, producers typically use stainless steel fermenters to reduce oxygen exposure.
When seeking out this style, look for these clues:
Seek out Chardonnay wines that are not aged in oak.
Look for tasting descriptors that indicate no oak including lean, mineral, fresh, white flowers, and citrus blossom.
Most unoaked Chardonnay should be drunk young, although there are several examples (particularly in Chablis) that will age a decade or more.
---
Sparkling Chardonnay: Blanc de Blancs
Chardonnay is the most popular white variety used in sparkling wine (including Champagne). Blanc de Blancs matches wonderfully with salty fried dishes from calamari to fried chicken.
Sparkling wines made with Chardonnay are typically called Blanc de Blancs which means "white of whites" and indicates the color of the grapes used to make the wine. Blanc de Blancs wines range in taste from a richer profile of Meyer lemon, honeycomb, yellow apple, toasted vanilla and hazelnut to a leaner profile of lemon zest, minerals, lime and honeysuckle.
How It's Made and What to Look For
To make a sparkling Chardonnay, the grapes are picked a bit earlier to preserve the high acidity. After the wines are made (they are super tart!) the winemaker creates a blend, called a "cuvée", which then undergoes a second fermentation within a Champagne-style bottle. Depending on how the wines were produced (in oak or stainless steel) and how long they age after the second fermentation (called tirage "tear-ajh") is what will determine the primary taste profile. The longer the wine ages, the more creamy and nutty they become.
When seeking out this style, look for these clues:
Seek out 100% Chardonnay Blanc de Blancs sparkling wines
Pay attention to the length of the tirage to find your style preference
From Champagne, look for wines from villages in the Côtes de Blancs sub-region
---
Chardonnay Regions
Chardonnay is the world's most planted white wine grape (it surpasses Airén).
The variety is very adaptable to different climates and grows in hot, sunny regions (such as Spain and Central Valley, CA) as well as cool regions (such as Burgundy, France and New Zealand).
Of course, you'll find the highest rated wines generally come from places with cooler climates. The reason for this has a lot to do with the vine's ability to maintain acidity in the grapes while ripening. In hot climates (especially those with hot nighttime temperatures) Chardonnay loses acidity and makes a fruity, but flabby wine.