Having a small monthly wine budget doesn't mean you can't enjoy good red wine. Unfortunately, finding a tasty, well-made bottle of wine at a good price point can feel like a sinister game of Russian roulette. The under-$10 category for reds is brimming with wines that have been
engineered with extra sweetness
to mask the poor quality of the grapes. Grabbing a bottle from the lower shelf can leave you sipping on a sugary concoction that
makes your head spin
–
and not in the good way.
If you're a daily drinker eager for good quality, follow these suggestions to your next glass of goodness.
Instead of a list of wine labels that are hard to find, here are the wine regions, varieties, and useful tips that will tighten your search for the unicorn wine that is both delicious and cheap.
Section Guide

Click the link below to find out where to look for great value from each country in 2015:
---
Best Reds Under $10 (2015 Edition)
Portugal
Regions: Douro, Alentejo, Lisboa, Dão
Wines: Duriense Reds, Alentejo Reds, Lisboa Reds
Vintages: 2012, 2013
Portugal's incredible terroir lends itself to the production of rich, full-bodied red wines. However, vineyards are populated with unique and unknown grape varieties, which serves to keep market demand relatively low and off the radar. Not to mention that cost of living in Portugal is quite cheaper than most countries in Western Europe, which serves to keep down the cost of production as well as the final sale price. Though as a whole Portuguese wines are undervalued, many independent producers are now being picked up by some US importers, which means better Portuguese wines are becoming easier to find across the country.
---
Spain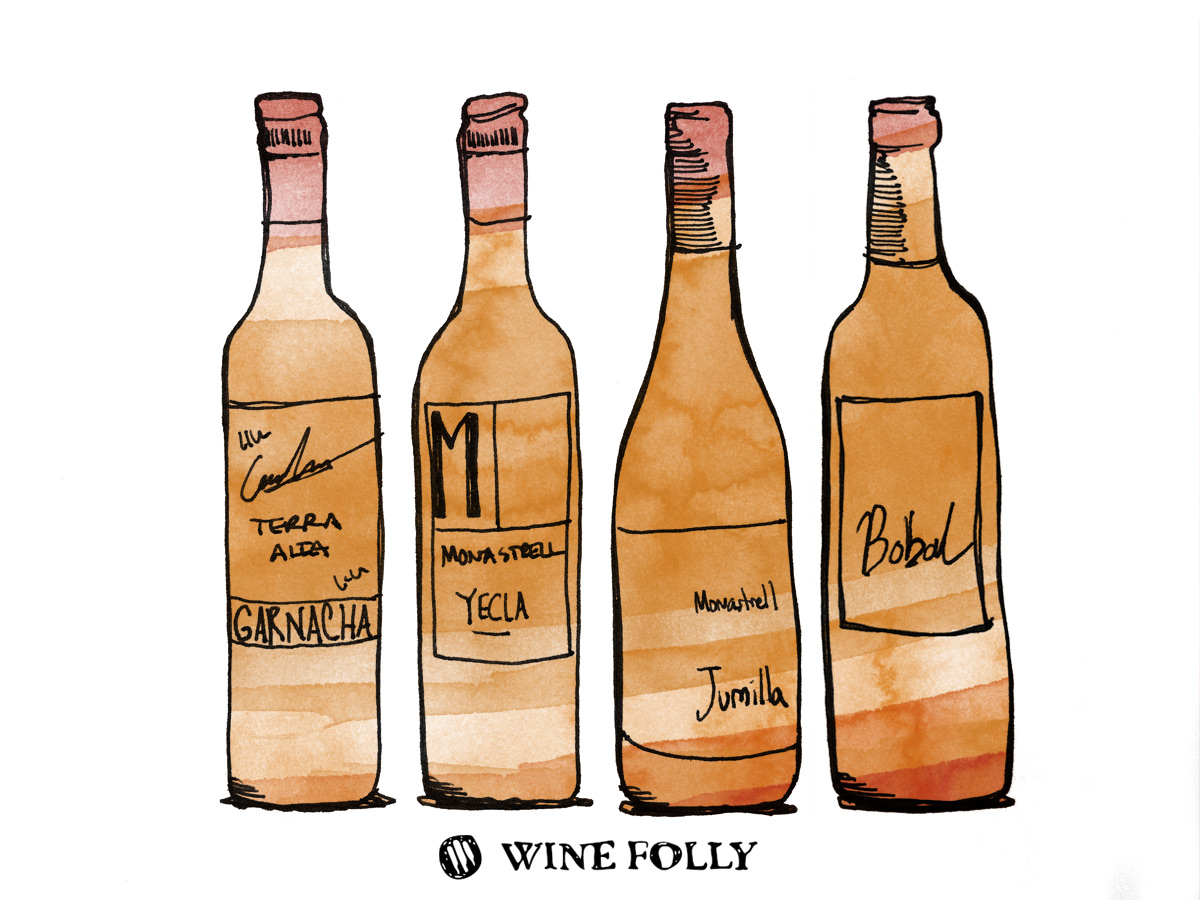 Regions: Aragon, Calatayud, Manchuela, Jumilla, Yecla, Alicante, Extremadura, Castilla y Leon,
Wines: Garnacha, Monastrell and Bobal
Vintages: 2012, 2013
Like Portugal, Spain produces grape varieties that are out of the limelight and though Spain produces nearly as much wine as France or Italy, demand is not quite as high. Spanish wines are known for being fruit-forward. For example, 10-dollar Bobal is juicy with blueberry notes and 10-dollar Garnacha offers up loads of raspberry notes with a subtle ruby red citrus pop. Spanish red wines also exhibit a dusty, clay-like taste of terroir that adds sophistication. Many Spanish wines are unfined and unfiltered, offering a super-rich style at a surprisingly affordable price. Over the past decade Spanish producers have doubled down their focus on quality wine production so you will find great value here.
---
United States
Regions: California and Washington
Wines: Petite Sirah, Merlot and Zinfandel
Vintages: 2012, 2013
From the lighter, zestier, aromatic reds of Washington, to the smooth, full-bodied reds of the sunshine state, the US makes a ton of delicious value wine. Of course, producers have to be clever to offer good value by blending grapes from several regions, which is why many will be labeled with a large appellation name (such as Lodi in California or Columbia Valley in Washington). While others pay top dollar for Cabernet and Pinot Noir, You'll want to seek out alternative grape varieties that don't have the attention of the masses. Three consistently great examples are: Petit Sirah (big and bold), Merlot (light, low tannin, red fruit), and Zinfandel (juicy and spicy in the under-$10 category).
---
South Africa
Regions: Western Cape
Wines: Cabernet Sauvignon, Syrah-Grenache Blends, Pinotage
Vintages: 2011–2013
South Africa has an incredible terroir for the production of red wines, particularly Cabernet Sauvignon, Syrah, and Pinotage. Though it sounds like a familiar favorite, Pinotage tastes nothing like Pinot Noir, it is more like a rich, full-bodied Shiraz. The Cabernet Sauvignon from South Africa is definitely fruit-forward and rich, but also offers a savory flavor of black pepper, making it a perfect match for steaks on the barbecue. At the moment, very few brands are being imported into the US but, making for fewer options (and a little harder to find) but there's lots of growth potential here so keep your eyes peeled.
---
France
Regions: Languedoc-Roussillon, Cotes de Gascogne, Cotes Catalanes, Rhône Valley
Wines: Syrah, Grenache and Carignan blends
Vintages: 2012–2014
Penny-pinching wine lovers may fend off French wine for fear of drinking down their grocery budget, but keep an eye on wines made in Southern France and you'll land on a great deal now and then. Thanks to the rigorous restrictions on wine production in France and the EU, many of these wines are quite well made for the price. Finally, a special shout-out to Languedoc, where production quality improvements are continuously being made. Affordable (cheap) French wines tend to be light weight and are marked by their fruitiness and savory herb notes, making them the ideal match for your culinary creations.
---
Argentina
Regions: Mendoza
Wines: Malbec, Bastardo
Vintages: 2010–2013
Though technically Malbec is a French grape, Argentina is the world's largest producer of this varietal and they are simply experts at nailing this easy drinking wine with succulent fruit flavors and gentle smokiness. In the under-$10 category, Malbecs will still pack in the violet color, prominent fruit, (with extra emphasis on ripe raspberry flavors), but that quintessential smoky finish will be harder to come by. Or, for a nice change of pace, try to get your hands on Bastardo (aka Trousseau). This varietal is equally fruit-forward, though tends to be lighter in color than Malbec and typically has higher-than-average alcohol content. Bastardo is traditionally used to make sweet fortified wines, but nowadays winemakers are experimenting with it as a dry wine, and finding that the results are quite delicious.
---
Italy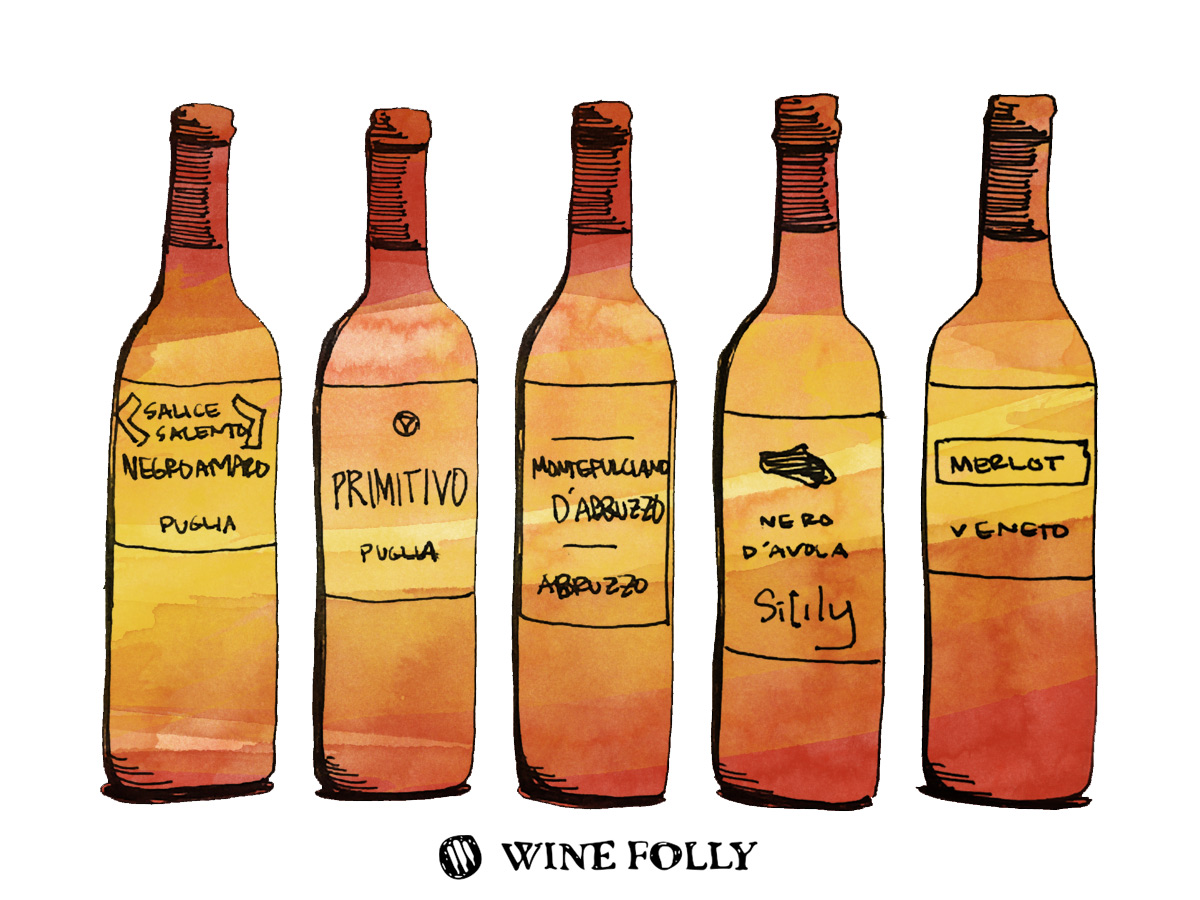 Regions: Abruzzo, Molise, Puglia, Sicily, Calabria and Veneto
Wines: Montepulciano, Negroamaro, Primitivo, Nero d'Avola, and Merlot-blends from Veneto
Vintages: 2012, 2013
Young, inexpensive Italian reds will deliver ripe red-fruit flavors and lighter-than-average tannins, which makes for easy drinkability. Though some Italian reds can reach sky-high market prices, look to the undervalued regions of central and Southern Italy to ensure you savor every last drop of the ten dollars you spend. These regions produce staggering quantities of wine and tend to favor lesser-known grape varieties, hidden in the shadow of Italy's beloved Sangiovese grape.
Wine is a Grocery
If you treat red wine as a fundamental food group, but don't quite have the bank account to support your thirst, finding excellent value in every bottle is imperative. Getting a handle on these wine buying secrets will free you from an endless hunt for one specific label, and open you up to a much tastier, safer, and affordable experience. You'll also quickly learn that investing a few minutes to research a good deal will save you from investing more than you care to at the checkout line. Happy shopping and more importantly, happy drinking!
The Basic Wine Guide Poster
A sleek, modern poster that answers all the fundamentals on wine from choosing the right glass to pairing wine and food. Printed on pearlescent art paper with light-fast, soy-based inks in Seattle, WA.