Most of us aren't even aware that there is a slowly-evolving list of "Classic Wines." Knowing these wines will greatly improve blind tasting skills.
Classic Wines are used to learn about wine. So, if you're looking to improve your knowledge quickly, this is a great place to start!
What are Classic Wines?
Classic Wines typify a style or category of wine. For semantics geeks, they follow prototype theory, in being prototypical examples (or "perfect examples") of a particular type of wine.
For example, those Cabernet Sauvignon-based red blends from the Médoc of Bordeaux are classic wines. They are prototypical examples of a regional style (e.g. French Cabernet) that's produced consistently year after year.
Because Classic Wines are so consistent, they're preferred and used by professionals to teach about wine.
Classic White Wines
This is the basic short list of Classic White Wines to know.
Albariño Taste Spanish Albariño from Rias Baixas and learn how it differs from Pinot Gris, Chenin Blanc, and unoaked Chardonnay.
Chardonnay Learn the different French Chardonnays, including Chablis, and how they compare to Australian and Californian Chardonnay.
Chenin Blanc Make sure you compare Vouvray with Savennières and if you have time, try a South African Chenin Blanc from Stellenbosch or Paarl.
Gewürztraminer Most educational programs focus on Alsatian Gewürztraminer only. That being said, the dry styles from Sonoma and Trentino-Alto Adige are more complex with subtle bitterness.
Pinot Gris Pinot Gris is one of the most difficult white wines to blind taste. Learn to taste the difference between Alsatian, Northern Italian, and Oregon Pinot Gris (Grigio).
Riesling Riesling is one of those varieties that's so easy to blind taste that you should spend some time learning how to taste the difference between German, Alsatian (more dry), Austrian (riper German style), and Australian (more diesel vs petrol) Riesling.
Sauvignon Blanc Become familiar with the differences between oaked Sauvignon Blanc (from France or California) compared to those wines from the Loire Valley (think Sancerre) and New Zealand.
Torrontés Argentina's highly aromatic white tastes sweeter from Mendoza and much more lithe and dry from Salta and Catamarca.
Viognier Most tests only focus on the extremely tiny Condrieu region in the Northern Rhône. Try something from the Central Coast region (Paso Robles, etc) of California to expand your palate.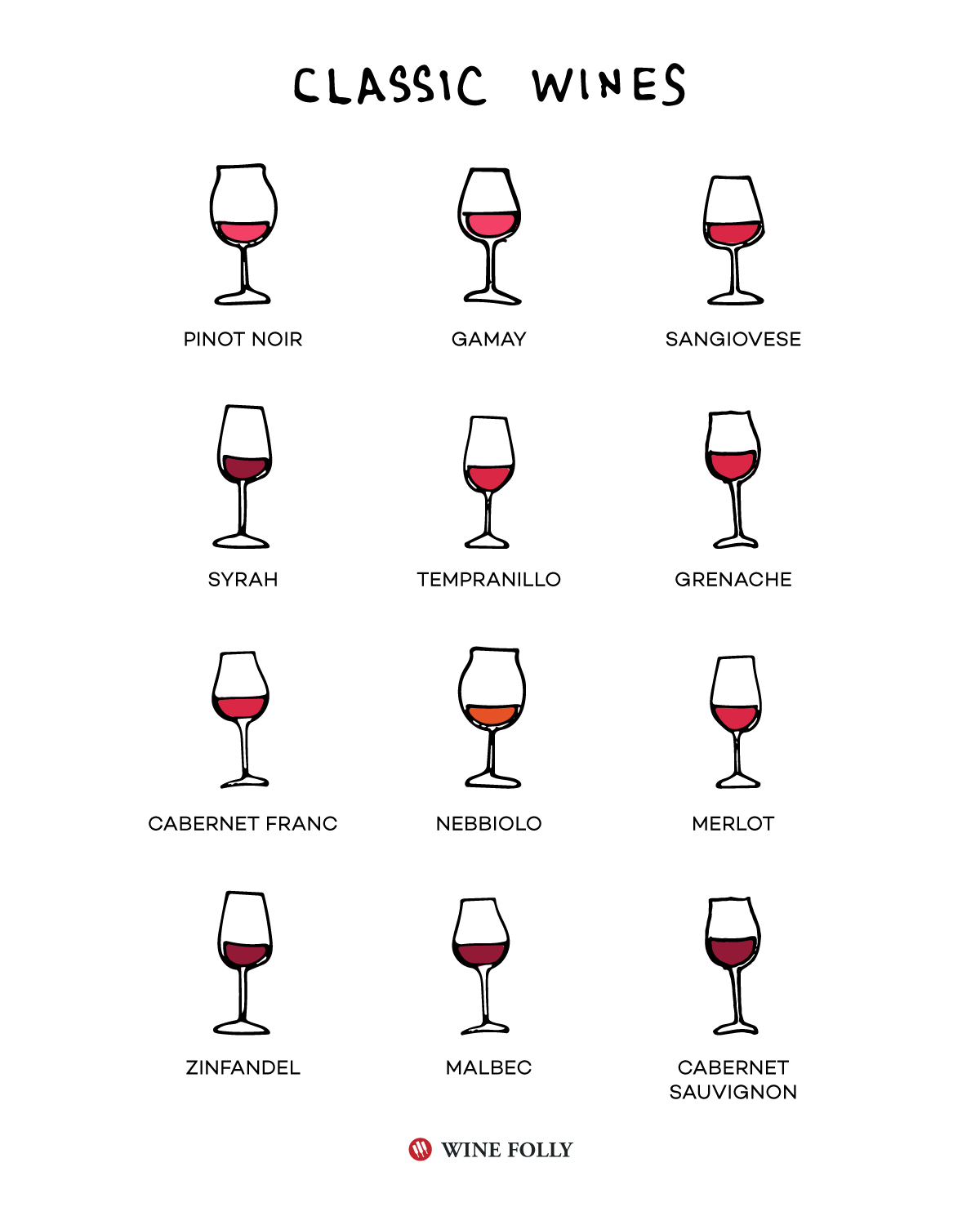 Classic Red Wines
While there are many more wines that could be considered "Classic," this shortlist is what is considered fundamental knowledge for sommeliers.
Cabernet Sauvignon This is one of the hardest. Exams often pick Bordeaux, South Australia, Chile, and the entire US for blind tasting. Learn how this grape differs from Merlot in each area.
Gamay There really isn't anywhere else to try besides Beaujolais. So, focus on identifying quality levels.
Grenache Get to know Châteauneuf-du-Pape and South Australian Grenache. If you ask us, don't leave out Spanish Garnacha.
Malbec Get to know Mendoza Malbec like it's your best friend. (It often is!)
Merlot Don't let Merlot fool you! It's easy to confuse with Cabernet Sauvignon and grows in all the same locations.
Nebbiolo Get your friends together and compare Barolo vs Barbaresco.
Pinot Noir Dive deep into the the many sub-regions of Burgundy, California, Oregon, and New Zealand. Watch our fun comparison of Oregon vs Burgundy.
Sangiovese The two main Sangiovese wines to know are Brunello di Montalcino and Chianti Classico. But, if you ask me, you're missing out if you don't try Montefalco Rosso.
Syrah Most sommeliers are very confident with the differences between South Australian Shiraz, Northern Rhône Syrah, and several American examples too.
Tempranillo Learn to taste the difference between Tempranillo, Cabernet, and Sangiovese. Practice tasting Rioja (of all levels) and Ribera del Duero.
Zinfandel Look to the American wines and learn to taste the difference between Paso Robles (fruity, canned peaches), Sonoma Valley (dry, mineral), and Napa Valley (rich, with volcanic overtones).
---
Classic Wines Improve Blind Tasting Skills
When you taste a Classic Wine you can work to memorize the traits (such as aromas, tannin presence, alcohol level, etc) and this will make you a better blind taster.
This is exactly what sommeliers do in order to win competitions and pass exams!
Here's a great example of the famous sommelier, Aldo Sohm, blind tasting at a major competition:
"I studied every free minute for ten years and had multiple trainers, who drilled me on timed service exams…

[At the competition] I was tested to the bone for two days, from 9am until 7pm at night, with random breaks that made it even more difficult to sustain the adrenaline.

The categories: theoretical knowledge, tasting, service skills, how do you present yourself, how do you recommend wines, service, and pairings.

Oh, and you weren't allowed to compete in your native language, which is why I originally moved to the States: to improve my English!"

–Quote from Aldo Sohm's new book, Best Sommelier in the World, 2008
Who Creates the List of Classic Wines?
The list didn't come about overnight. It was developed over years by sommelier tasting groups and examination boards such as the Wine and Spirits Education Trust (WSET) and Court of Masters Sommeliers (CMS).
If you think it's a bit short and off-kilter, you're not alone. The Classic Wines list as it stands today definitely has a bent towards French regional wines. While it's certainly useful to understand French wines, it also likely influences sommelier's preferences.
So, to throw a wrench in the equation, here's a short list of wines we think are worthy of Classic Wine status (in fact, several listed below are used at the master level!):
Xinomavro from Greece
Aglianico from Italy
Tannat from Uruguay
Carménère from Chile
Touriga Nacional from the Douro Valley of Portugal
Assyrtiko from Santorini, Greece
Furmint (dry styles) from Tokaj, Hungary
Grüner Veltliner from Austria
Cava from Spain (why have sparkling wines not been included in the list?)
Champagne from France
Prosecco from Valdobbiadene, Italy
See our longer list here.
Have a regional wine to add? Keep the discussion going below!