Sauvignon Blanc vs Chardonnay
Take a closer look at Sauvignon Blanc vs. Chardonnay and get a better understanding of the remarkable difference between the two most popular white wines.
Sauvignon Blanc vs. Chardonnay
There is a gap between white wine drinkers and red wine drinkers. It's like the gap between rollerbladers and skateboarders, or snowboarders and skiers. Generally, one doesn't appreciate the other even though they're practically the same thing.
White wine is a gateway into the wine world.
Perhaps you don't care about white wine, and that's fine. However, it's useful to note that Chardonnay is still the most produced wine variety in California. Nope, white wine isn't going out of style anytime soon.
Additionally, since wine wines tend to be more affordable and pair nicely with cheese, they've become the gateway into the wine world.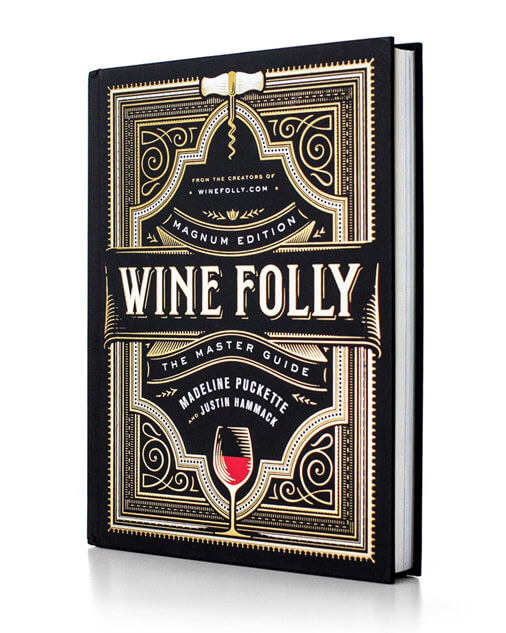 James Beard Award-Winning Book
Drink better wine with knowledge. Get the award-winning book!
View Details
random
Chardonnay, Homecoming Queen
Flavor Profile
When I blind taste chardonnay, I pick it out apple flavor. It's usually always apple plus something. Whether it be lemon, pineapple, or butter depends on where it was grown and how it was made. From the moment you put it in your mouth until the finish, it fills your palate with weight, texture, and flavor; Chardonnay is a full-bodied white wine.
Butter in Chardonnay?
Chardonnay tastes buttery when it's oak-aged. A flavor compound called vanillin adds vanilla flavor to the wine. The creamy and buttery texture comes from a process called malolactic fermentation (which happens while the wine ages in oak).
Warm Climate Chardonnay
Yellow apple, pineapple, and Meyer lemon are all common flavors that come out when Chardonnay is grown in a warmer climate.
The texture is a little wider and fatter on the tongue. Warm climate Chardonnay also tends to have less acidity and higher alcohol. Warm climate Chardonnay regions include Australia, California, and Argentina.
Cool Climate Chardonnay
Green apple, lemon, lime, and tingly mineral flavors are signature flavors in cool-climate Chardonnay. You'll notice the wines will tingle on your tongue from higher acidity.
Cool-climate Chardonnay regions include France, Oregon, Mendocino County, and parts of Chile (like Casablanca Valley!).
Chardonnay Food Pairing Choices
As a full-bodied white wine, chardonnay is perhaps one of the few white wines that can pair well with a variety of foods. The best and most common food pairings with chardonnay are:
shellfish (such as scallops, abalone, clams)
crab & lobster with a weightier oaked chardonnay
chicken with cream sauce
creamy polenta
cream-based soups
richer fish such as salmon, sturgeon and swordfish
soft cheeses
Sauvignon Blanc, Boyfriend Stealer
Flavor Profile
Sauvignon blanc is herbal. It is the wine I lean on when I want to get my vegetable fix for the day. Tasting like green bell pepper, grass, and tomatillo, it's a vegetarian food lover's dream come true, and it's origins in the Loire valley (the "garden state" of France) probably have something to do with that. Look for Touraine, Pouilly Fume, and Cheverny for an example of a traditional sauvignon blanc.
I want to point out a wine-making technique with sauvignon blanc that's growing in popularity: Oak-aging. When you blend Sauvignon Blanc with Semillon (a very 'Bordeaux' thing to do), it turns out it has enough body to hold up to a little oak treatment. It makes a wine that has the creamy and buttery character of a chardonnay but without all the fruit. The regions that are doing a bang-up job of this are Washington State, Australia, and the Bordeaux region in France. Try one, and they will make your grandpa happy.
Warm Climate Sauvignon Blanc
Traditionally, Sauvignon Blanc hails from cooler climates, but its long-standing presence in Napa Valley gives wines more white peach, Meyer lemon, and passionfruit flavors. Warm climate Sauvignon Blanc regions include California, Australia, and Washington State.
Cool Climate Sauvignon Blanc
A classic French example of Sauvignon Blanc is loaded with grassy herbal notes of thyme, bell pepper, and gooseberry, with flinty mineral notes. It has a lot of punch upfront from the herbal notes and medium-length, zesty finish. France, Chile, and New Zealand are famous for cool-climate Sauvignon Blanc.
Sauvignon Blanc Food Pairing Choices
Sauvignon blanc with its more herbal flavors and sprite-like character make it a terrific wine to use with foods that use more green vegetables in their preparation and goes well with lighter vinegar-based sauces or green sauces. The most common pairings with sauvignon blanc are:
risotto with asparagus
pesto sauce
tacos with salsa verde
lighter white flaky fish such as tilapia, halibut, and trout
pasta salad
roasted vegetables (brussel sprouts, celery root, squash)
---
Get The Book
Hands down, the best beginner book about wine. International bestseller. By the creators of Wine Folly's award-winning site.