Wine and chocolate have a lot of similarities to each other. For one, they're both considered aphrodisiacs and they both contain flavanols (antioxidants). Despite these striking similarities, it's somewhat challenging to pair wine and chocolate together.

Wine and chocolate pairings are some of the most challenging to pull off.
For example, if you taste a delicious glass of dry red wine alongside a hunk of dark chocolate, the wine will start to taste bitter and sour. The taste imbalance is coming from the heightened levels of flavanols (different types of tannin) found in both chocolate and wine that end up clashing against each other on your tongue.
Fortunately, there several wines that make great pairings with chocolate and they are amazing! Here are many wine and chocolate pairings–along with why they work–so you can experiment and create your own.
Wine and Chocolate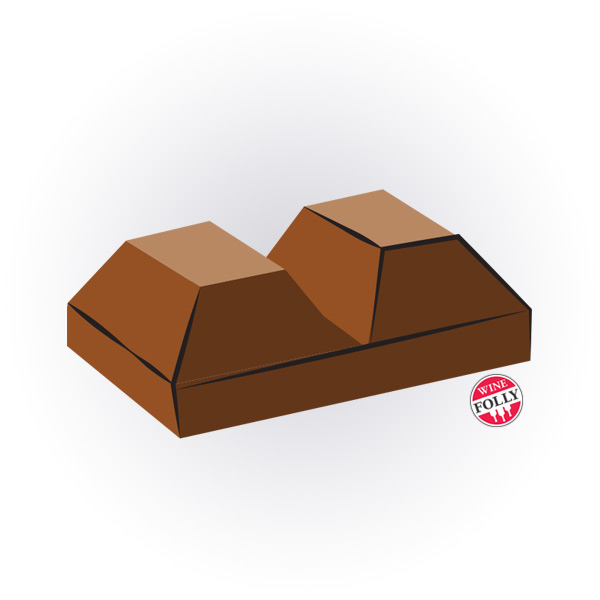 Milk Chocolate
A good milk chocolate is usually about half chocolate and half cream–like those amazing ganache chocolate truffles dusted in cocoa powder. The extra fat from the cream makes milk chocolate one of the easiest "true" chocolates to pair with wine.
Recommended Wines with Milk Chocolate:
Brachetto d'Acqui: A sweet sparkling red wine from Piedmont, Italy. It is also an excellent pair with chocolate mousse!
Late-Harvest Red Wines: Port style wines including late-harvest Syrah, Pinot Noir and Petite Sirah.
Recioto della Valpolicella: A very rare sweet red wine from the same region that produces Amarone in Italy.
Ruby Port: The original Port from Portugal makes for a more spiced and berry driven pairing with milk chocolate
Banyuls or Maury: The French "Port" has funkier earthier notes and for this reason will do marvelously well with chocolate truffles.
Rutherglen Muscat: This elixir is perhaps the sweetest of the sweet wines in the world and it comes from Victoria, Australia.
Lambrusco di Sorbara: The lightest of the Lambruscos, a sparkling red wine, with delicate flavors of peach and strawberry.
---
Dark Chocolate
The polyphenols in dark chocolate mirror those in wine and give both a somewhat bitter taste. It's also the part of the chocolate that gives you all the health benefits! The bitterness in dark chocolate is what we'll want to balance out with a properly selected wine pairing.
Recommended Wines with Dark Chocolate:
Vin Santo del Chianti: or Vin Santo Occhio di Pernice has rich, sweet flavors of cherries, cinnamon, and a fine nuttiness.
Port-style Red Wines: There are several single-varietal Port-style wines (coming from outside of Portugal) that have ample intensity to balance dark chocolate, including Zinfandel (with cayenne chocolate), Malbec (with ginger chocolate) and Petite Sirah (with coffee chocolate).
Port: The original Port from Portugal often has touches of cinnamon spice to the taste profile and pairs marvelously with chocolates with high cacao percentages.
Pedro Ximinez: The region of Montilla-Moriles in Spain makes this inky brown-black colored wine (PX or Pedro Ximinez) designed to be enjoyed in exceptionally small sips. The wine adds nutty and raisinated flavors to dark chocolate and even goes well with espresso.
Chinato: This is an aromatized wine (aka vermouth) from Piedmont, with subtle notes of cherry dusted in exotic spices. This one is a sipper (or better yet, in a Boulevardier cocktail).
---
White Chocolate
White chocolate isn't technically a "true" chocolate because it doesn't contain cacao (the brown part with all the flavanols), but it ends up being one of the few chocolate-like sweets that will match with dry red wine! Woohoo!
Recommended Wines with White Chocolate:
Pinot Noir: A shockingly good pairing, especially for chocolate and wine pairing disbelievers. The white chocolate acts as the fat that delivers sweet flavors of red cherries, strawberries, and raspberries found in the Pinot Noir. If you're looking for a great alternative, check out Schiava.
Beaujolais: Another light-bodied red wine similar to Pinot Noir. The grape variety Gamay has a range of flavors depending on what Beaujolais Cru it's from. For example, Saint-Amour delivers more red fruit and flower flavors whereas Morgon generally offers more black currant and blueberry flavors.
Moscato d'Asti: Since white chocolate is delicate enough to match with white wines, a Muscat Blanc or Moscato d'Asti delivers flavors of peaches and cream with floral notes of roses. Sparkling wines make the pairing have extra creaminess.
Brachetto d'Acqui: Another great pairing with white chocolate, delivering creamy raspberry notes with subtle notes of peonies.
Ice Wine: Depending on the varieties used to make the ice wine (usually Riesling and Vidal Blanc), you'll discover notes of pineapple, lemon meringue, and creamy candied oranges.
Rosé Port: This is the newest style of Port and offers rich flavors of sweet strawberries and currant. The minerality in this Port carries through, making it a sophisticated sweet match.
Pairing Dark Chocolate With Dry Red Wines
The idea of a beautiful glass of Cabernet Sauvignon with a nice piece of dark chocolate sounds marvelous, but when you put the two components together in your mouth it usually makes the wine taste gross. There are a few exceptions to this:
Red wines with some residual sugar (RS) can usually do great alongside a darker chocolate. Many value red wines display a profile with anywhere from ~10–60 grams per liter of RS. Look into value brands of Shiraz (like Jam Jar), Malbec, Red Blends (think Ménage à Trios) and Zinfandel.
When you have dark chocolate within a dessert, such as cake or cheesecake, it's possible to have enough fat and starch in the dessert to counteract the bitterness in both chocolate and wine.
Pairing with Flavored Chocolates Nuts, Caramel, Fruit, Ginger, and Beyond
Since chocolate isn't always a solo item, here are a few recommended pairings for flavored chocolates to inspire you:
Chocolate Covered Strawberries: Some of the sweet sparkling reds, including Brachetto d'Acqui and Lambrusco Amabile, are a great place to start.
Ginger Dark Chocolate: Orange Muscat does wonders with ginger.
Peanut Butter Cups: Wines with some sweetness and nuttiness are the secret here, including Madeira, Marsala and Amontillado/Oloroso Sherry.
Caramel Chocolates: Wines aged with oxidation, including Tawny Port (20 years and over) and Moscatel de Setubal.
Chocolate Mint: Try a single-varietal Syrah, Touriga Nacional, or Petite Sirah Port.
Making Your Own Pairings
The best thing you can do is to start thinking of wine as an ingredient. When you break wine into its basic tastes and subtle characteristics you'll find affinities to different foods. For example, Zinfandel often exhibits subtle notes of cinnamon and 5-spice powder, which you can use to "season" the flavors in your food pairing. The goal of a great wine pairing is to balance the tastes (sweet, sour, bitter, salty, etc) in the food and wine so that the subtle flavors can beautifully emerge.