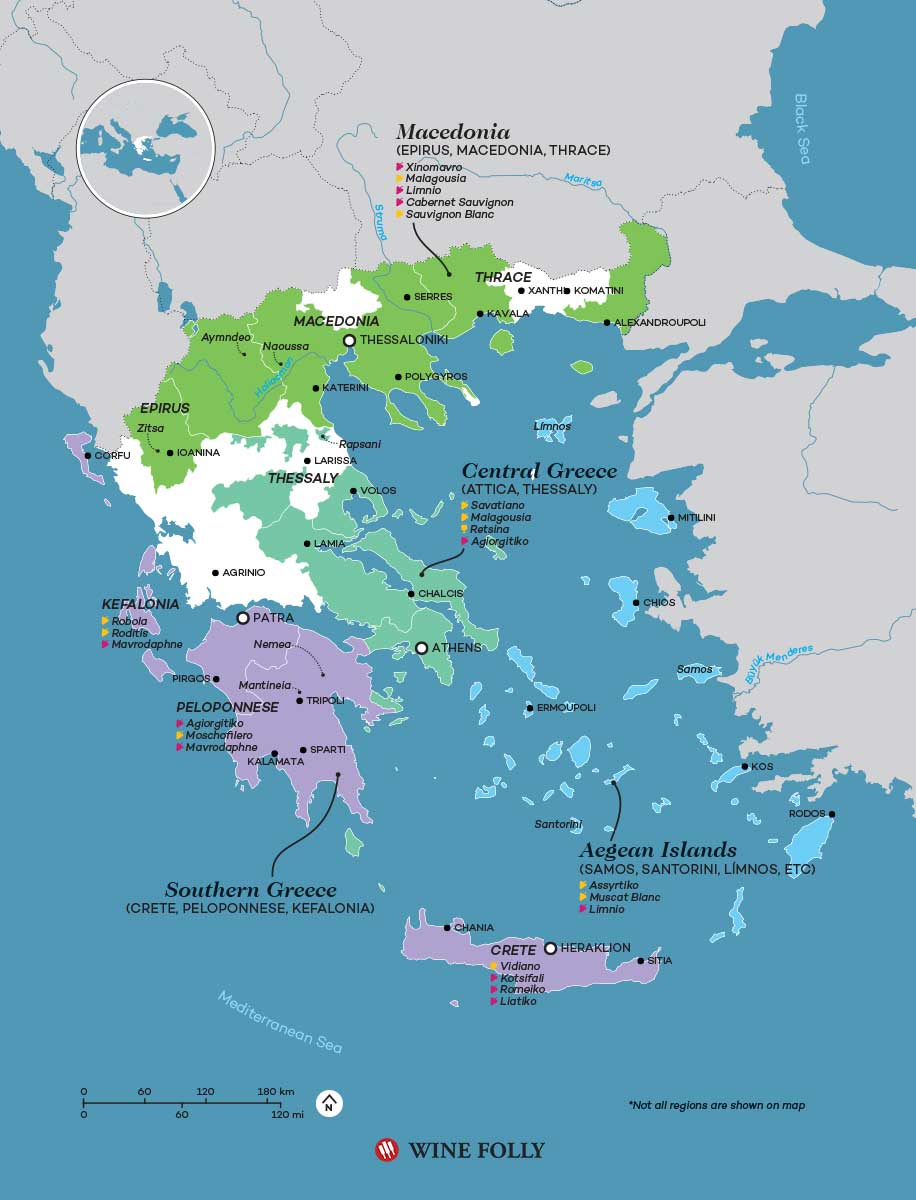 Greece
Jump into Greece and its wines - among the oldest winemaking areas on earth, Greece has 11 winemaking sub-regions cultivating native grapes Assyrtico and Agriorgitiko, among smaller plantings of French varieties.
Table of Contents:
Introduction
Food wines of all kinds.
The secret to understanding Greek wine is appreciating the intensity of flavors found in Greek foods – intensity is a theme in Greek wines as well!
Wine Regions
Northern Greece is known for elegant, savory reds as well as fresh and fruity whites. Xinomavro from Naoussa is often called "the Barolo of Greece," because of its high tannin and acidity. Assyrtiko, Malagousia, Debina (from Zitsa), and even Sauvignon Blanc are also worth seeking.
Central Greece: A warmer climate producing softer Xinomavro-dominant blends, including those from Rapsani, a region on the slopes of Mount Olympus. Savatiano offers bolder whites, similar to Chardonnay, and Retsina, a traditional white made with allepo pine tree sap(!).
Southern Greece: Hot climates produce fruity reds, perfumed whites, and rich dessert wines. Nemean Agiorgitiko can be likened to a fruity Cabernet. Mantineia's Moschofilero is like drinking perfume in a glass. Kefalonian Mavrodaphne is typically rich, sweet red wine. Crete is known for their Greek spin on the GSM blend.
Aegean Islands: The most famous wine island is Santorini which is the famous home of Greece's most important white: Assyrtiko. The other islands have many rare finds. In Lemnos, an herbaceous red called Limnio is thought to have been mentioned in Aristotle's writings.
Good to Know
Popular brands include Boutari, D. Kourtakis, Domaine Sigalas, Tselepos, Alpha Estate, Hatzidakis, and Kir Yianni.
The word Ktima ("tee-mah") is often found on labels and means estate winery (e.g. Ktima Gerovassiliou).

Light-Bodied White Wine
Assyrtiko
"Ah-seer-tee-ko" The champion white of Greece originated on the volcanic island of Santorini. Wines are bone-dry and lean with subtle saltiness. Assyrtiko labeled as Nykteri ("nith-terry") are always oaked and offer more lemon brûlée, pineapple, fennel, cream, and baked pie crust notes.
Lime, Passion Fruit, Beeswax, Flint, Saline

Full-Bodied White Wine
Savatiano
"Sav-ah-tee-anno" For the longest time Savatiano was used to make bulk wine. Only recently, select producers have taken special care with Savatiano to create produce rich, oak-aged white wines with a creaminess and texture like French Chardonnay.
Lemon Curd, Lanolin, Green Apple, Cultured Cream, Lemon Cake

Full-Bodied White Wine
Malagousia
"Mala-goo-zya" A richer style of white with more fruit and oiliness in a style similar to French Viognier. The grape was single-handedly saved from extinction by the winery, Ktima Gerovassiliou in Northern Greece. (The word "ktima" means "winery") It now grows in Northern and Central Greece.
Peach, Lime, Orange Blossom, Lemon Oil, Orange Peel

Full-Bodied White Wine
Retsina
"Ret-see-nuh" An ancient white wine specialty of Greece made by infusing wines with sap from Aleppo pine trees. When made well, wines offer one-of-a-kind pine flavors with a sappy, honeyed finish. Savatiano grapes make richer styles whereas Roditis and Assyrtiko make leaner styles.
Lemon, Pine Dust, Yellow Apple, Beeswax, Green Apple Skin

Aromatic White Wine
Moschofilero
"Mosh-co-fill-air-oh" is a delightfully zesty, aromatic white wine that originated in Mantineia in central Peloponnese. Wines range in style from still to sparkling and from lean, floral and dry to richer, nuttier, oak-aged wines that age for 10 or more years.
Potpourri, Honeydew Melon, Pink Grapefruit, Lemon, Almond

Medium-Bodied Red Wine
Agiorgitiko
"Ah-your-yee-tee-ko" Generous, fruity reds and rosés that are often likened to Merlot. Agiorgtiko is Greece's most planted red and famous from the region of Nemea in Peloponnese where the best wines are said to grow in the hills close to the commune of Koutsi.
Raspberry, Black Currant, Plum Sauce, Nutmeg, Oregano

Medium-Bodied Red Wine
Xinomavro
"Keh-see-no-mav-roh" Xinomavro is being hailed as "The Barolo of Greece" where it grows in the regions Naoussa and Amyndeo. It can taste strikingly similar to Nebbiolo with its floral aromasl, high acidity and tannin. Xinomavro is a great choice for new wine collectors.
Raspberry, Plum Sauce, Anise, Allspice, Tobacco

Medium-Bodied Red Wine
Rapsani Blends
On the slopes of Mount Olympus, the region of Rapsani grows several red grapes including Xinomavro, Krasato, and Stavroto on schist-dominant soils. Wines offer rich red fruit, tomato, and spice flavors with tannins that build slowly on the palate.
Raspberry, Cayenne Pepper, Anise, Sundried Tomato, Fennel

Medium-Bodied Red Wine
Crete GSM Blends
The most southerly island of Greece has one of the warmest and mildest climates for grape growing. The native grapes of Kotsifali and Mandilaria are often blended together with Syrah for a bold, fruit-forward red that has a soft, friendly finish.
Blackberry, Raspberry Sauce, Cinnamon, Allspice, Soy Sauce

Full-Bodied Red Wine
Mavrodaphne
"Mav-roh-daf-nee" is most often used in as Mavrodaphne of Patras, a late-harvest, sweet red wine that tastes of black raisins and Hershey's Kisses. More recently however, a few producers now make intense, full-bodied dry reds that are reminiscent of Syrah.
Blueberry, Black Cherry, Cocoa Powder, Clay Dust, Black Licorice

Dessert Wine
Vinsanto
A sun-dried sweet wine from Santorini that looks like a red but is made with white grapes (Assyrtiko, Athiri, and Aidani). Wines have high volatile acidity which will burn your nose if you sniff to strongly! Vinsanto is a haunting balance of bitter and sweet.
Raspberry, Raisin, Dried Apricot, Maraschino Cherry, Nail Polish

Dessert Wine
Muscat of Samos
The island of Samos is thought to be where Muscat Blanc originated! On Samos many styles are made from dry to sweet. One of the traditionally popular styles is a mistelle (a blend of fresh Muscat juice and Muscat grappa–a spirit) called Vin Doux.
Turkish Delight, Lychee, Sweet Marmalade, Mandarin Orange, Dry Hay
Join Our Newsletter
Jumpstart your wine education and subscribe to the Wine Folly newsletter right now. Always awesome. Always free.