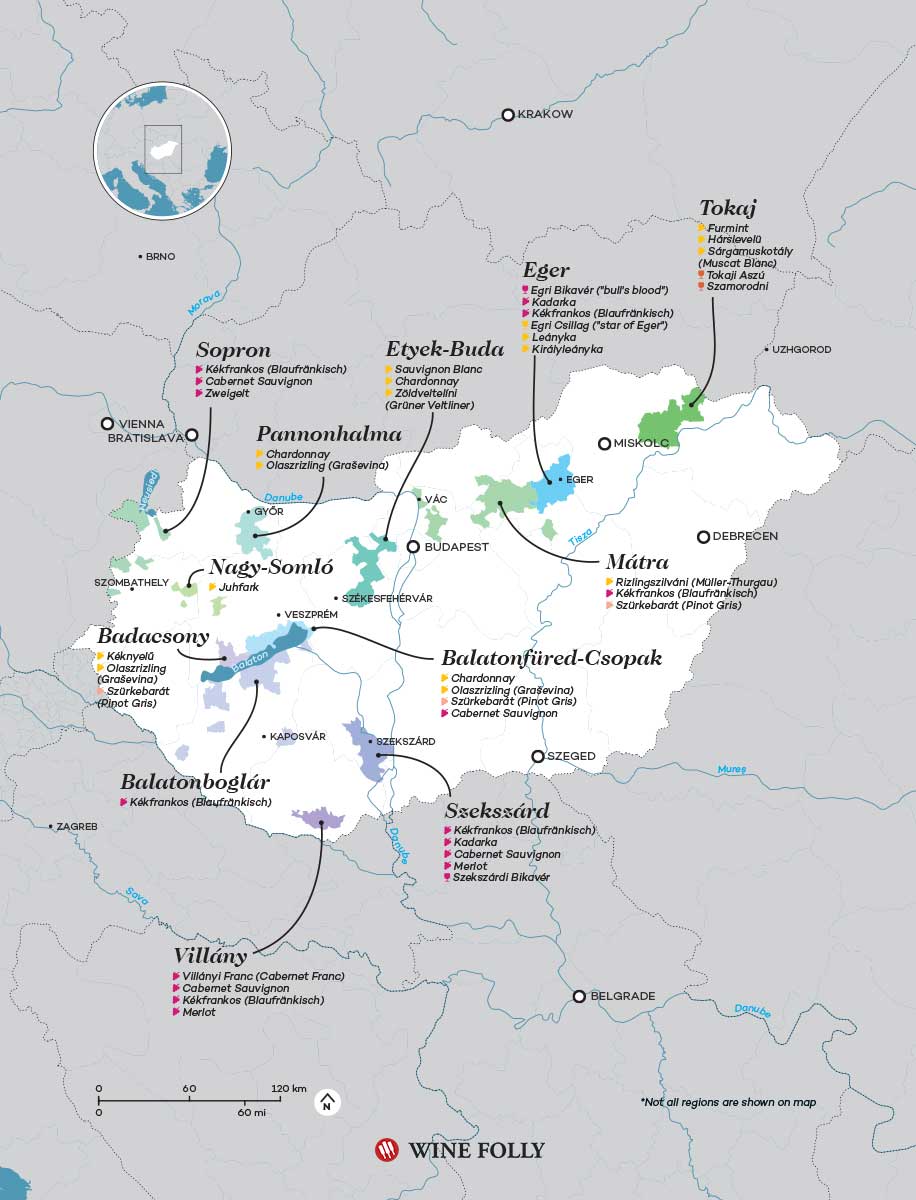 Hungary
Dive into Hungary with its 22 wine regions, producing dry white wines, fine red wines, and the legendary sweet wine Tokaj.
Table of Contents:
Introduction
Making Sweet Wine History.
During the 1700s the world saw Hungary as the benchmark of fine wine. Sweet white wines were the most in-demand style and Tokaji Aszú ("Toe-kye Ah-zoo") was the most sought-after dessert wine in the world. To this day, you can still find these lip-smacking, age-worthy whites but now they are not all Hungary has to offer.
Hungary is in the midst of a wine renaissance – combining traditional winemaking with modern sensibility. With 22 wine regions and hundreds of varieties there's a lot to know. The top 4 regions are a great place to start.
Wine Regions
Eger: Known for a red blend called "Bull's Blood," a red blend with robust tannin and jammy berry flavors.
Northeast: The regions of Veneto, Emilia-Romagna, Trentino-Alto Adige, and Friuli-Venezia Giulia have cooler climates and the warmer areas are influenced by the Adriatic Sea. Reds offer more fruit (although still elegant) and the best white wines are found in the hills, such as the Soave grape, Garganega.
Tokaj: The oldest classified wine region in the world, a UNESCO Heritage site, and home to the golden sweet wine, Tokaji Aszú. Furmint is the most important Tokaj grape and is increasingly available in dry styles which taste similar to dry Riesling!  
Villány: In the South, Villány is a fantastic place for red wines, particularly Kékfrankos (aka Blaufränkisch), Cabernet Franc, and Merlot. Cabernet Franc is especially good here.
Somló: A tiny wine region with volcanic soils that makes incredibly elegant, smoky white wines with a rare grape called Juhfark ("Yoo-fark").

Light-Bodied White Wine
Furmint
("foor-meent") The most important grape of Tokaj is increasingly made into dry styles. The cool climate and clay soils give this wine a rich and somewhat waxy profile. The wine's acidity is so high that wines taste bone-dry even with 9 grams of residual sugar!
Pineapple, Honeysuckle, Lime Peel, Beeswax, saline

Light-Bodied White Wine
Nagy Somló
The rare white grape, Juhfark ("you-fark") or "sheep's tail" grows on an extinct volcano above Lake Balaton. It was long believed if a woman drank this smoky white, she'd conceive a male heir. Wines are both intensely smoky and fruity at the same time with a subtle bitter note on the finish.
Star Fruit, Green Pineapple, Lemon, Volcanic Rocks, Smoke

Aromatic White Wine
Egri Csillag
Egri Csillag ("egg-ree chee-log") means "the Star of Eger" and is a super aromatic white blend containing at least 4 different grapes including natives like Furmint, Hárslevelü ("harsh-level-ooo"), Leányka ("lay-anka") and Királyleányka ("key-rai lay-anka"). A fantastic value.
Tropical Fruit, Lychee, Citrus Zest, Honeysuckle, Almond

Dessert Wine
Tokaji Aszú
Exceptional sweet white wines made with noble rot in the region of Tokaji with up to 6 different grapes including Furmint, Hárslevelü, Kabar, Kövérszölö, Zéta, and Sárga Muskotály ("shar-guh-moose-koh-tie").
Honey, Pineapple, Beeswax, Ginger, Tangerine, Clove

Medium-Bodied Red Wine
Egri Bikavér
("egg-ree BEE-kah-vaer") or "Bull's Blood" blends from Eger have a distinctly volcanic and high tannin profile with sweet, spiced plum aromas. You'll find the grapes of Kardarka (plummy, jammy), Kékfrankos (aka Blaufränkisch) and Cabernet Franc feature prominently in this blend.
Plum, Raspberry, Black Tea, Asian 5-spice, Cured Meat

Medium-Bodied Red Wine
Villány Red Blends
A much warmer region producing Bordeaux-style blends made with Cabernet Franc, Merlot, Cabernet Sauvignon and the regional Kékfrankos (Blaufränkisch). Expect more plummy, spiced berry and fruitcake notes with wines aged for extened periods in Hungarian oak.
Candied Currants, Blackberry Fruitcake, Plum Sauce, Volcanic Rocks
Join Our Newsletter
Jumpstart your wine education and subscribe to the Wine Folly newsletter right now. Always awesome. Always free.