Cabernet Sauvignon Red Wine Profile
MAJOR REGIONS: France (~124k acres), Chile (~100k acres), United States (~95k acres), Australia (~65k acres), Italy (unknown), South Africa (~41k acres), Argentina (~16k acres)
Over 720,000 acres worldwide*

---
Cabernet Sauvignon Characteristics
FRUIT: black cherry, black currant and blackberry
OTHER: black pepper, tobacco, licorice, vanilla and violet
OAK: Yes. Usually 9-18 months French oak. Some American & Hungarian oak
TANNIN: Medium (+)
ACIDITY: Medium (+)
ABV: 13.5-15.5%
 
COMMON SYNONYMS: In France, Bordeaux wines often blend with Cab. In Italy, it's common to see Supertuscan wines containing Cab. In Spain, Priorat wines often use Cab.
OTHER NAMES (rare):
Bouchet, Bouche, Petit-Bouchet, Petit-Cabernet, Petit-Vidure, Vidure, Sauvignon Rouge
What does Cabernet Sauvignon Taste Like?
Since Cabernet Sauvignon is grown in a wide range of climates and regions throughout the world it has varied flavors. Fundamentally speaking, Cab is a full-bodied red wine with dark fruit flavors and savory tastes from black pepper to bell pepper. Let's take a look at two regions that make two very different styles of Cabernet Sauvignon to understand how the flavors differ.

From Bordeaux and the Old World
A 100% Cabernet Sauvignon from the Old World is rare because Old World winemakers are awesome at blending varietals together. That said, Cabernet Sauvignon from Bordeaux tastes more like the herbal/floral flavors of graphite, violets and tobacco than fruit. When you smell a Bordeaux, you'll often get hints of black cherries and licorice along with the earthiness. Imagine you've filled a new leather bag with a pound of black cherries and held it to your chest while rolling down a hill. Yum.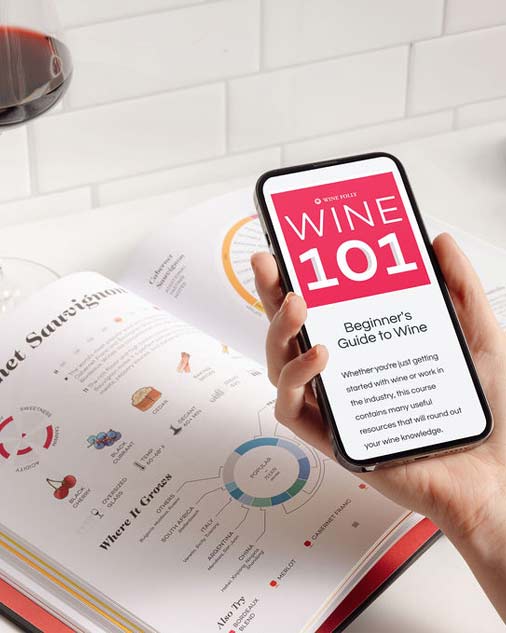 Buy the book, get a course.
Get the Wine 101 Course @ 75% OFF with the purchase of Wine Folly: Magnum Edition.
Shop Now
---
Imagine you've filled a new leather bag with a pound of black cherries and held it to your chest while rolling down a hill. Yum.
---
Despite the natural full-bodied traits of Cab, Bordeaux wines are kings of subtlety, they tend to taste a little lighter but have strong tannins and acidity that will last on your tongue. Good recent vintages from Bordeaux include 2009, 2008 and 2005.
From California and the New World
Cabernet Sauvignon from New World countries are often a touch fruitier than their Old World cousins. Expect flavors of Black Cherry, Licorice and Black Pepper all wrapped together with a dash of Vanilla. The wines tend to have a little bit less tannin and acidity but also have more alcohol, ranging from 13.5-15.5% ABV
Cabernet Sauvignon Food Pairing
Cabernet Sauvignon is one of the more complex and layered wines out there. It has higher tannins and a savory character often described as black pepper and tobacco. Because of Cab's traits, look for foods high in fat and umami flavors for Cabernet Sauvignon food pairing.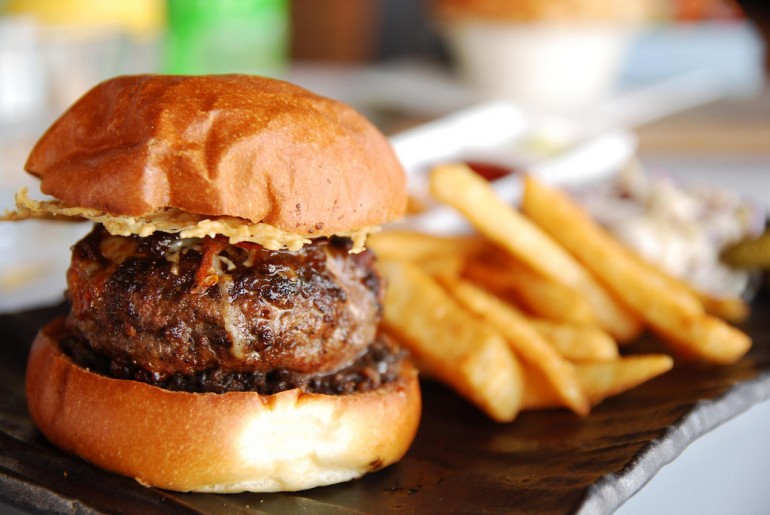 Try Cabernet Sauvignon with a
charred gruyere burger
, a
mushroom pizza
with tomato sauce or some
marinated ribeye steak
. To champion the fruit flavors in Cabernet Sauvignon,
don't pair it with chocolate
. Instead, pair wine with
braised short ribs
or
mushroom stroganoff
. The powerful umami flavors overcome the savory quality of Cabernet Sauvignon leaving the berry flavors out in the open to shine.
8 Surprising Facts About Cabernet Sauvignon
Cabernet Sauvignon is a cross!

Cabernet Sauvignon is actually a natural crossing of Cabernet Franc and Sauvignon Blanc that occured during in the 1600's. Since then, it's evolved to become what it is today. DNA testing at UC Davis discovered this relationship in 1996.

American Cab may contain 25% other grapes.

It's legal in the US to permit up to 25% of another grape to be blended into a wine labeled as "Cabernet Sauvignon." Some producers blend for better flavor – others blend for better value.

Why is Cabernet Sauvignon wine so expensive?

Demand. In 2008, Napa Valley grape grower, Piña, said their Rutherford Cabernet Sauvignon was ringing in $6,000/ton whereas neighboring Merlot vineyards were selling at $1,300/ton.

Want to celebrate Cabernet? There's a day for that.

Cabernet Day is held on the Thursday before Labor day at the end of August each year. #CabernetDay started in 2010 as a social media stint to celebrate the variety. Since then, it has grown to include grand tastings in major cities from San Francisco to Sydney.

The green bell pepper smell in Cabernet Sauvignon has been linked!

The bell pepper aroma in Cabernet Sauvignon has been traced to an organic compound group called pyrazines. Pyrazines are higher in unripe Cabernet Sauvignon grapes and are noticable at just 10-20 parts/trillion. Wine growers often prune the canopy leaves to increase sun exposure to the grapes.

Cabernet Sauvignon is high yield.

At Chateau Latour, producer of the world's most expensive Cabernet Sauvignon, they harvest 3.5 tons per acre. Comparatively, the most expensive Pinot Noir in the world, from DRC, harvests just over 1 ton of grapes per acre.

Proven to grow well in a desert!

In Eastern Washington State, a region that gets just 6-8 inches of rain a year, Cabernet Sauvignon wines made from Champoux Vineyards have received multiple 100 point scores. The Gobi Desert in China has several wineries growing Cabernet Sauvignon including Chateau Hanson.

A rare Cabernet Sauvignon taint is linked to ladybugs.

Researchers studying Cabernet Sauvignon in Canada discovered that wines made from vineyards infested with Asian ladybugs affect the flavor of the wine greatly. Ladybug taint occurs when ladybugs are inadvertedly added into the fermenting wines. –Ladybugs were originally introduced to North America to reduce aphid populations.
Love big, bold red wines like Cabernet? Find more! See an article list of full-bodied red wines to expand your wine horizons.
Sources
*Estimate on worldwide Cabernet Sauvignon acreage from Merlot on wikipedia
The Science behind Cabernet Sauvignon: The "Green" Herbaceous Character is 3-isobutyl2-methoxy-pyrazine (IBMP)
How yeasts effect flavor of Cabernet Sauvignon in Australian Journal of Grape and Wine Research by UC Davis
Wine Varieties planted in Argentina on winesofargentina.org
Wine Varieties planted in Australia from winebiz.com.au
Wine Varieties planted in South Africa from vineyardvarieties.com
Wine Varieties planted in Chile from winesofchile.org