Taste the difference between Champagne and Cava (and other high quality sparkling wines).
You can use these clues to find great quality sparkling wines made from around the world (and for better prices than those exclusively from Champagne!)
For those who love sparkling wines, you're not going to want to miss this.
In this tasting, I pop a bottle of Champagne and compare it to a Spanish Cava and an Oregon sparkling wine.
Not All Sparkling Wines Are Made Equally
Surprise! Surprise!
The major difference that separates quality in sparkling wines (beyond grapes) is the production method.
For top-tier sparkling wines like Champagne, the secondary fermentation (the part that makes the bubbles) happens inside the bottle. By doing this, sparkling wines are able to age on the lees, under pressure for extended periods of time.
Did You Know? Bottle-fermented sparkling wines have about five atmospheres of pressure (~75 psi) inside a bottle?
Aging "en tirage" (as it's called) is how you can get all those toasty, brioche flavors in sparkling wine. It is a result of autolysis.
Of course, if you've ever bought Champagne then you know how expensive it is! Fortunately, other wines use the same method.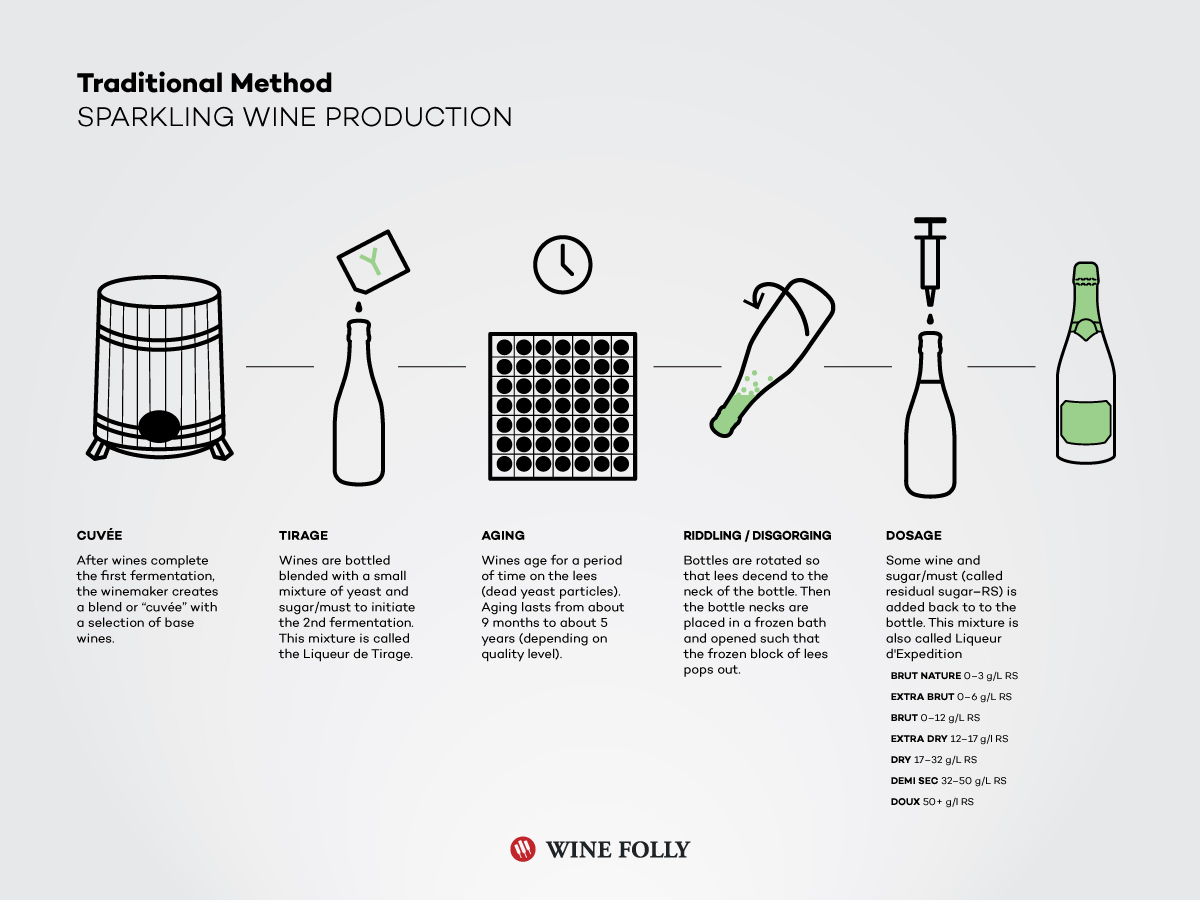 Tips on What To Look For
Here are four big clues on what to look for on the label (or the winery site) for good sparkling wines:
Wines are often labeled "Traditional Method," "Metodo Classico," or "Espumoso" to indicate wine is made using the bottle-fermented method.
Wines should be aged in the bottle "en tirage" for at least 15 months to begin to achieve that toasty, autolytic character found in non-vintage Champagne.
Many of these bubbly wines are barrel-fermented and undergo malolactic fermentation to achieve more creaminess.
In Cava, look for "Reserva" and "Gran Reserva," as indicated by official circular stickers on the label.
Champagne
Gaston Chiquet "Tradition Premier Cru" Brut NV
Really classic Champagne; "parmesan cheesy" aromas of fromage lead into toasted almond, baked apple, and citrus zest. On the palate, this wine is very explosive with acidity, leading into baked apple and almond notes. The finish sweetens up with white cherry notes and a long tingling acidic finish.
---
Reserva Cava
Alta Alella "Mirgin" Reserva Cava 2015
Aromas and flavors of lemon zest, lemon meringue, ginger, lemongrass, and Sichuan peppercorn with a slight beeswax note on the end invite us in. On the palate, very polarizing flavors of lime peel and lime juice that are counteracted with baked apple with a waxy, yellow apple note on the finish.
(Happy to note that this wine is made with organic grapes!)
Price: $22
Region:Alella, Spain (very close to Barcelona)
Alcohol: 12%
Dosage (Sweetness): 0 g/L RS ("Brut Nature" status!)
Tirage (Aging): 15 months
---
Oregon Sparkling
Argyle "Vintage" Brut 2015
Aromas and flavors of peaches, rose pastille candy, white cherry, and mint. On the palate, exploding bubbles lead into a rich red-fruity body on the mid palate and end on a minty, crunchy, bitter note.
Price: $28
Blend: 70% Pinot Noir, 20% Chardonnay, 10% Pinot Meunier
Region: Willamette Valley AVA (vineyards specifically in Dundee Hills AVA and Eola-Amity Hills AVA)
Alcohol: 12.5% ABV
Dosage (Sweetness): 6 g/L RS (puts it at "Extra Brut" status)
Tirage (Aging): at least 36 months
---
Who Won?
After finishing this tasting and shutting down the camera for the night, we drank these wines in this order:
Champagne
Cava
Oregon bubbly
It was hard not to deny the delicous-ness of the marzipan notes and tingly acidity in the Champagne. It was a well-crafted wine that hit the mark in so many ways.
That said, for bone-dry bubbly lovers, the Cava came in at a close second. For the price, it really knocked our socks off.
We were really hoping to love the crap out of the Oregon bubbly. Its aromatic profile was definitely on point. Ultimately however, its shorter and flatter finish made it not as fun to drink.