The best way to save on wine is to familiarize yourself with the undervalued wine regions of the world. Forget Barolo and Champagne (at least for now) and delight yourself with the fact that 90% of wine costs $12 – $18. It's time to learn about these underrated regions that put out value. Let's start with Red Wines in Italy. Discover great Italian reds under $20 while learning the secrets to Italy's underrated regions.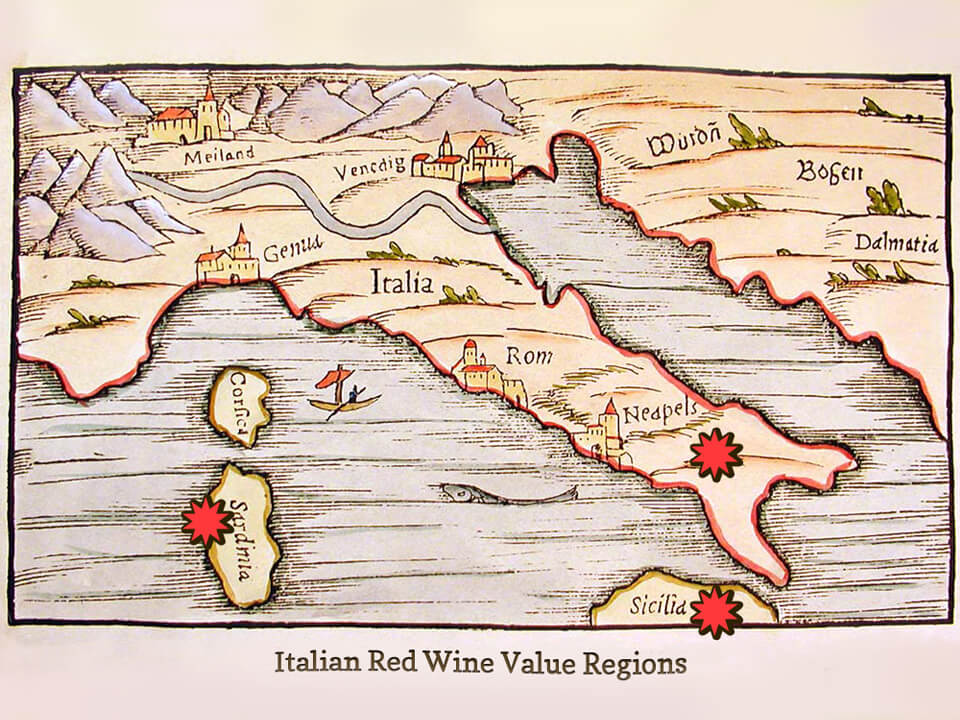 Underrated Wine Regions for Reds Under $20
Italy has 20 major wine regions from the tiny Aosta Valley (1,500 acres) to the massive Apuglia (264,000 acres). As you might guess, some of the larger regions export a ton of wine which keeps the prices low in the US. The 20 Italian wine regions also include Sicily; known for Nero d'Avola (and the mafia) and Sardinia; known for Cannonau.
As a general rule, the less populated regions, such as Southern and Eastern Italy, offer lower prices. There are also some lesser classified wines, such as Nebbiolo from the Langhe (from the more populated Piedmont), which can be found from $12 – $15 dollars.
Italian Wine is Not for Half-Assed Wine Enthusiasts
Italy is savory. Wines from Italy have rugged flavors of tobacco that clash with cherries and lead into a dried fig finish. Some of the wines are so hardy and tannic they will dry out your mouth similar to the sensation of
licking chalk
.
Italian wine at its best is both floral and fruity while feeling like a train collided with your face. Sound lovely? Apparently so, because they're wildly popular and expensive. so unless you have a money tree growing in your backyard, it's time to get smart about finding value wines in Italy.
---
1. Try Cannonau from Sardinia
Cannonau di Sardegna (DOC) is made with Cannonau grapes which are the same as Grenache. The Sardinians believe Cannonau, aka Grenache, originated in Sardinia and was later brought to Spain and then to France. Regardless of who started it, in Sardinia, Cannonau is light-bodied and rustic with a ruddy-orange hue. Forget Chianti or Chateauneuf du Pape, Cannonau pairs perfectly with pizza.
Cannonau Recommendations
Have a recommendation for us to try? Send it our way.
---
2. Try Nero d'Avola from Sicily
Nero d'Avola (DOC) is a black grape that makes very dark and rich wines in Sicily. It is similar to Syrah with smokey pepper flavors. When oak-aged, Nero d'Avola takes on a lush, smooth character. While this wine style is growing in popularity, you can still find a value under $20. Nero d'Avola ages for upwards of 10 years or more, so if you find something you like, buy a case. It tastes great paired with braised short ribs and portabella mushroom burgers. I drink Nero d'Avola in lieu of a Supertuscan like Sassacaia.
 
Nero d'Avola Recommendations
Tasca d'Almerita "Lamùri" Nero d'Avola Sicilia 2009 is ~$19
Argiolas Isola dei Nuraghi "Costera" 2010 is ~$13
We like the 2009's better from Italy than the 2008's.
---
3. Try a Montefalco Rosso from Umbria
If you are a wine geek, you are already foaming at the mouth because you've tasted the red blends of Montefalco in Central Italy and liken them to Brunello di Montalcino. Montefalco Rosso is usually a blend of mostly Sangiovese along with the local grape, Sagrantino, and usually a touch of Merlot and/or Cabernet Sauvignon. They are tricky to find in the US, so seek out good vintages such as 2004, 2006, 2007 and 2009 if you're unfamiliar with the producer.
 
Montefalco Rosso Recommendations
We are currently obsessed with Tabarrini from Vinitalia 2012 but they are in the $30-40 range.
---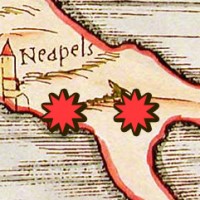 4. Try Aglianico from Basilicata and Campania
Rich and savory with high tannin, Aglianico is a great alternative to Barolo. The tannin is so high, in fact, that they will age for up to 20 years (and taste better with at least 10 years of age). The producers in Basilicata and Campania can be variable so pay attention to vintage variation. Good recent vintages in Italy are 2001, 2004, 2006, 2008, and 2009-2011. Aglianico wine pairings are best with gooey and cheesy foods.
 
Aglianico Recommendations
Have a recommendation for us to try? Send it our way.
---
5. Try Nebbiolo from the Langhe
If the elegance of Barbaresco and Burgundy is more your style, you'll be delighted when you slip into a bottle of Langhe Nebbiolo. In Piedmont, vineyards on North-facing slopes are disallowed from the elite DOCG classification. While some of these North-facing Nebbiolo wines are epic, they'll never gain Barbaresco classification. This means that next door to many of the most prestigious vineyards in Piedmont are some kickass values.
 
Langhe Nebbiolo is best enjoyed with a lap cat and some Italian bread.
 
 
 
Nebbiolo Recommendations
---
6. Try Primitivo and Negroamaro from Puglia
Love Amarone? Primitivo and Negroamaro have very similar flavors of cherry and strawberry but without all the depth. Most primitivo are in the 10-15 dollar mark, which is a screaming deal. Perfect with BBQ Chicken on a Tuesday night.
 
Primitivo and Negroamaro Recommendations
Masseria Li Veli Primonero Salento (IGT) from Puglia 2009 ~$9 Don't think, just buy a case.
Cantele Primitivo 2009 is ~$11
WINE GEEK! Up-and-Coming Region: Lazio, Italy
All our sommelier buddies who've been trying the wines of Lazio agree that it's a region that will explode in the next few years. Sounds great for us all, but for now they are very hard to find. Well-made wines from Lazio region are dark in color with notes of tobacco and licorice like Cabernet or Syrah. Baccarossa by Poggio le Volpi is 100% Nerobuono, a local indigenous grape of Lazio. Baccarossa is mad tasty.