A useful tool to have on hand while tasting, the wine flavor wheel is a visual glossary of wine terms organized by origin.
BUY NOW
The Wine Flavor Finder is a custom designed tool to help wine lovers find flavors in wine (and where they come from). Designed and printed in Seattle, WA.
---
Primary Aromas
Primary aromas are from the type of the grape or the environment in which it grows.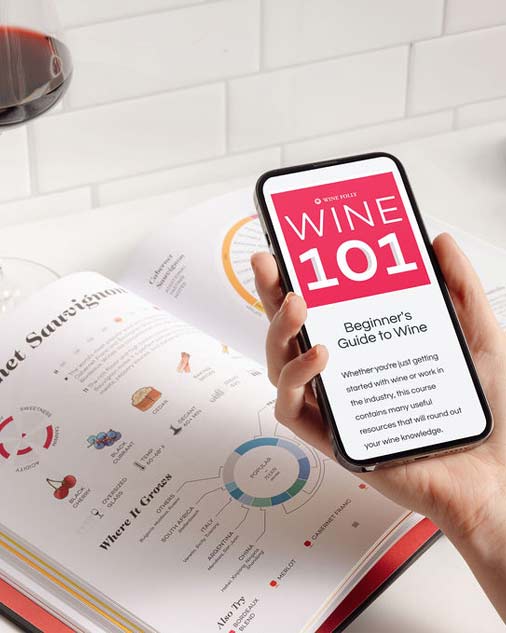 Buy the book, get a course.
Get the Wine 101 Course @ 75% OFF with the purchase of Wine Folly: Magnum Edition.
Shop Now
For instance, Barbera wines will often exhibit subtle nuances of licorice or anise. You'll find quite a range of flavors in the Primary Aroma group, including fruit flavors, herbal flavors, earthiness, floral notes, and spices.
Secondary Aromas
Secondary aromas come from the fermentation process, which includes yeast and other microbes. A great example of this is the sour smell that you can find in Brut Champagne that is sometimes described as "bready" or "yeasty."
Fermentation-related aromas are present in all wines at some level and you'll find that young wines tend to have more intense Secondary Aromas than wines that have been aged.
Tertiary Aromas
Tertiary aromas (classically referred to as "bouquets") come from aging wine. Aging aromas come from oxidation and resting the wine in oak or bottles for a period of time. You're probably familiar with the vanilla aroma associated with oak-aging. Other, more subtle, examples of tertiary aromas are nutty flavors, like the hazelnut found in vintage Champagne or the dried fruit aromas, such as fig, that are associated with older red wines.
Faults/Other
While an excess of these flavors is considered a wine fault, you'll find that many will disagree as to whether or not some of these categories are truly faults. A great example of a wine fault that is sometimes a positive characteristic is Brettanomyces. Additionally, some wines are cooked on purpose, to develop toffee flavors.
On the other hand, 2,4,6-Trichloroanisole or cork taint is a fault that affects up to 3% of wines that are bottled with natural cork.
---
Check out the complete list of flavors below:
Primary Aromas
Iris
Peony
Elderflower
Acacia
Lilac
Jasmine
Honeysuckle
Violet
Lavender
Rose
Potpourri
Hibiscus
Citrus
Lime
Lemon
Grapefruit
Orange
Marmalade
Tree Fruit
Quince
Apple
Pear
Nectarine
Peach
Apricot
Persimmon
Tropical Fruit
Pineapple
Mango
Guava
Passion Fruit
Lychee
Bubblegum
Cranberry
Red Plum
Pomegranate
Sour Cherry
Strawberry
Cherry
Raspberry
Boysenberry
Black Currant
Black Cherry
Plum
Blackberry
Blueberry
Olive
Dried Fruit
Raisin
Fig
Date
Fruitcake
Spice
White Pepper
Red Pepper
Black Pepper
Cinnamon
Anise
5-Spice
Fennel
Eucalyptus
Mint
Thyme
Vegetable
Grass
Tomato Leaf
Gooseberry
Bell Pepper
Jalapeño
Bitter Almond
Tomato
Sun-Dried Tomato
Black Tea
Earth
Clay Pot
Slate
Wet Gravel
Potting Soil
Red Beet
Volcanic Rocks
Petroleum
Secondary Aromas
Microbial
Butter
Cream
Sourdough
Lager
Truffle
Mushroom
Tertiary Aromas
Vanilla
Coconut
Baking Spices
Cigar Box
Smoke
Dill
General Aging
Dried Fruit
Nutty Flavors
Tobacco
Coffee
Cocoa
Leather
Faults & Other
Volatile Acidity (Acetic Acid)
Vinegar
Nail Polish Remover
Sulfides & Mercaptans
Cured Meat
Boiled Eggs
Burnt Rubber
Lit Match
Garlic
Onion
Cat Pee
Black Cardamon
Band-Aid
Sweaty Leather Saddle
Horse Manure
---