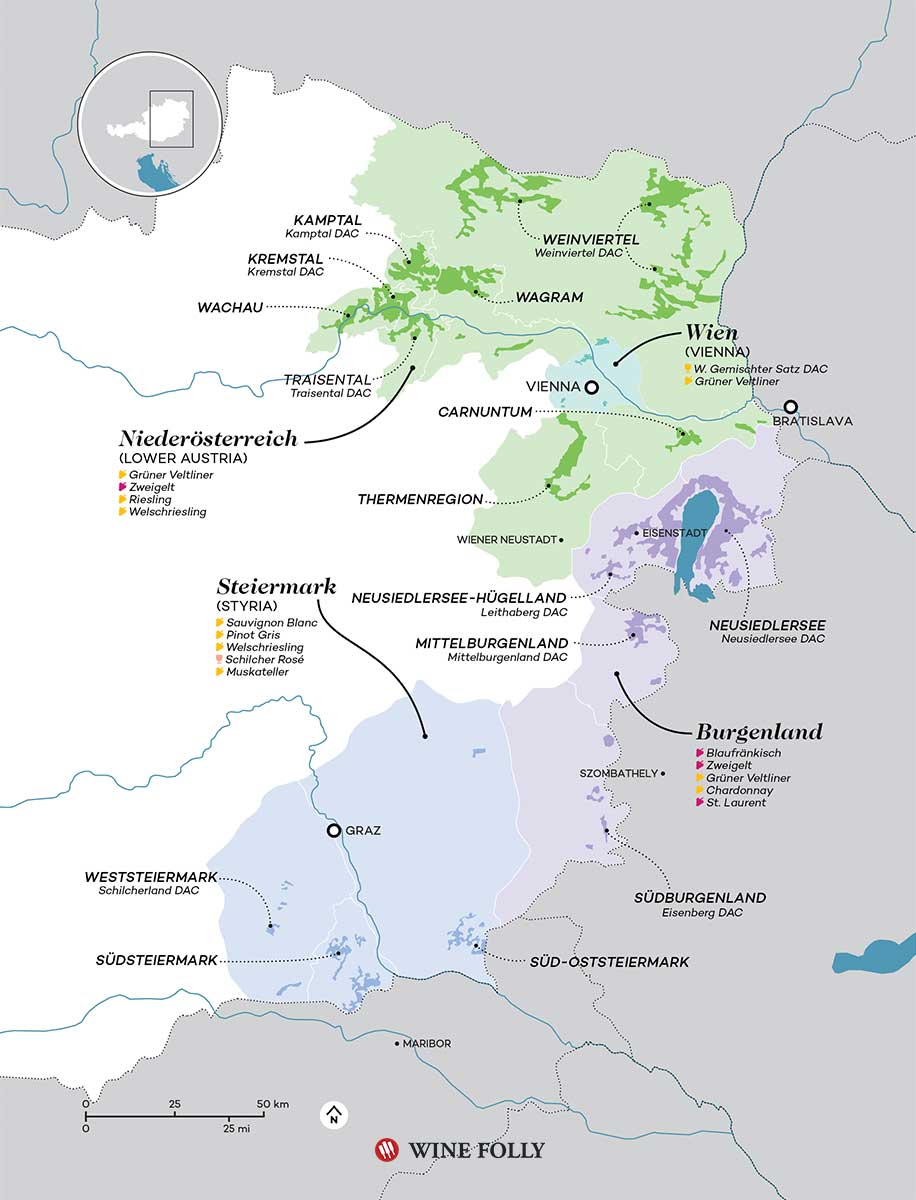 Austria
Learn about Austria's tumultuous wine history over the past century, and discover how this small country pulled its winemaking up from the depths of scandal, and became one of the most notable European wine countries.
Table of Contents:
Introduction
Say hello to Grüner Veltliner.
Most never realize that Austria is obsessed with wine, but if you go to the capital of Vienna, you'll find several thousand acres of vineyards flanking the city (that have been there thousands of years!). Austria is most famous for its native grape, Grüner Veltliner or "green veltliner," which produces lip-smacking white wines with acidity that will hit your tongue like a lightning bolt. The region's other wines have a similar delightfully disarming and spicy quality, making Austrian wine an experience like no other.
Wine Regions
Niederösterreich (Lower Austria) is Austria's largest wine region. This is where you'll find the country's most popular and important wine varieties including Grüner Veltliner and Riesling. Within Lower Austria, the regions of Wachau, Kremstal, and Kamptal consistently produce the highest rated wines in the region.
As you move south, the climate is a bit warmer where it's moderated by Neusiedlersee Lake in Burgenland. The warmer temperatures allow for high quality red wines including Zwiegelt, Blaufränkisch, and Saint Laurent.
In Steiermark (Styria), it's cooler and there are some incredible examples of Sauvignon Blanc, a spicy rosé called Schilcher, and Muskateller (an aromatic but dry Muscat Blanc wine).

Light-Bodied White Wine
Grüner Veltliner
Austria's top variety is made in a wide variety of styles. Wines labeled "Klassik" are typically lighter and more peppery, whereas those labeled with "Reserve" or "Smaragd" (from Wachau) offer more rich, tropical fruit notes. Those aged in oak are quite the find.
Starfruit, Gooseberry, Snap Pea, White Pepper, Crushed Rocks

Aromatic White Wine
Riesling
On first taste, Austrian Riesling seems very similar to German Riesling with crystalline acidity and explosive fruit aromas. Tasting them side-by-side reveals Austria's slightly more lean profile and focused herbal notes. Niederösterreich is the place to look.
Lemon-Lime, Apricot, Pear, Lemon Zest, Tarragon

Light-Bodied White Wine
Sauvignon Blanc
An exciting discovery if you visit Austria is the country's Sauvignon Blanc from Steiermark. The wines have mouth-watering acidity and create tension on the palate with ripe, peachy fruit complemented by spicy and minty herbal flavors.
Honeydew Melon, Celery, Fresh Herbs, White Peach, Chive

Aromatic White Wine
Wiener Gemischter Satz
Wiener Gemischter Satz is a traditional Vienna white wine blend of at least 3 white varieties from the same vineyard that may include Grüner Veltliner, Pinot Blanc, Gewürztraminer, Graševina (aka Welschriesling), and rare finds like Sämling and Goldburger.
Ripe Apple, Pear, Marzipan, White Pepper, Citrus Zest

Light-Bodied Red Wine
Zweigelt
The most planted red variety of Austria is a cross between St. Laurent (lighter like Pinot Noir) and the more robust Blaufränkisch. The result are spicy, red-fruit driven reds and rosé wines that can be served chilled and pair perfectly with a hot summer's day.
Tart Cherry, Milk Chocolate, Pepper, Dried Herbs, Potting Soil

Medium-Bodied Red Wine
Blaufränkisch
Austria's champion red wine has surprising depth and tannin structure (on good vintages) which suggests it's a worthy contender for cellaring. In it's youth it can taste somewhat earthy and spicy with tart fruit notes and becomes more velvety with time.
Dried Cherry, Pomegranate, Roasted Meat, Allspice, Sweet Tobacco
Reading a Label
After a highly publicized scandal in 1985 when low-quality wines were found containing ethylene glycol, the Austrian Wine Board tightened regulation. Today, Austria has the most rigorous wine quality and labeling standards.  Even though it's quite logical, it's still a bit confusing!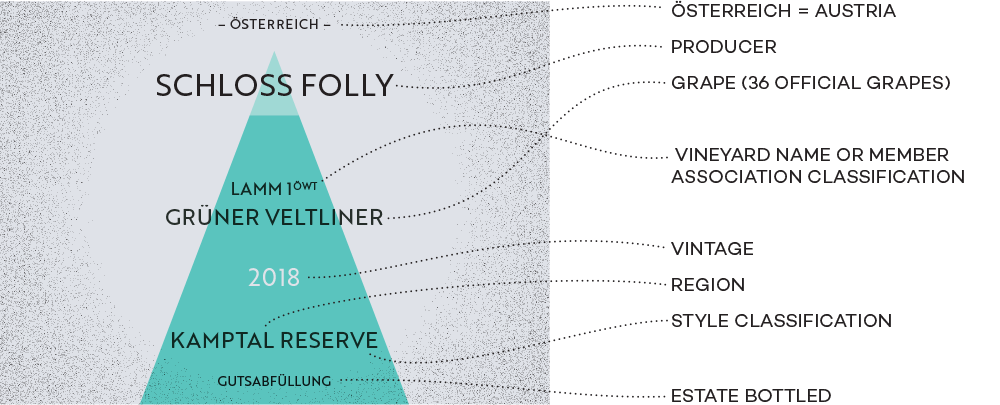 Common Label Terms
Trocken

Dry wines between 0–9 g/L residual sugar.

Halbtrocken

Off-dry wines between 10–18 g/L RS.

Lieblich

Medium sweet wines with up to 45 g/L RS.

Sweet

Sweet wines with more than 45 g/L RS.

Klassik

Light, zesty wines.

Reserve

Rich wines with 13%+ ABV and hand-harvested.

Wein / Austrian Sekt

No region listed other than Austria? Expect basic table wines.

Landwein

If it's from Weinland, Steirerland, or Bergland it's one step up from table wine using 36 official grapes.

Qualitätswein

This is the top quality marker for Austrian wine. It's indicated by a red and white bottle seal that certifies wines passed two inspections (chemical analysis and tasting). Wines are made with 36 official grapes and labeled with one of the 16 wine regions or 9 states (Niederösterreich, Burgenland, Steiermark, Wien, etc).

Kabinett

Qualitätswein wines with slightly higher standards.

Prädikatswein

Qualitätswein wines with higher grape ripeness and production rules

Spätlese

Late harvest picked at or over 22.4 °Brix

Auslese

Noble rot selected grapes at or over 24.8 °Brix

Beerenauslese

Noble rot selected grapes at or over 29.6 °Brix

Eiswein

Made with frozen-on-the-vine grapes at or over 29.6 °Brix

Strohwein

"Straw wine" air-dried grapes to at or over 29.6 °Brix (aka Schilfwein).

Trockenbeerenauslese

(TBA) Noble rot selected grapes at or over 35.5 °Brix

DAC

Qualitätswein wines from 10 of the 16 wine regions which have officially designated wine styles. (See map)

Sekt g.U.

Qualitätswein-level sparkling wines with 3 quality tiers: Klassik (9 mos. on lees), Reserve (18 mos. on lees) and Grosse Reserve (30 mos. on lees). Well worth investigating!

Steinfeder

Zesty Wachau whites with up to 11.5% ABV

Federspiel

Mid-weight Wachau whites with 11.5–12.5% ABV

Smaragd

Rich Wachau whites with over 12.5% ABV

1 ÖWT

Listed after a name to designate a special vineyard in Kremstal, Kamptal, Traisental and Wagram (like Premier Cru).
Join Our Newsletter
Jumpstart your wine education and subscribe to the Wine Folly newsletter right now. Always awesome. Always free.