Becoming a wine expert is daunting. Wine snobs lurk around every corner itching to challenge your wine smarts and everyone else has strong opinions about what they think you should drink. Fortunately, there is hope! Below are 9 steps to start you on your journey to becoming a wine expert. Complete the steps below and you'll be confidently ordering wine from the fanciest restaurants in town. Keep in the mind, this is the Wine Folly way. There's a lot of paths to the same destination, so take and leave what you will from here.


Depending on your level of commitment you can become a self-proclaimed wine expert in less than a year. You'll find that your wine knowledge is like a rolling stone; you pick up wine knowledge faster and more easily as you progress. Self-motivated individuals will succeed. One of the premier American wine expert accreditation programs, the Court of Master Sommeliers, has no accompanying classes and is simply a series of difficult tests. To prepare for the Court of Masters most people either study independently or form small study groups.
1. Developing your Wine Palate
Wine is an acquired taste. Even professional wine experts initially started by drinking very modest wines. Master Sommelier Ian Cauble at The Ritz-Carlton in Half-Moon Bay discovered his love for wine in a bottle of Bogle Petite Sirah. While Wine Director Erik Segelbaum, of Schwartz Brother's Restaurants in Seattle, indulged in Lindeman's Bin 55 Shiraz and Pepper Wood Merlot before he became a wine geek. Take it from the pros and start simply with what you like; whether it be a sweet rosé wine such as white zinfandel or something savory such as French Cabernet Franc. Make sure that every wine you taste you swish around in your mouth instead of sending it directly to the back of your throat.

Once you get past the 'wine' flavor you'll begin to identify interesting subtleties. There are a few tips to developing your wine palate to taste flavor nuances. It's important to note that expanding your palate involves tasting a range of wines. Consider joining a wine tasting group!
2. Trying an 'Aha' Wine
By now your feet are wet in the world of wine. You've tried a chardonnay, a cabernet, a zinfandel and perhaps a pinot grigio. Then, one day you'll taste a wine that's different from all the others you've tasted. You will find your 'Aha' Wine.
'Aha' wines typically are not from the region you've grown to prefer. For example, the first 'Aha' wine I tasted was an $11 sauvignon blanc from New Zealand. When I opened the bottle it stunk of jalapeño and bell pepper. For me, this wine broke my preconceived notion that white wine is always sweet and never savory.
An 'Aha' wine isn't about being perfect, it's about being unique.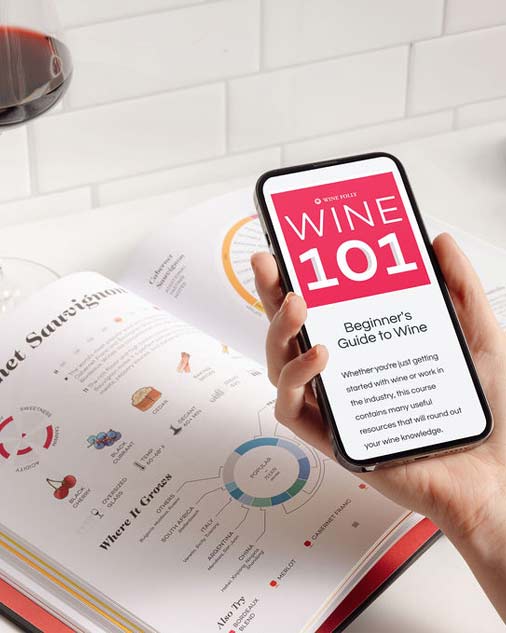 Buy the book, get a course.
Get the Wine 101 Course @ 75% OFF with the purchase of Wine Folly: Magnum Edition.
Shop Now
3. The Search for New Favorites Becomes Discouraging
This stage of wine learning is where you plateau and begin to get desperate trying to feed your hunger for new wine experiences. In a mad search to find another 'Aha' wine, you'll read hundreds of wine descriptions as you chase the great white whale of wine perfection. It's common at this stage to struggle with finding what you want in wine.
This step is discouraging for new wine lovers, because there is a lot of inconsistent information. A wine expert may write "redolent with cherries" but you think it tastes like freshly laid bricks. Wineries and writers also often (intentionally) overlook the importance of vintage variation. Instead, most wines are compared to themselves or close relatives of the same vintage.
4. Time to Sit Down and Read a Book
There are hundreds of wine books out there about wine. Some books focus more on fermentation science and some are simply eye-catching coffee table books full of pictures. In the course of becoming a wine expert, you need a clear understanding of 'what people make, where… and what they call it.' You need a regional wine education book that sets the ground work to your understanding. It should cover important details such as: Chianti is made from the sangiovese grape or that Spätlese means 'Late Harvest' for a German riesling. So what book do you buy? Check out Top Wine Books Picked by Pros

World Atlas of Wine
This book is a great start to understanding the basics to the world of wine. I would recommend the The World Atlas of Wine over Sotheby's Wine Encyclopedia because it's less pretentious and has many detailed maps. A great book to geek over while having a glass of wine.
World Atlas of Wine by Hugh Johnson & Jancis Robinson is ~$27 on amazon.com

5. Drink the Boldest Wines
As you progress through the tiers to becoming a wine expert your tastes are constantly expanding. It's common in your search for a new 'Aha' experience to dive into bigger and bolder wines. This style of wine is referred to as
Black Wines
by Snooth writer, Gregory Dal Piaz. When I tasted
Bombing Range Red
in the Horse Heaven Hills video, I described it as being punched in the face. Wine critic Robert M. Parker loves this style of wine and dons the highest ratings to wines that are big and bold. In fact, some of the most sought-after wines in the world are in this category.
Need some bold examples? (listed from the reasonable to the ridiculous)
[facebook align="right"][/facebook]
6. Expand your palate with weird and complex wines
Most folks are happy with bigger and bolder red wines and never want much else. In fact, the prior category is where most folks find their favorite wines in the world. It's important to recognize that your friends and family will be content to stay here, so keep this in mind next time you're choosing a wine for a social engagement. However, when you devote yourself to becoming a wine expert, you may find yourself looking for more than richness for richness's sake. You may begin to looking for complexity and elegance in wine.
Complexity in wine is a little nebulous because it doesn't link to any specific wine characteristic or flavor. A complex wine should be all of the following:
You can name more than 2 fruits as flavors in the wine.
You can name more than 3 other characteristics such as cinnamon, oregano, roses, chalk or baking spices.
The palate of the wine changes from the moment you taste it to the moment you swallow.
(Watch Video Tasting #3 for inspiration.)
7. Palate Fatigue: Switching to subtle and elegant wines.
This happens to people who become overexposed to the last 2 steps. Common after attending a large wine tasting or spending too much time at a local steakhouse. Your palate is fried. You don't want to look at another piece of maple-bacon again. This is the time when subtle wines shine. It's difficult for a beginner wine drinker to distinguish subtlety and appreciate elegance, they just don't have enough experience yet. However, to a wine expert, they live for the nuanced flavors in wine.
[superquote]Your palate is fried. You don't want to look at another piece of maple-bacon again.[/superquote]
The most exalted wines in the world of elegance often come from cooler climates and cooler vintages. If this is a turn off for you, don't worry about it. There is a time and place for everything.
8. Rediscover Champagne and Sweet Wines
This is when a wine expert goes back to the basics. Remember when you loved sweet rose winé? Pat yourself on the back because you're back where you started. The difference is this time around you're wiser and can taste between cheap swill and holy water. Maybe you'll even start collecting vintage port. Or you'll experiment with the wide range of styles you can find in sparkling wines. It also happens that because of its versatility, Champagne pairs well with just about anything making it an ideal foodie wine!

9. Wine Expert?
You've made it! You've gone through the natural progression and come full circle. You can look at a wine list and pick out a wine confidently. It's not important that you don't recognize the names, in fact that makes you excited! You recognize wines by varietal and region. Pairing wine and food is something that comes naturally to you. You're a budding wine expert but you also recognize there is still much, much more to learn.

[superquote]Realizing that there is so much you still don't know yet…[/superquote]
Oh my, how anticlimactic. Luckily your friends won't be any wiser and you can likely still impress them with your wealth of wine tips! Have fun!