Zinfandel wine is a bold, fruit forward red that's loved for its jammy fruit and smoky, exotic spice notes. It's also made into a sweet rosé called White Zinfandel.
Primary Flavors
Blackberry

Strawberry

Peach Preserves

Cinnamon

Sweet Tobacco
Taste Profile
Dry
Medium-full Body
Medium-high Tannins
Medium-low Acidity
Over 15% ABV
Handling


SERVE
60–68°F / 15-20°C


GLASS TYPE
Universal

DECANT
30 Minutes

CELLAR
5–10 Years
Food Pairing
Zinfandel pairs well with Moroccan and Turkish spices that embellish the wine's cinnamon-spice subtleties. Or, try this Puglian classic, Pizza Rustica – a wafer-thin calzone stuffed with roasted onions, tomatoes, anchovies, and olives.
Meat Pairing: The hearty, bold flavors in Zinfandel make it a natural companion for the rich and flavorful world of BBQ. Try ribs, grilled chicken, roast lamb, pulled pork, pork chops, blackened salmon, bacon-wrapped tenderloin, game meats, and burgers!
Cheese Pairing: Think rich and bold such as sharp cheddar, smoked gouda, and grilled halloumi.
Vegetable Pairing: Go for vegetables with big flavor: Think caramelized onion, fire roasted red peppers or tomatoes, grilled eggplant, mushrooms, olives, zucchini, or even baked beans.
Spices & Herbs: Think curry spice. Go for anything smoked or charred, cajun spice, cumin, black pepper, sage, rosemary, cardamom, cinnamon, fennel, black tea leaf, coffee, and cocoa.
---
White Zinfandel
White Zinfandel is a kind of rosé. Expect sweetness and aromas of bright red fruits, strawberry, raspberry, cherry, and rich citrus.
Whether you love it, or love to hate it, White Zinfandel isn't going away any time soon (it may have helped save all the old Zinfandel vines we have today!).
The trend started in the 1970s a bit by accident. According to Sutter Home, a tank of their Oeil de Perdrix (a saignée rosé wine) got "stuck" in mid-fermentation. The yeasts died before eating all the sugars and the wine was ruined!
However, when the winemaker tasted it, he found the bitterness in the wine had "disappeared" with the residual sugar. Better yet, customers loved it!
---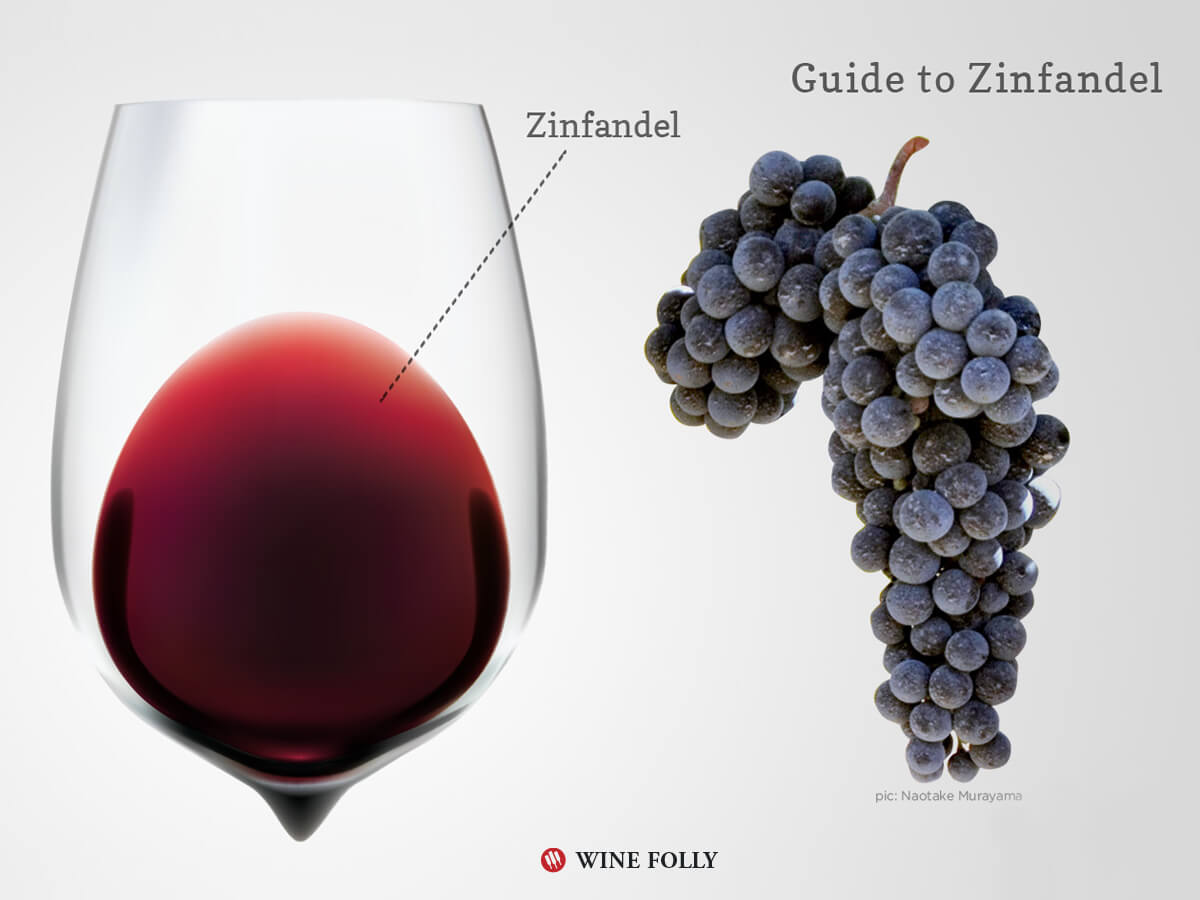 6 Fun Facts About Zinfandel
Zinfandel has been touted as "America's grape," but it actually hails from Croatia and was likely brought to the USA in the early 1800's.
The Italian name for the grape, Primitivo, comes from the Latin word "primativus" and the old Italian word "primaticcio," both mean "early ripener" or "first to ripen."
White Zinfandel isn't actually white at all, it's pink! But there is a rare white mutation of the grape.
National Zinfandel Day is the 3rd Wednesday in November (Yes, Zin pairs excellently with turkey!).
Zinfandel is notorious for uneven ripening, so bunches have to be left on the vine to ripen fully. This leads to high sugar in the berries, which in turn makes for high alcohol wines.
Zin berries are thin skinned, but they're also quite small, which means less skin-to-juice ratio and therefore potentially higher tannins.
---
Tasting Zinfandel Wine
The flavors in Zinfandel range depending on how ripe the grapes are.
Typically, on the nose you'll find juicy red berry flavors such as strawberry or raspberry in wines from cooler areas. For wines made in warmer climates, flavors turn to deeper black fruits. There is always a rich baking spice and underlying peppery note.
On the palate, expect a full bodied, lush and mouth-filling wine, usually with elevated alcohol (14%+ ABV). On high quality Zinfandel, expect tannins to be high.
(Remember styles vary by producer!)
---
Where Does it Grow?
California: ~43,210 acres / 17,486 hectares (Lodi, Paso Robles, North Coast, Sierra Foothills)
Italy: ~27,182 acres / 11,000 hectares (Puglia)
Croatia: ~170 acres / 70 hectares
Others: Australia, Chile, Canada, South Africa
Zinfandel (aka Primitivo) is the fourth most planted wine grape in California (after Chardonnay, Cabernet Sauvignon, and Pinot Noir). It performs well in warm, sunny regions and is very sensitive to terroir (because of its thin skins).
It wasn't until the 1990s that we learned Zinfandel is genetically identical to the Croatian grape, Tribidrag (aka Crljenak Kaštelanski). Current history suggests it was imported to America during the early 1800s.
---
Zinfandel Regions to Explore
Lodi, California
Flavors: blackberry, peach yogurt, roasted plum, cinnamon, sweet tobacco
The climate in the Lodi wine region is Mediterranean with hot days and cool nights. Fortunately it receives a moderating influence from the San Francisco bay.
The Sacramento River Delta brings "delta breezes" that act like natural air conditioning. Soils here are sandy with some clay. Some soils are so sandy, they completely resist grape phylloxera.
North Coast, California
Flavors: blackberry, black cherry, bramble, vanilla, black pepper
Within the North Coast region, Sonoma is diverse in both soil and climate. With long, warm (rarely hot) summer days, and very cool nights, that receive cooling fog and ocean breezes. This gives wines freshness from acidity. Notable Zinfandel hotspots include Dry Creek, Rockpile, Alexander Valley, and the Russian River Valley.
Mendocino experiences high temperatures during the day, but it's cool at night. The soils here are rich and well-drained, giving wine tartness, acidity, and red berry notes.
Napa Valley has many volcanic soils and these make for rich, tannic, and smoky Zinfandel wines.
Sierra Foothills, California
Flavors: raspberry, cherry, blackberry, cranberry, sweet baking spice
Running along the Sierra Nevada mountain range, the region consists of mostly sandy clay, and granitic soils. Wines tend to offer high aromatic intensity and lighter color because of the soils.
You can also expect lively acidity because the elevation makes for cool nights (and preserves acidity).
Puglia, Italy
Flavors: raspberry, blackberry, baking spice, licorice, and desert herbs
It's common to find wines labeled by variety in Puglia, although there are also some official wine regions that specialize in Primitivo.
Primitivo di Manduria
A popular region for Primitivo where the wines must be a minimum of 85% of the variety. Expect high alcohol (14%+ ABV) but with a rustic edge, as opposed to a jammy character.
Gioia del Colle
Where the grape first got its name "Primitivo," by a priest in the eighteenth century. These wines have a reputation slightly more subdued in body and alcohol.
Primitivo di Manduria Dolce Naturale
A true sweet wine designation for Primitivo. These are produced in a late-harvest style, where grapes are allowed to raisinate to increase sugar content.