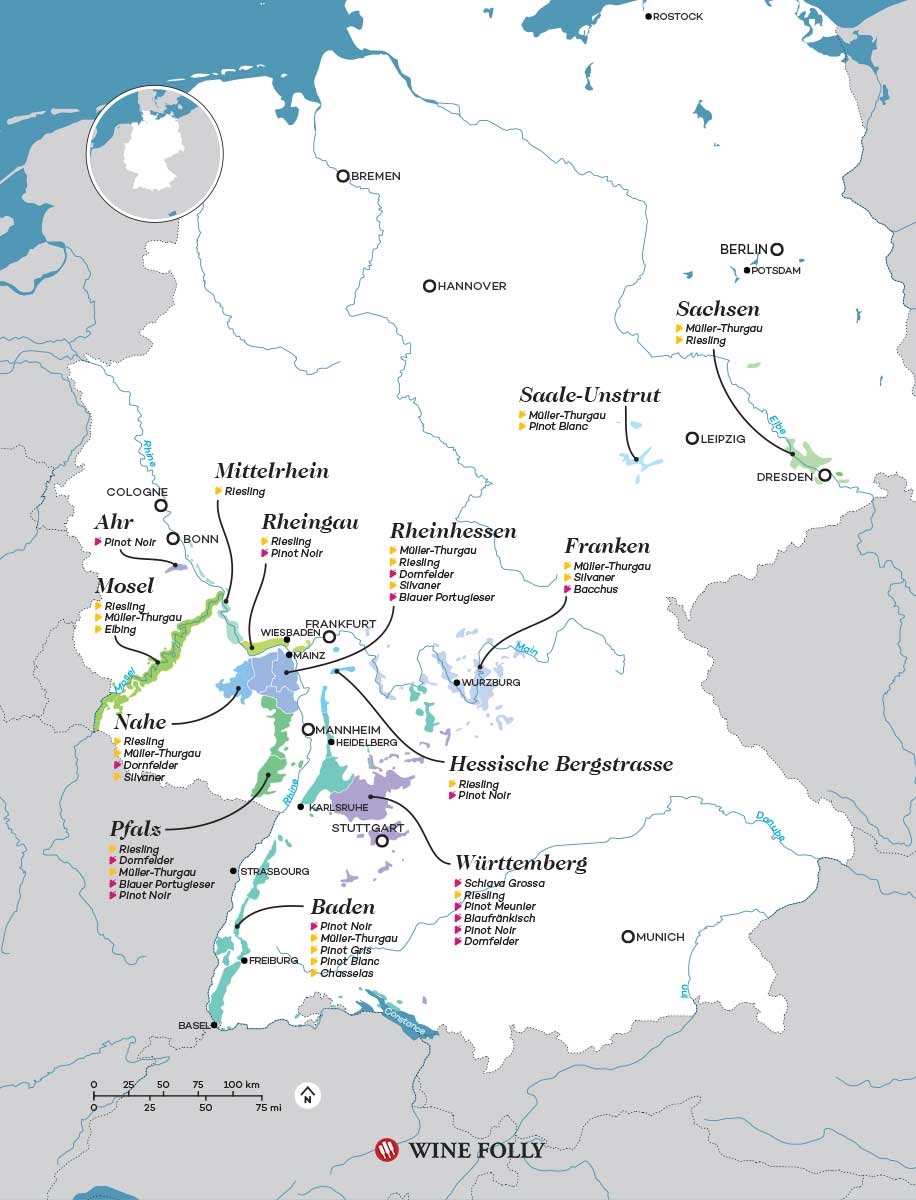 Germany
Learn about German wines, a winemaking country known the world over for its Riesling. Over 250,000 acres of vineyards stretch across 13 subregions currently growing Riesling, Pinot Blanc, and Pinot Gris.
Table of Contents:
Introduction
The land of Riesling.
The Germans have championed single-varietal wines since the first mass plantings of Riesling at Schloss Johannisberg in 1720 (in Rheingau). Since then, Germany has become the world's top Riesling producer, developing a wide range of styles from dry and lean to succulently sweet.  Beyond Riesling, the country's cool climate is ideal for light red wines and aromatic whites.  And, in recent years, the Germans have lead the way for Europe in their focus on organic and biodynamic wine production. 
Wine Regions
Germany has a total of 13 wine regions, or Anbaugebiete ("ahn-bow-je-beet"), as they're called.  The majority of German wine production is found in the Southwestern part of country.  
In the far southern regions of Baden, Württemberg, and parts of Pfalz, you'll see a strong focus on red wines, particularly Pinot Noir and Blaufränkisch.  
Rheingau, Rheinhessen, Nahe, and Mosel Valley produce the most Riesling. Some of the world's top Riesling wines come from Rheingau and Mosel Valley.  
The Ahr is a tiny region noted in particular for exceptional Pinot Noir.  
Finally, the satellite regions of Sachsen and Saale-Unstrut make remarkable Pinot Blanc. 
Good to Know
Pradikätswein (QmP) wines are not allowed to sweeten grape must (e.g. chaptalize) before/during fermentation.
Quality for German wine truly starts at the Qualitätswein (QbA) level and above.

Aromatic White Wine
Sweet Pradikat Riesling
The late-harvested styles of Spätlese, Auslese, BA and TBA produce some of the most sought-after sweet Riesling wines in the world. These wines offer surprising depth with contrasting sweet and sour tastes and heady aromas of apricots, lime, and honey.
Apricot, Honey, Lime, Young Coconut, Tarragon

Light-Bodied White Wine
Dry Riesling
Dry styles of Riesling are becoming increasingly popular in Germany. You can identify a dry Pradikat Riesling by the term "Trocken" on the label or by investigating the alcohol level. Higher ABV levels typically indicate a more dry style of Riesling.
Honeydew Melon, White Peach, Lime, Jasmine, Smoke

Aromatic White Wine
VDP Riesling
An invite-only grower association known to contain some of the best wineries in Germany. VDP also classifies vineyards. The top level is called Grosses Gewächs ("grand growth") and a first quality vineyard is called Erstes Gewächs ("first growth").
Various Styles and flavors

Light-Bodied White Wine
Silvaner
Silvaner is a great wine often found at a superb value. The primary regions producing it include Rheinhessen and Franken (where wines are bottled in stubby, green bocksbeutels). The best wines offer enticing aromas of sweet stone fruits contrasted with flinty minerality.
Peach, Passion Fruit, Orange Blossom, Thyme, Flint

Light-Bodied White Wine
Grauburgunder
(aka Pinot Gris) In Germany, Pinot Gris is often very light-bodied with lovely floral notes accenting flavors of white peach, pear and minerals.  The heightened acidity gives the wine a tingly quality that's complemented with a lush, somewhat oily mid-palate.
White Peach, Oil, Asian Pear, Lime, White Flowers

Light-Bodied White Wine
Weißburgunder
(aka Pinot Blanc) There are many shared flavors between Pinot Gris and Pinot Blanc but overall, Pinot Blanc is much more delicate and subtle in its flavoring. If there is any single wine to pair with high tea and cucumber sandwiches, Pinot Blanc is it.
White Peach, White Flowers, Green Apple, Lime, Flint

Aromatic White Wine
Müller-Thurgau
A cross between Madeleine Angevine and Riesling that ripens a little earlier and thus, grows well in Germany's cooler sites. Wines have slightly more tropical fruit notes with slightly less acidity than Riesling, but offer a similar flavor profile at a better price.
Ripe Peach, Orange Blossom, Oil, Lemon, Dried Apricot

Sparkling White Wine
Sekt
While there is still some low quality Sekt in Germany, most isn't exported. The Sekt with amazing potential are those wines labeled Traditionelle Flaschengärung (traditional method) and made with Pinot varieties and Chardonnay. Look into the Pfalz and Rheingau for quality.
Baked Apple, White Cherry, Mushroom, Wax Lips, Lime

Light-Bodied Red Wine
Spätburgunder
(aka Pinot Noir) The warmer regions in the South and Ahr specialize in Pinot Noir.  Wines exude sweet fruit flavors that are complemented with subtle earth and leafy notes. Contextually, these Pinot Noir wines taste a little bit new world and old world all at once.
Dried Blueberry, Raspberry, Cinnamon, Dried Twigs, Brown Sugar

Medium-Bodied Red Wine
Lemberger
(aka Blaufränkisch) Hailing mainly from Baden and Würtemberg where the seasons are longer and warmer. Great examples have rich brooding chocolate and berry flavors with firm tannins and spicy acidity. Blaufränkisch is a perfect wine for the fall season.
Currant Sauce, Pomegranate, Brown Sugar, Dark Chocolate, White Pepper

Medium-Bodied Red Wine
Dornfelder
A popular everyday value in Germany that ranges in quality so be choosy!  When made well, Dornfelder wines exude boisterous, sweet, baked berry, and vanilla aromas. Wines taste balanced with moderate tannins, spicy acidity, and an earthy-herbal finish.
Raspberry Pie, Oregano, Vanilla, Tart Blueberry, Pepper, Potting Soil

Medium-Bodied Red Wine
Portugieser
A light red wine that's found in Germany and many countries on the Danube River including Austria, Hungary, Croatia, and Serbia.  In Germany it's primarily grown in the Pfalz and Rheinhessen and popular in rosé wines and simple reds.
Dried Red Berries, Peppery Spice, Toasted Oregano
Reading a Label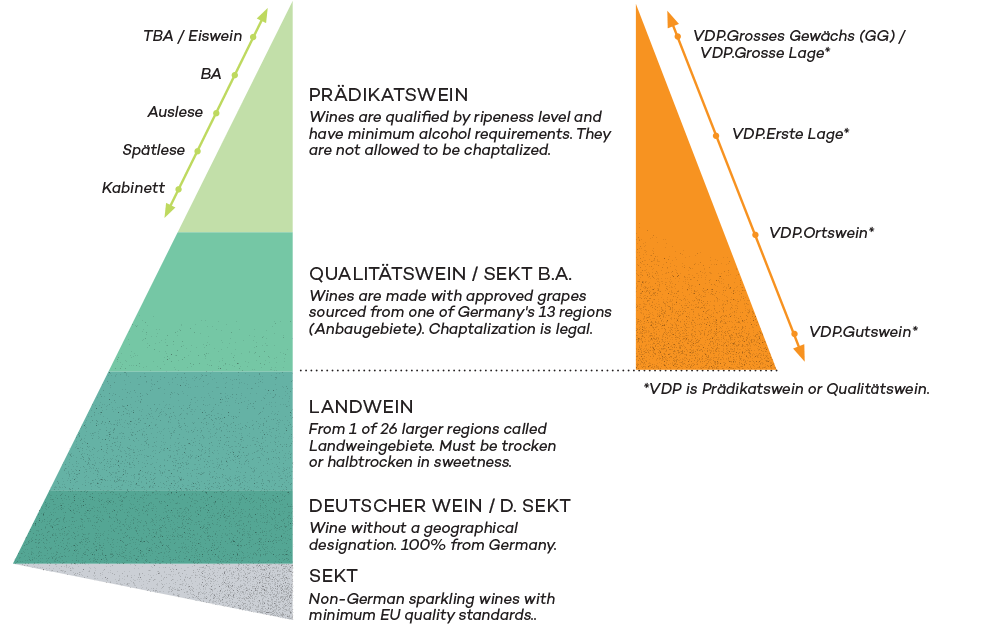 Prädikatswein
Kabinett
The lightest style of Riesling, made from grapes that have a sweetness level of 67-82 Oechsle (148–188 g/L sugar). Kabinett wines range in style from dry to off-dry.
Spätlese
"Late harvest." grapes have a sweetness level of 76-90 Oechsle (172–209 g/L sugar). Spätlese wines are rich and usually sweeter than Kabinett, although if you see "Trocken" on the bottle it's dry with increased alcohol.
Auslese
"Select harvest." Picked more ripe at 83–110 Oechsle (191–260 g/l sugar). Grapes are hand-selected and have noble rot. Wines are sweeter or dry with high alcohol when labeled "Trocken."
Beerenauslese (BA)
"Berry select harvest." Wines are much more rare because the grapes are basically raisinated noble rot grapes picked at 110-128 Oechsle (260+ g/l sugar!). Expect precious dessert wines sold in half-bottles.
Trockenbeerenauslese (TBA)
"Dry berry select harvest" and the most rare wine of the group made from raisinated grapes that dried out on the vine picked at 150-154 Oechsle. Very sweet wines.
Eiswein
Ice wine. Indicates the grapes were frozen on the vine and then pressed. These wines will have between 110-128 Oechsle (260+ g/l sugar!) when picked. Very sweet wines.
VDP
Verband Deutscher Prädikatsweingüter (VDP) is an independent association of ~200 wine estates that classify vineyards.
VDP.Gutswein
"House wine." labeled with a proprietary, village or regional name and labeled "VDP."
VDP.Ortswein
"Local village wine." High quality vineyards within a village area labeled with a vineyard site name.
VDP.Erste Lage
"First site." Vineyards designated first class with stricter growing standards. All wines are certified by tasting panel.
VDP.Grosses Gewächs / VDP.Grosse Lage
"Great site"/ "Great growth." A designation of the best vineyards with increased growing standards. All wines are certified by tasting panel. Wines labeled Grosses Gewächs (GG) must be dry.
Common Label Terms
Once you know the system that identifies quality and ripeness levels on the label, you can hone your skills exploring the differences between Germany's 13 official designated wine regions. The word Germans use for wine region is anbaugebiet ("ahn-baw-jeh-beet").
Trocken/Selection

A dry wine with ~9 g/l RS or less. The term "Selection" is specifically for the wines of Rheingau that have been hand-harvested.

Halbtrocken/Classic

A "half-dry" or slightly sweet wine with up to 18 g/l RS (up to 15 g/l RS for "Classic")

Feinherb

An unofficial term to describe an off-dry wine similar to Halbtrocken

Liebliche

A sweet wine with up to 45 g/l RS

Süß or Süss

A sweet wine with more than 45 g/l RS.

Anbaugebiete

Germany's 13 protected designation of origin wine regions.

Bereich

A subregion within an Anbaugebiete. For example, Mosel Valley has 6 sub-regions: Moseltor, Obermosel, Saar, Ruwertal, Bernkastel, and Burg Cochem.

Grosselage

A group of vineyards. Not the same as VDP. Grosse Lage.

Einzellage

Single vineyard

Weingut

Winery

Schloss

Castle or chateau

Erzeugerabfüllung

(Gutsabfüllung) Bottled at winery.

Rotwein

Red wine

Weißwein

White wine

Liebfraumilch

A cheap, sweet wine (typically white).

Sekt b.A.

Sparkling wines originating from one of the 13 anbaugebiete.

Winzersekt

High quality single-varietal, estate-grown sparkling wines made with the traditional method.

Perlwein

Semi-sparkling carbonated wines.

Rotling

Rosé wine made by blending red and white wine varieties.

Fruhburgunder

A variant of Pinot Noir found in Germany, particularly in the Ahr.

Trollinger

Schiava Grossa

Elbling

A very old, rare white grape found in the Mosel.

Würzgarten

"Spice garden" a common vineyard name.

Sonnenuhr

"Sun dial" a common vineyard name.

Rosenberg

"Rose hill" a common vineyard name.

Honigberg

"Honey hill" a common vineyard name.

Alte Reben

Old vines
Join Our Newsletter
Jumpstart your wine education and subscribe to the Wine Folly newsletter right now. Always awesome. Always free.