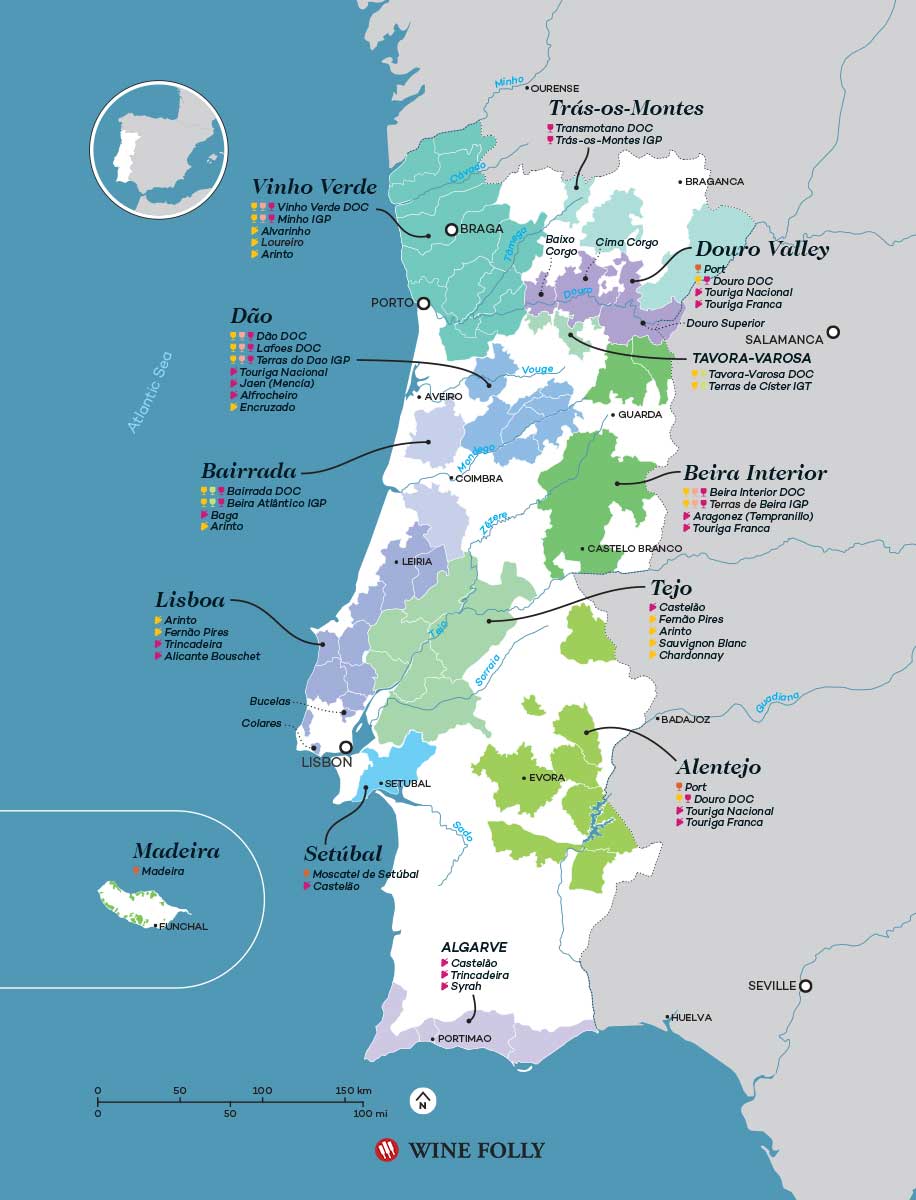 Portugal
Dig into the Southern European wine cornerstone of Portugal, with a temperate climate producing a solid range of terroir. Portugal is notable for its Port and Madeira, and the famous red wines from Douro Valley.
Table of Contents:
Introduction
Top Varieties
-
77 Common Native Varieties
Cornucopia of native grapes.
Portugal is a treasure trove of unique wines and grape varieties that are not well known outside the country. However, long ago, the country was at the leading edge of wine technology and can claim one of the world's first demarcated wine regions (Port since 1757). So, when you combine the country's longstanding wine traditions with the cornucopia of indigenous varieties, it makes Portugal one of the most exciting places for enthusiasts on the hunt for high quality and great value.
Cornucopia of native grapes.
The climate changes drastically across Portugal making a variety of wine styles.
In the Northwest, the region of Vinho Verde is much cooler and ideal for zippy, low alcohol whites. Inland however, you'll find dense, full-bodied reds and Port made with Touriga Nacional from the world-famous Douro Valley.
In Central and Southern Portugal there are a diverse range of wine varieties. Whites include age-worthy Arinto, and aromatic Fernao Pires. For reds, Trincadera and Alfrocheiro tend to be more elegant whereas Baga, Alicante Bouschet, and Jaen (aka Mencía) can be quite bold.
Lastly, the islands of Madeira and the Azores make profound, salty dessert wines, including the uniquely crafted Madeira which is one of the most age-worthy wines in the world.
Good to Know
Port producers are required to declare a vintage year. Then, the wine must be approved by the Port Wine Institute.
Tawny Port is a special kind of Port wine that's aged oxidatively in barrels for many years. The older the better!

Full-Bodied Red Wine
Douro Reds
The Douro is home to dozens of native varieties including Touriga Franca, Touriga Nacional, Tinta Barroca, Tinta Roriz (Tempranillo) and Tinta Cão. Today, dry "tinto" blends are on the rise. Wines have dense fruit and chocolate flavors supported by robust tannins.
Blueberry, Raspberry, Dried Dragon Fruit, Dark Chocolate, Crushed Rock

Medium-Bodied Red Wine
Dão Reds
The Dão is mountainous and thus wines are more spicy and tannic. The varieties of interest include Jaen (Mencía), Touriga Nacional, Tinta Roriz, Alfrocheiro, and Trincadeira. Blends are common but single-varietal focused wines tend to get the highest praise.
Cherry Sauce, Blackberry Brambles, Ginger Cake, Cocoa Powder, Dried Herbs

Full-Bodied Red Wine
Touriga Nacional
Considered to be one of Portugal's champion varieties, Touriga Nacional originated in the Douro Valley and can now be found throughout the country. Wines have mouth-coating intensity with distinct floral aromas of violets. Expect bold fruit, high tannins and a long finish.
Blueberry, Red Plum, Violet, Graphite, Vanilla

Full-Bodied Red Wine
Alicante Bouschet
Around Alentejo and Lisboa you'll find a "tenturier" grape called Alicante Bouschet with both red skins and red flesh. Although the variety originated in France, Portugal offers an ideal climate for this grape, making bold, smoky reds that are akin to Syrah.
Sugarplum, Blackberry Brambles, Brown Sugar, Clove, Granite

Light-Bodied White Wine
Arinto
A top Portuguese white variety that grows all over the country but shows exceptional potential in Tejo and Alentejo. Arinto can extremely light and minerally upon release, but with 5–10 years of aging it develops complexity and richness on par with aged Riesling.
Quince, Lemon, Beeswax, Honeysuckle, Petroleum

Full-Bodied White Wine
Antão Vaz
A very rare white wine that originated from the Vidigueira region in Alentejo that was of little importance until modern French winemaking techniques were brought in. Antão Vaz quickly showed itself to be a star with striking similarities to Chardonnay.
Yellow Apple, White Flowers, Lemon Oil, Beeswax, Hazelnut

Light-Bodied White Wine
Verdelho
A white grape grown on both the Azores and Madeira and used in rich, salty dessert wines but also popular in the Iberian peninsula (and even California and Australia) as a steely white. This is a must try for those who enjoy Sauvignon Blanc.
Gooseberry, Pineapple, White Peach, Ginger, Lime

Light-Bodied White Wine
Alvarinho
(Albariño) The Vinho Verde region shares many of the same varieties as Rias Baixas in Spain. Alvarinho is usually made into a low-alcohol and slightly fizzy white Vinho Verde, but the serious examples show a rich, oily mid-palate with complexity and depth.
Grapefruit, Lime Blossom, Honeysuckle, Lime, Cucumber Skin

Aromatic White Wine
Fernão Pires
Half of Portugal refers to this aromatic white wine as Fernao Pires and the other half calls it Maria Gomez. Regardless of what you choose, what makes Fernao Pires special is the contrast between its sweet floral aromas, light body, and dry taste.
Asian Pear, Fresh Grape, Lychee, Lemon-Lime, Potpourri

Dessert Wine
Madeira
The single-varietal wines including Sercial, Verdelho, Malmsey, and Bual are the best styles (from dry to sweet). Bual (aka Boal) is the classic, sweetest choice – the wine plays with flavors of sweet, sour, salty, nutty, and umami all at once.
Black Walnut, Ripe Peach, Walnut Oil, Burnt Sugar, Soy Sauce

Dessert Wine
Port
There are a variety of Port styles to choose from but the style that cannot be missed is the Vintage or LBV (late-bottled vintage) Port. Wines burst with sweet red berry flavors supported with fine, graphite-like tannins. Try with blue cheese for a perfect pairing.
Candied Raspberry, Blackberry Jam, Cinnamon, Caramel, Milk Chocolate

Dessert Wine
Moscatel de Setúbal
Two varieties of Muscat (Muscat of Alexandria and Moscatel Roxo) make up the base of this golden sweet fortified wine that uses oxidation to achieve its intense caramel and nutty flavors. Wines aged more than 10 years are well worth trying.
Dried Cranberry, Fig, Caramel, Cinnamon, Vanilla
Join Our Newsletter
Jumpstart your wine education and subscribe to the Wine Folly newsletter right now. Always awesome. Always free.