When you work in hospitality and service, you pretty much give up the idea of celebrating an official holiday ever again. Instead, you make up time when you can and it becomes liberating to live off-piste: Sundays and Mondays are the weekends, holidays are times when you work hard and make money, and (if you want to have a real holiday tradition) you create your own adventure (off-season).
So whether your holidays are happening on a normal schedule or are slightly…off center, chances are your plans will include some form of food. If you're planning on cooking up some holiday classics, I'd like to offer up some unique wine pairings that will make everything a bit more joyous.
Also, included are some tips for other wines options, if you don't happen to find what's recommended.
Apple Pie and Ice Wine
Canada is currently producing some of the world's best ice wine. Ice wine is made from a process in which the grapes are left in the vineyard until it freezes over and are then harvested (usually at night). Because the water freezes, the only juice that oozes out of the frozen grapes is sugar must. Frequently used grapes include Riesling and Vidal Blanc (a French-Hybrid) which makes deep yellow, very sweet wines with rich, tropical fruit, and honey flavors. These wines are extremely rare and hard to make (just imagine picking frozen grapes in the middle of an Ontario winter…), which is why they're often priced above $50 a bottle.
On pairing with apple desserts:
Wines that pair best with apple-based desserts need an element of sweetness but they also need to have the same intensity as the dish. So, in the case of apple pie (which is usually delicately flavored), we'll opt for a white wine with sweetness such as ice wine, Moscato d'Asti, sweet Riesling, or sweet Chenin Blanc (another awesome choice).
Kerststol (Stollen) and Grapefruit Mimosas
I found this great recipe for Kerststol, which is quite similar to stollen but incorporates marzipan and is a traditional Dutch breakfast treat enjoyed on Christmas morning.
On pairing wine with breakfast:
When it comes to pairing wine with breakfast, going light on ABV is important to keep you happy (and not sluggish) throughout the day. Breakfast stollen is frequently accompanied by a half of a grapefruit, so instead, we've including the grapefruit element in the beverage itself. If you're looking for the right sparkler for this pairing, try Prosecco.
Christmas Pudding and Madeira
Christmas pudding is one of those desserts you either A.) love and look forward to, or B.) absolutely hate. If you're in group A, I highly recommend you start investigating fortified wines like Madeira over the holidays. The cold season is the perfect time to enjoy sipping wines (fortified wines served in small, 75 ml / 3 oz portions) full of rich nutty-sweet flavors. They also happen to pair marvelously with puddings, fruitcakes, nuts, and all the other delights of winter.
Vegetarian Pistachio-Cranberry Roast and Agoirgitiko
There is an increasing number of environmentally-conscious vegetarians who are new to the wine scene. Fortunately, an increasing number of excellent umami-rich options exist, and this one, the Pistachio-Cranberry Roast (a recipe from Jamie Oliver), is what we'll be making for the vegetarian crew at chez Wine Folly. We opted for Agiorgitiko (a Greek red) for several reasons:
It's fun and hard to pronounce
The high acidity and red fruit flavors in this wine will complement the cranberry
The high tannin/bitterness factor in the wine will be matched with the fat of the nuts in the dish
On Pairing with Veg:
Vegetarian main entrées (if you're not relegated to eating sides) have similar umami and richness to meat dishes. That said, you'll find there are some differences including the texture and use of sweeter root vegetables (carrots, etc.) that lend these dishes to medium-bodied red wines with red fruit flavors and good acidity. Great alternatives include Garnacha, Valpolicella blends, Sangiovese, and Merlot.
Mince Pies/Cornish Pasties and Primitivo
I have no idea why cornish pasties aren't more popular in the US because they are awesome. Take yummy bits of meat along with raisins and other dried fruits baked into a small personal pie. Apparently, you can find mince pies in the UK and Australia (We've had Aussie pasties and they are amazing!). Since this dish offers both savory and sweet flavors, a great wine to pair would have a high element of fruitiness but also a medium body to match the intensity. For this, a Primitivo (Italian Zinfandel) fits the bill perfectly, however, there are some other exciting wines in Southern Italy that will do wonders too, including Frappato (from Sicily) and Gaglioppo (from Calabria).
Roast Pheasant and Côtes du Rhône
If you haven't had pheasant before, you can choose between farm-raised pheasant (which tastes like a richer version of chicken) or wild pheasant (which offers more gamey, dark meat). For both options, a GSM blend is the perfect pairing. The Côtes du Rhône region is the origin place of this blend and the region produces a style with slightly more earthiness than the Australian and American versions. For dishes which include lots of roasted harvest foods, the earthiness in Côtes du Rhône seems to disappear and brings out the more fruity flavors in the wine.
Prime Rib and Reserva Rioja
Prime rib is one of the top American favorite entrées for the holidays. Because prime rib is so intense, you really want a wine with the same level of oomph to match with it (this is not a job for Pinot Noir). Cabernet Sauvignon would be a great choice, but if you're interested in something a little more elevating, a Reserva Rioja has enough delicacy to pair with the flavor of prime rib (which is somehow both meaty and delicate) while maintaining higher tannin, which will cleanse your palate.
Roast Turkey and Marsanne/Roussanne
We had oodles of red wine recommendations for turkey pairings on Thanksgiving, so we thought that instead it might be fun to introduce a white wine that does wonders with birds. Marsanne and Roussanne are Rhône Valley wine grapes that produce a richer style of white similar to Chardonnay. In the US, the Rhône Rangers Organization has championed these 2 wines and they grow from Southern California all the way up to Washington.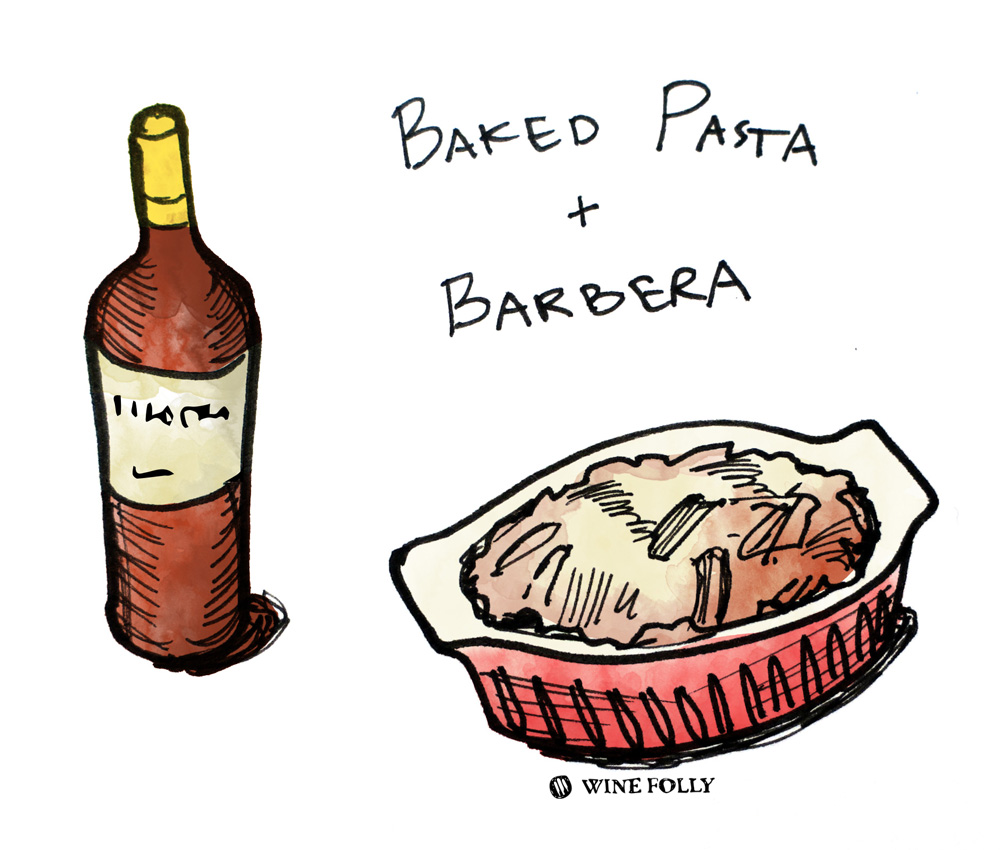 Baked Pasta and Barbera
An Italian holiday dinner isn't complete without a baked pasta dish in some format (lasagna, stuffed shells, etc). And, what better wine to pair with Italian food than the everyday wine of Piedmont: Barbera. Barbera works well with tomatoes because of its naturally high acidity and dominant red fruit flavors. You don't just have to look in Piedmont, Italy for this wine, it also grows in California.
Have a favorite holiday food and wine pairing we didn't mention yet? Tell us in the comments section below!