Prefer your wine trips out in the great wide open? Pairing a wine with the outdoors can enliven more than just our taste buds!
A jaw-dropping view, the fresh scent from the woods, or the sound of a gentle wave can be just as satisfying as a scrumptious vino.
Fortunately, many of the world's vineyards are located in areas of great natural beauty.
Let's go on an adventure and explore 8 regions that can help you appreciate both Mother Nature and Dionysius.
---
California
Rock Climbing and Old Vine Wine in the Sierra Foothills
Picture yourself overlooking a majestic valley of giant sequoia trees, enormous granite rock formations, and serene waterfalls. All while savoring a glass of rich, raspberry-scented Zinfandel.
What to Do: A wine trip to the Sierra Foothills may require some pre-trip pushups, since Yosemite National Park offers some of the world's best rock-climbing sites.
If lifting wine glasses is the extent of your upper body strength, you can try a variety of other activities like hiking, biking, or fishing.
What to Drink: In 19th century the Sierra Foothills was the heart of the California gold rush. Italian and Spanish immigrants settled there hoping to strike it rich.
And with them came vines from their homelands that are still producing wines today, making them well over a hundred years old.
After you're done with rock climbing, you can enjoy the black cherry and strawberry tones of an Italian Barbera or the plum and cedar notes of a Tempranillo. Or give in to the bold style of Zinfandel: the star of the region.
---
Oregon
Waterfalls and Pinot Noir in Willamette Valley
Ahh, Pinot Noir: the heartbreak grape, the iron fist in a velvet glove, the exquisite one. This grape can make us stand still in silent reverence, similar to the way you feel when surrounded by the roaring sound of Oregon's waterfalls.
What to Do: In the northern part of Oregon's Willamette Valley you can listen to thundering rapids at the Silver Falls State Park.
Silver Falls is home to a 35-mile system of trails that includes the Trail of Ten Falls: one of which is 177 feet tall. Just imagine the intense sound!
What to Drink: There are few places on the planet that can grow Pinot Noir quite like the Willamette Valley of Oregon. Cranberry and earthy flavors have earned them a seat at the table among the Pinot pros of Burgundy.
But Willamette doesn't stop there. Their Pinot Gris and Chardonnay are also producing excellent wine, not to mention some yummy sparklers.
---
Mexico
Surf and Savor in the Valle de Guadalupe
It's all about the sea, sun, and Chenin with this great wine trip in the Western end of Mexico.
What to Do: Whether you're riding the waves from above or searching for creatures below, Guadalupe Island has that cliche-yet-still-irresistible crystalline blue water.
Want to share the water with something larger than life? Get in a boat and do some whale-watching! Or even book a swim with the sharks, if you dare.
What to Drink: The Valle de Guadalupe wine region is starting to earn a reputation as the Napa Valley of Mexico. This means rich, bold, fruit-forward wines.
But you should look for one distinction in your glass during this wine trip: a stony-saline minerality from the influence of the ocean. Grapes run the gamut of Cabernet to Nebbiolo, and Chenin Blanc to Muscat.
Try a Nebbiolo while you're here. The skins are so much thicker in Mexico that it gives this grape a dark, inky, purple color not normally seen in the world of wine. (Some even believe it's actually Barbera mistaken as Nebbiolo!) Wines taste of dark cherry and blackberry notes that remind you of Grammy's best jar of jam. It's not uncommon to get dark chocolate and coffee hints as well.
The "mezcla" or blends are also a fun way to explore Mexican wines because Cabernet Sauvignon is usually the base but the blending partners can be anything from Tempranillo to Grenache, these aren't your usual Meritage markers. This makes for some uniquely Mexican-styled, intense red wines.
If lighter fare from the sea is on the menu, try the vinos espumosos (sparklers), or one of the still whites. The tart citrus flavors and oceanic minerality make them perfect for fish tacos.
---
Nova Scotia
Tidal Bore Rafting and Tidal Bay Wine in the Bay of Fundy
The Bay of Fundy is home to the largest tidal surges on the planet. Plus, let's not forget its burgeoning wine region called the Annapolis Valley.
What to Do: The rush of the world's highest tides causes a roller coaster of waves that can measure up to 4 metres (13 feet) high. Why not jump in a boat and ride that swell? Just make sure you hold on tight.
What to Drink: Tidal Bay is North America's only appellation wine. "Appellation" is a term given to wine regions made with a specific set of grapes and follow defined regulations: think Champagne and Chianti.
Tidal Bay is an invigorating white wine blend of predominantly Seyval, L'Acadie, Geisenheim, and Vidal. The high acidity in the wines make them excellent for the local seafood plucked from the Atlantic Ocean, picture the wines being like the squeeze of lemon you add to your seafood feast.
You can also expect to find flavors of tart green apples, candied lime notes, and a distinct sea spray minerality in the wines.
---
British Columbia
Skiing and Sipping in the Okanagan Valley
What to Do: Just an hour away from Okanagan Valley is the Big White Ski Resort. It's made its name on Champagne powder: snow so soft and fluffy it feels like you are skiing through bubbles.
Not a ski bunny? No problem. Just channel your inner Canadian nice guy and get at the other winter activities of dog-sledding, ice-wall climbing, and skating.
What to Drink: The reds from the southern part of the valley are robust and full of dark chocolate aromas, just like the wines from Washington. This is due to a shared desert-like climate.
There may be a border between them, but the Syrah, Merlot, and Cabernet Sauvignon from the Okanagan Valley is just the ticket if Columbia Valley is already your go to.
---
Turkey
Float above the Fairy Chimneys of Cappadocia
Unless wine alongside the words "fairy chimneys" or "hot air balloons" don't fill you with a childlike sense of wonder, then don't miss this magical region found in the central part of Turkey.
What to Do: Fairy chimneys are the name given to Cappadocia's incredible natural rock formations. They're best enjoyed from the sky and the quiet tranquility of a hot air balloon.
This peaceful adventure will make you think you are exploring a new universe. Although it's not recommended for those fearful of heights.
What to Drink: This area has excellent diurnal shifts (aka hot days and cool nights) which the native grapes love. Try Okuzgozu and find flavors of dark red fruits, eucalyptus, and baking spices.
Check out Kalecik Karasi for candied red fruit notes. And the local white grape Emir comes in both sparkling and still format with an apple, pineapple, and citrus fruit profile.
---
Australia
Stargazing and Sparkling Wine in Tasmania
Mainland Australia is great, but we wanted to highlight the wine trip opportunities available on the island of Tasmania as an alternative to its better-known regions.
What to Do: The oldest and largest concentration of Australian wineries are located on the northern coast in the Tamar Valley region. Fortunately, this is near the iconic Cradle Mountain: a must for the 'Gram.
With 20 National Parks to choose from you can kayak, hike, hang glide or simply sit and stare up at the stars.
What to Drink: You may think Shiraz is synonymous with all of Australia. But on Tasmania, the cooler climate and the grapes have more in common with Champagne than the rest of Oz.
Crisp, refreshing bubbles or tart, elegant Chardonnay are the region's signature. You can even try a comparison and see if the Pinot Noir here can compete with Oregon's Willamette Valley.
---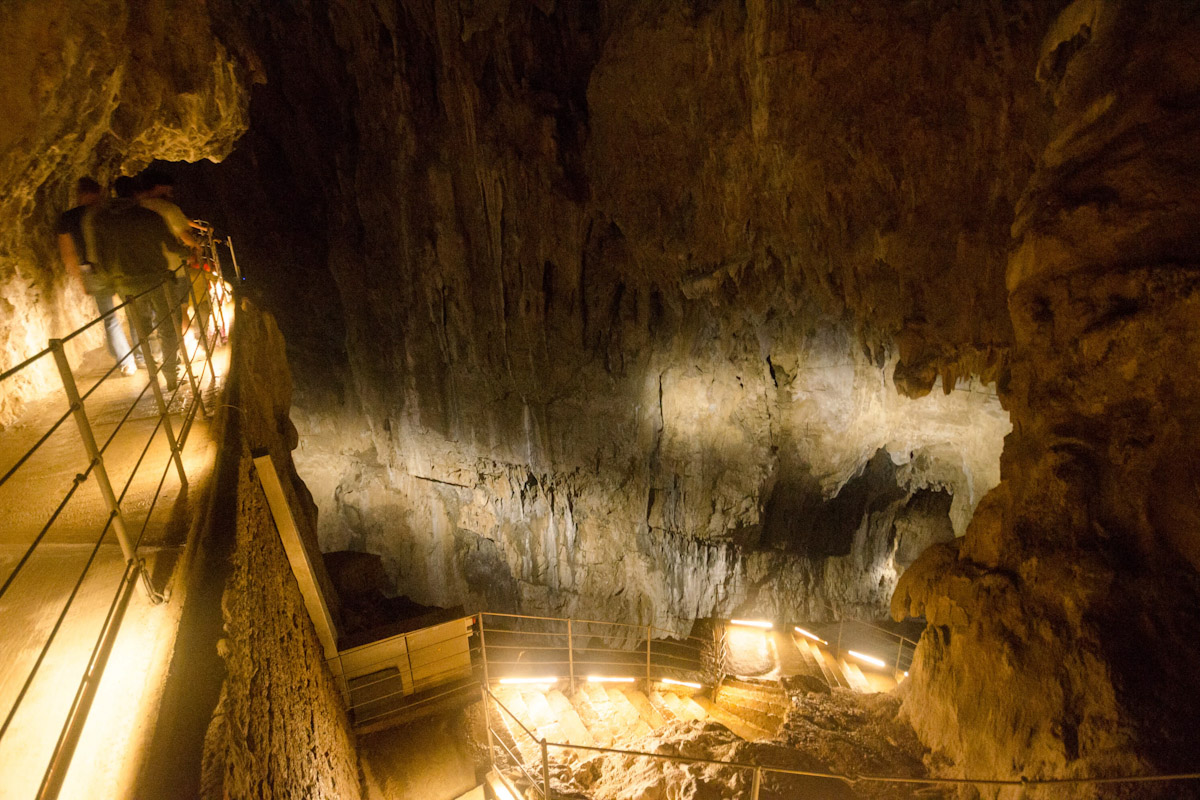 Slovenia
Caving and Orange Wine in Goriška Brda
Slovenia has mountains to hike and outstanding viewscapes. But it's also got well-made traditional wines from familiar faces like Chardonnay and Cabernet.
What to Do: The Škocjan Cave system was first written about by Posidonius of Apamea in the 2nd century B.C. Today, the explored length of the caves is 6.2 km and a UNESCO World Heritage site.
Check out your echo, admire the stalactites, or follow the Reka River to where it disappears underground before reappearing in Monfalcone, Italy.
What to Drink: Pronounced "Go-Resh-Ka Bird-a," this is the newest cool kid on the wine region block. Which is convenient, as it's right on the border with Italy's Friuli region.
You can even find an overlap of varieties like Rebula (known in Italy as Ribolla), and Malvazija (aka Malvasia).
This region is also a great place to learn all about the natural wine movement and how orange wine gets the nutty, honey, fruit rind profile.
---
Plan the Wine Trip Adventure of a Lifetime
Like standing on a mountaintop, a well made wine can bring about a sensation of awesomeness.
If you can get both experiences in one wine trip, then why not seek that out? There's always time to research and plan before your next big adventure.
Have you explored any of these regions? What are some favorite wine adventures you've been on?