For those looking for wine-buying inspiration, the 2020 Wine Buying Guide is a handy overview organized by style so you can find what you like.
This year we honor the classics.
Learn what varieties and regions are known for excellent quality along with a few added examples to get you started.
2020 Wine Buying Guide
Contents
Bold Red Wines
Bold and opulent red wines that lend rich, ripe fruit flavors.
Full-bodied red wines seem to make everyone happy. For this category, we narrowed it down to the boldest grape varieties along with regions with warmer climates.
Shiraz from South Australia
These wines are some of the richest, boldest Syrah you can find. Great examples from McLaren Vale and Barossa Valley look opaque and also exude meaty-smoky aromas supported with liqueur-like blackberry and plum fruit.
Cabernet blends from North Coast, CA
Encompassing all that bold, sumptuous blue and red fruit is a "dusty" quality. This is often attributed to the region's volcanic-laced soils. Napa Valley and the warmer spots in Sonoma deliver the goods.
Châteauneuf-du-Pape and other G.S.M. Blends
The secret to these wines is a prevalence of Grenache. It launches these rich raspberry flavors over whiffs lavender, sage and soil that critics describe as "scorched earth." You can find these wines all over Southern France, but Châteauneuf-du-Pape still reigns as crown jewel.
Italian Red Blends (aka "Super Tuscans")
France is the original home of Cabernet and Merlot. However, in Tuscany (and neighboring Lazio), you'll find flavors more spiced and leathery. The Bolgheri subzone has peaked, but Maremma Toscana and Lazio offer great values.
Tempranillo from Ribera del Duero and Toro
After Rioja, Spain has two other Tempranillo regions that will make you lose your jacket: Ribera del Duero and Toro. The intensity of the sun here results in much darker blackberry fruit tones in addition to a generous chocolaty oak.
Merlot Blends from Right Bank Bordeaux
While many aficionados first look to the Left Bank for Cabernet, it's the Merlot-Cabernet Franc blends from the regions of Pomerol and Saint-Emilion that quietly steal the show.
Malbec from Luján de Cuyo in Mendoza
Mendoza itself is a huge place. Therefore, those looking for textbook rich, blueberry-driven Malbec, hone your searches around Luján de Cuyo (including vineyard areas Agrelo, Lunlunta, Vistalba, Las Compuertas, Ugarteche, and Perdriel). If you're vintage hunting, 2016 and 2018 were awesome, and 2017 is a little riper with less acid.
Old Vine Zinfandel from California
Before prohibition (when wineries ripped out vineyards), Zinfandel was the most planted grape. Hence, the old vines that survived produce some of the most compelling Zin known to human kind.
Elegant Red Wines
Subtle and complex red wines with intriguing textures and minerality.
Pinot Noir from Bourgogne, France
Cherries, hibiscus, and small aroma clouds of mushroom waft off a glass of good Burgundy. This is the wine that teaches us that subtlety is powerful. And since there are many sub-regions to explore, identify some decent recent vintages, and look for those small-to-midsize producers.
Nebbiolo from Piemonte
If you ask a somm, they'll tell you with a wistful look that great Nebbiolo is cherries, roses, and tar. No one ever thought that tar was a good smell. But that's because they never had a good Barolo. Also, to give you some options, Piedmont makes more Nebbiolo than just Barolo.
Pinot Noir from Australia and New Zealand
It's time to dip into some of the Pinot Noir coming from Australia and New Zealand. In Australia, the regions of Geelong and Yarra Valley in Victoria are giving good ol' Bourg a run for her money. In addition, Central Otago in New Zealand, has more producers practicing whole cluster fermentation. This gives these Pinot Noir wines more tannin.
Cabernet Franc from the Middle Loire Valley
Loire reds champion wines with "flavors other than fruit." These wines define earthy and are framed by powerful acidity. However, for those of us who've had our fair share of fruit bombs, this stuff is the sauce we love. Hold a bottle for 10 years and if it doesn't make you weep when you open it then you probably don't have tear ducts.
Sangiovese from Chianti Classico and Montalcino, Italy
The problem with Chianti and Brunello di Montalcino is that half the winemakers use new oak and the other half make it the "old way" with very little oak. As a result, many North Americans love oak (we just can't help ourselves!). Therefore, next time you're in the market for some real Italian Sangiovese, find a producer who allows the grape to speak for itself. Believe me, it has a lot to say.
Nerello Mascalese from Mount Etna, Sicily
Any expert reading this could easily dispute Nerello Mascalese as "not a classic" and be totally correct. However, this grape is the darling of restaurant people everywhere (even Action Bronson likes it). It deserves your attention, too. After all: it grows on a live volcano.
Rosé Wines
The regions and varieties that make the world's best rosé.
Provence "Côtes" Rosé
The top wines in Provence all seek to add a dollop of Rolle (aka Vermentino) to round out the blend. This is one secret. The other is to explore the region's rare grapes (like Tibouren) that make age-worthy rosé (if you can manage not to drink it, which is generally impossible).
Rosé from Corsica
Just because no one talks about Corsican Rosé doesn't mean it's not classic. It just doesn't have a PR team. The grapes here include hard-to-say names like Nielluccio and Sciacarello along with rosé blending favorites like Grenache and Vermentino. These wines will not disappoint.
Txakolina Rosé
The leanest and driest of the bunch, this wine comes to us from outside of San Sebastien where they grow an extremely rare sibling of Cabernet Sauvignon called Hondarribi Beltza. Expect un-fruit flavors, green floral notes, and sometimes a tingle of carbonation.
Rich White Wines
Bolder white wines accentuated by oak aging.
Cool and Coastal Chardonnay
Chardonnay grows everywhere. However, that doesn't mean it grows everywhere well. Look for regions with sun protection. For example, coastal areas such as Chile's and California's coastal valleys receive morning clouds. There's also some cool spots New Zealand and Oregon that are consistently putting out top notch Chardonnay.
Bourgogne Blanc (aka White Burgundy)
Burgundy produces a diverse range of Chardonnay, so if you're going for the best oak-aged examples, start your searching in the Côte de Beaune sub-region. Since prices generally start higher, you can increase your odds by picking a recent decent vintage (of which there have been many!).
Rioja Blanco with Viura
Beyond Chardonnay, it's hard to find a white wine style that consistently receives oak aging. However, the Rioja classification requires it. With age, Viura gains richness, color, and these delightful nutty flavors.
Arinto from Portugal
Arinto is a major white grape in Portugal and thus, has many faces. If you're looking for intensity, dig around in the Dão, Bairrada, and Lisboa (including Bucelas – "Boo-sall-us") where producers like to oak age. Expect aromas of honey, beeswax, smoke and structured bitterness on the finish.
Sémillon-Sauvignon Blanc Blends
The herbaceous flavors in Sauvignon Blanc and Sémillon make for oily, savory wines when you add oak. Bordeaux Blanc is the inspiration for this style, but just so you know the very regions that make great Cabernet often specialize in this incredible white grape blend.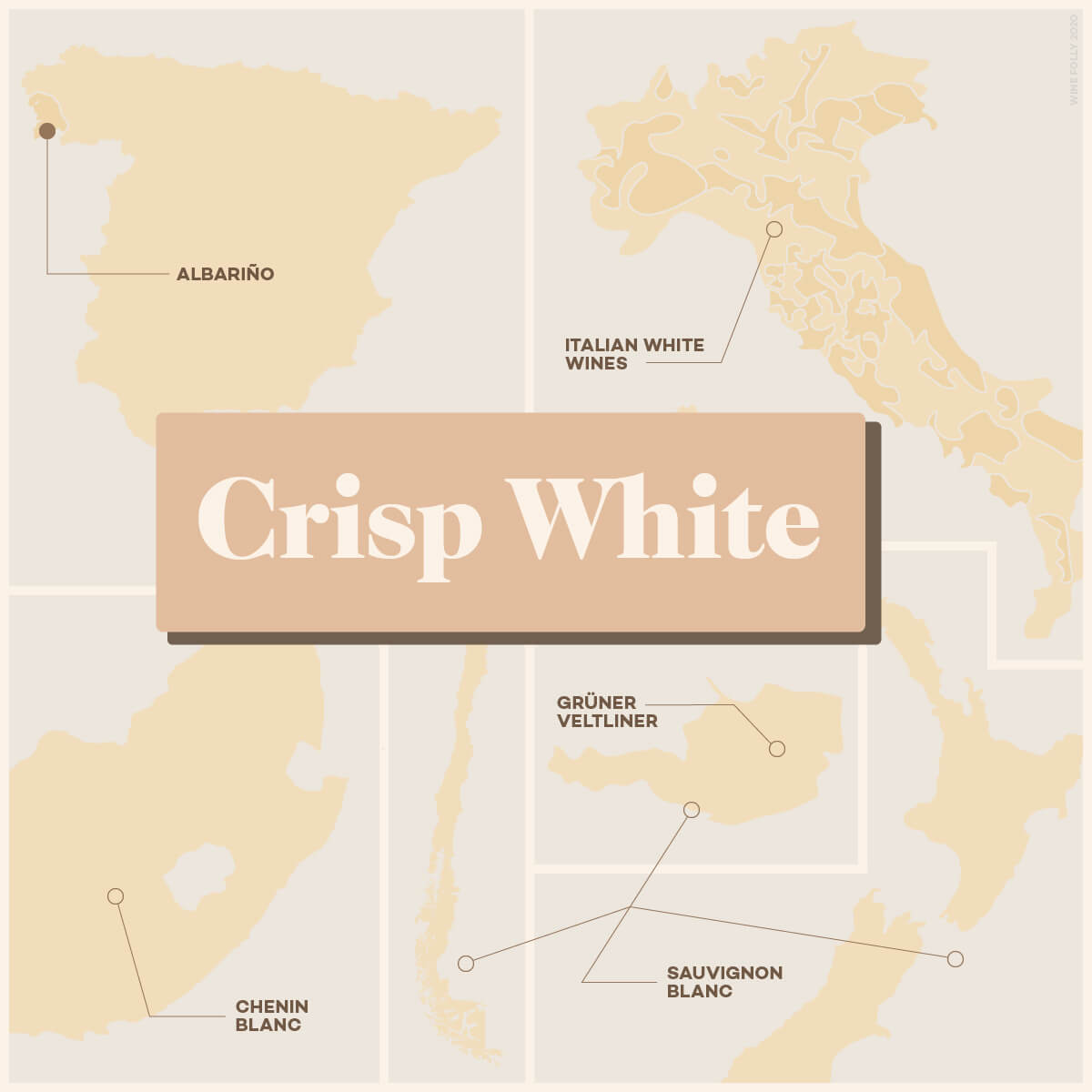 Crisp White Wines
Zippy, mouth-zapping white wines from on and off your radar.
Italian White Wines
Drink your way around Italy's 20 major regions and you'll uncover a unique crisp white in each spot! One thing that ties these wines together is Italy's love for bitterness. Wines often deliver a savory-crunchy note (almost like celery or green almond) on the back palate. These are incredible food wines.
Cool and Coastal Sauvignon Blanc
Sauvignon Blanc shows a much more herbal and passion-fruit character coming from cool climes. New Zealand is the obvious choice. However, be sure to check out Chile and Austria for delightful surprises.
Albariño from Rias Baixas Spain
The secret to finding your Albariño is to look into what sub-region within Rias Baixas it's grown. For example, the coastal areas of Val do Salnés or O Rosal make a much leaner and saline wine. In the meantime, inland areas like Condado de Tea get more sun (and have more clay in the soils) and make a richer peachy and beeswax style.
Grüner Veltliner from Austria
Whether you lust for Japanese ramen, Thai green curry, or Viet fresh rolls, Grüner Veltliner is your friend. The cheaper examples tend to be lean and green. Though for a few more dollars, you can slip into some of the richer ones with white peach flavors.
Chenin Blanc from South Africa
The South Africans do everything with this grape. It makes incredible brandy, epic dessert wines of Constantia, serious sparkling wines labeled "Cap Classique," along with a range of still wines too. What's amazing is that even the value wines taste delicious.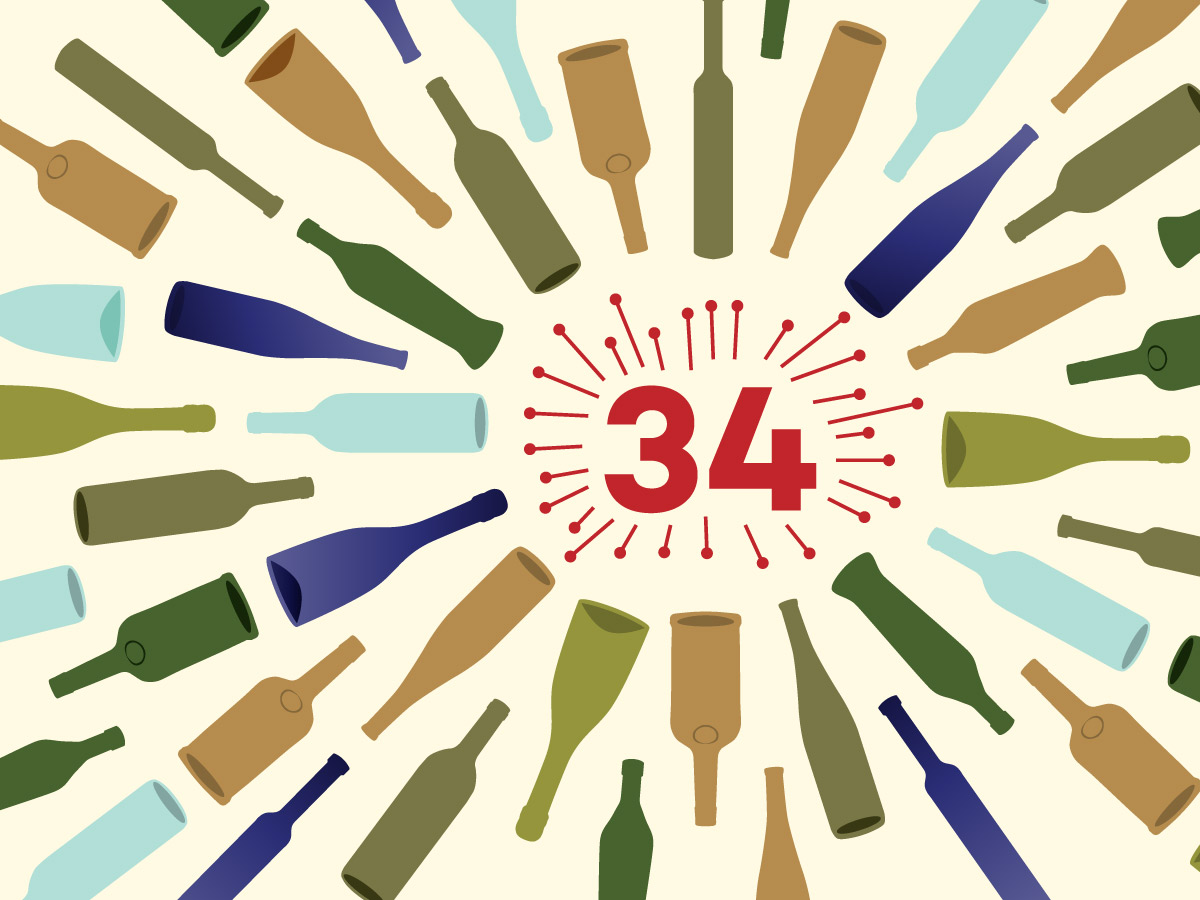 Make Your Own 2020 Wine Buying Guide
You don't have to take these 2020 wine buying guide recommendations exactly.
Instead, expand your palate and while improving your sense of taste at the same time. Make your own list of 34 select wines from the open-ended and highly educational Wine Tasting Challenge.