Let's get one thing straight: cheap wines of decent quality aren't mythical. Spending $10–$15 on wine does go a long way if you know where to look.
Of course, many awesome wines are indeed expensive, but one can't always pay top dollar. Especially if you're trying to learn and taste more – the bottle budget adds up quickly.
Cheap Wine? No. Call it a "QPR"
The Brits came up with a great economics-driven acronym for "good cheap wines," they call 'em QPRs as in Quality-Price Ratio. This is keen lingo, my friend.
Fortunately, great values lurk on your local shelves at everyday prices. Whether you're seeking something light and bright or big and bold, here are some inexpensive wines that will satisfy casual drinkers and aficionados alike.
---
Red-y, Set, Go!
Red wines that punch above their weight
Garnacha (Tinto) from Spain
Garnacha wines entice with lively red cherry flavors that are underpinned by black pepper and licorice.
The same grape that brings us delightful rosado in northern Spain also provides excellent value red wines. Producers typically use younger vines to produce rosé, but the best reds generally come from older vines that offer more concentration and depth.
Where to look: The regions of Calatayud, Campo de Borja, Cariñena, Terra Alta, and Vinos de Madrid offer both excellence and obscene value.
Expect to spend: $10–$16 USD (and perfect for a plate of BBQ ribs.)
---
Carménère from Chile
(Re)discovered in Chile in the 1990s, Carménère was originally a Bordeaux blending grape that was mistaken for Merlot in this strip of South America.
Carménère found its sweet spot in Chile's warm and dry Maipo and Colchagua Valleys where it produces powerful wines full of plummy flavors accented by a signature green, herbaceous streak that tastes somewhere between jalapeño and green peppercorn.
Where to look: The regions of Rapel Valley, Colchagua, and Aconcagua offer some of the best quality-to-price values.
Expect to spend: $15–$21 USD(and pair like magic with lamb shawarma)
---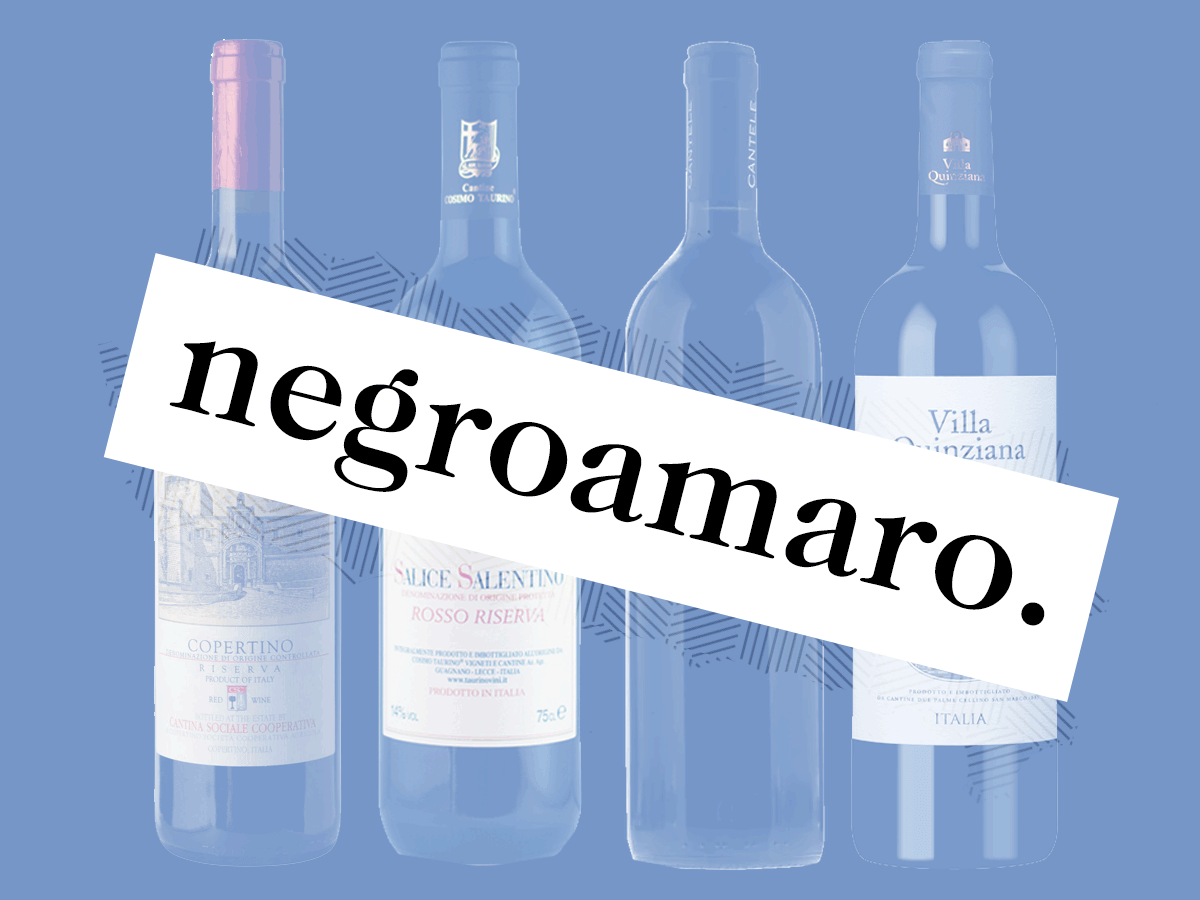 Negroamaro from Puglia
Though the heel of Italy's "boot" is better known for its Primitivo, wines from the Negroamaro grape have made great strides in recent years.
Negroamaro produces a fuller, meatier, earthier style. So, if you're a fan of full-bodied red with rich black fruit flavors (the grape's name does translate to "black bitter," after all…), try it.
Where to look: Wines labels don't often display variety in Italy. Instead, search for these regional names: Copertino, Salice Salentino, Squinzano, Matino, Alezio, Brindisi, and Nardo
Expect to spend: $10–$15 USD.
---
Awesome White Wines at "Cheap Wine" Prices
Easy-to-love white wines that offer value and versatility
Picpoul de Pinet from France
As fun to say as it is to drink, Picpoul de Pinet ("peek-pool duh pee-nay") hails from the Languedoc in southern France. The Picpoul grape doles out zesty aromas and flavors of citrus and white flowers with a hint of salinity, making it the perfect wine for al fresco festivities.
From the vineyards in Pinet, you can see oyster beds in the sea–and they just so happen to pair perfectly with Picpoul… (proving once again that what grows together goes together.)
Where to look: Picpoul de Pinet is how it's labeled
Expect to spend: $10–$12 USD (and dare yourself to shuck your own oysters.)
---
Chenin Blanc from South Africa
Chenin from South Africa consistently over-delivers for the price. Although native to France's Loire Valley, over half of the world's Chenin Blanc grows in South Africa. Often unoaked, wines brim with tropical fruits and a hint of nuttiness.
Where to look: For richer and rounder fruit flavors, look for wines from Stellenbosch. If you'd prefer a leaner and tighter wine, dig around for choices from Swartland.
Expect to spend: $10–$15 USD (and try it with Thai take out!)
---
Gentil d'Alsace from France
The eastern French region of Alsace is famous for its single-varietal white wines (like Riesling and Gewürztraminer), but the blends get overlooked. Good for us–more cheap wine!
For a wine to carry the "Gentil" moniker (pronounced "zhaun-teel"), it must contain a minimum of 50% of Alsace's 4 noble varieties, which include Riesling, Pinot Gris, Gewürztraminer, and/or Muscat.
The cool thing is there are a bunch of weird white grapes in Alsace, like Sylvaner, Pinot Blanc, and Chasselas. Think orchard and citrus fruits with opulent florals that make a great companion for spice-driven cuisine.
Expect to spend: $10–$15 USD
---
Rosé Wines You Were Never Told About
Two regions for Rosé (that aren't from Provence)
Rosé d'Anjou from France
With a hue that's truly pretty in pink (nearly "Barbie" pink), Rosé d'Anjou comes from the Loire Valley in France. A rare grape called Grolleau Noir gets blended with Cabernet or Gamay and makes for wines with candied red fruit and rose petal notes, often with a dollop of sweetness on the finish.
Where to look: Labeled as Rosé d'Anjou
Expect to spend: $10–$14 USD
---
Garnacha Rosado from Spain
Garnacha (aka Grenache) grows in several places throughout northern Spain. The grape's thin skins and succulent red berry flavors make it the choice for dry, snappy rosé wines (or rosado, as they say in Spain).
Expect vibrant watermelon, strawberry, and even a touch of lemon in the flavor profile of Garnacha Rosado.
Where to look: Rioja and Navarra both produce fantastic values. In Rioja, look for wines with a higher percentage of Garnacha to Tempranillo.
Expect to spend: $7–$15 USD
---
Adventure Into Inexpensive Wines!
When you're looking for good, cheap wine on a tight budget, it pays to be adventurous.
Seek out those "other" regions (e.g., Portugal, Chile), and look for lesser-known grape varieties (like País or Baga). You can't NOT find a new favorite along the way.
Question: What are some of your favorite cheap wines from those lesser-known regions and grapes?