Here are 15 crave-worthy comfort food and wine pairings. Be warned, naps are not included (although, you'll be tempted!).
Images of wine pairings tend to go in a decidedly elite direction. Fine cheeses, charcuterie boards, and foie gras seem to be the best friends of wine. But at the end of a long, stressful day, who has the time or energy for that?
There's no shortage of people who'd rather eat those hearty, familiar meals that have brought us joy since we were kids. The sort of dinners that stick to your ribs and make you feel just a little bit guilty. And who says you can't pair a great bottle of wine with all that?
Meatloaf & Mashed Potatoes
Try: Juicy Italian reds like Montepulciano d'Abruzzo and Nerello Mascalese
Why It Works:
Big and fruity wines like Montepulciano d'Abruzzo have been standing up to hearty meats and tomato sauces since the first Italian grandmother decided her kids looked too skinny.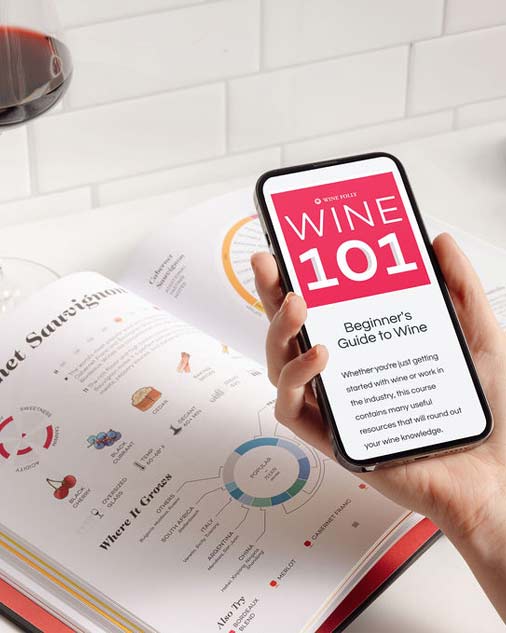 Buy the book, get a course.
Get the Wine 101 Course @ 75% OFF with the purchase of Wine Folly: Magnum Edition.
Shop Now
The dark cherry and raspberry fruitiness found in these Italian classics hold up to meatloaf, while adding a level of savory herbaceousness that marries with the heavy herbs and spices.
---
Reuben Sandwich, Dill Pickle, and Potato Chips
Try: Red wines that taste great chilled, such as Zweigelt or Italian Bonarda.
Why It Works:
There's a bright, tart acidity in Zweigelt and Italian Bonarda (not to be confused with the Argentinian wine of the same name) that moves through all that melty, crispy goodness beautifully.
The dark fruit and spice notes that are found in both wines go wonderfully with the distinct flavor of rye bread without tasting too sweet.
---
PB&J with Cheetos
Try: A sparkling Rosé like Crémant d'Alsace Rosé
Why It Works:
Because it's based on 100% Pinot Noir grapes, Crémant d'Alsace Rosé has a crisp, strawberry fruitiness that complements rich peanut butter in the same way that jam or jelly does.
When you're eating Cheetos with Rosé, you're basically engaging in a low-rent cheese board and wine pairing situation: just be careful not to get too much cheese dust on your nice crystal.
---
Polish Kielbasa with Grilled Onions
Try: A fruity, fuller bodied white like Grechetto or Soave
Why It Works:
Both are dry with robust qualities of stone fruit and melon, which will complement the rich flavors of the sausage without adding an unpleasant cloying quality.
They're also a bit higher in body and acidity, which will hold up to the heartiness of the meat and mustard (and help get rid of onion breath while they're at it).
---
Top Ramen
Try: Something bubbly with a little sweetness, like Lambrusco or Prosecco.
Why It Works:
The green apple and melon notes from your average Prosecco are going to go wonderfully well with a chicken or shrimp Ramen, while the strawberry-rhubarb fruitiness of a Lambrusco should work best with beef-based styles.
The bubbles in both are intensely refreshing after mouthfuls of salty noodles and oily broth, and they will help clean your palate.
---
Bean & Cheese Burrito
Try: Bold, savory reds like Rioja Crianza or Sangiovese
Why It Works:
The savory notes of leather, pepper, and herbs that are so frequent in Tempranillo and Sangiovese pair brilliantly with cheeses and heartier red sauces, with the tannins cutting nicely through the heavier flavors.
The fuller bodies of both wines complement the robust flavor and scale of burritos (especially if you bought one that's the size of a throw pillow).
---
Funnel Cake
Try: Something sweet and sharp, like a German Spätlese Riesling
Why It Works:
The high acid of a Spätlese is perfect to cut through the fried batter of a funnel cake, while the added sweetness will stand up to the half cup of powdered sugar you've no doubt topped it with.
The stone fruit and citrus of a sweeter Riesling will also add a lot of extra flavor: as if you topped your funnel cake with peaches or jam!
---
BBQ Pork and Potato Salad
Try: An off-dry Riesling (for vinegary sauces) and Tannat (for sweeter sauces)
Why It Works:
The high acidity of an off-dry Riesling will match the astringent nature of a more vinegar-based BBQ sauce (like many Carolina-style sauces), and add some fresh fruitiness to complement the grilled meat.
The heavily tannic nature of a Tannat, on the other hand, will match the fuller body of a thicker sauce, while also cutting through the sweetness you'll see in many BBQ sauces.
---
Fish and Chips
Try: Tight and tart wines, like Picpoul or Blanquette de Limoux
Why It Works:
The lip-puckering acid in these wines cuts through batter and grease like a razor, leaving your mouth free of oil (and any residual fishiness, too).
In addition, the citrus-heavy notes present in both of these Languedoc-Roussillon favorites adds zest: the same as if you had squeezed some lemon over your fish.
---
Pizza Rolls
Try: Dry, savory Italian reds like Chianti or Nero d'Avola
Why It Works:
The fuller body and rich, red notes of tomato and leafy herbs you'll find in Chianti and Nero d'Avola were basically made to complement the heartiness of pizza roll filling.
Often, Nero d'Avola displays notes of cured meat, which is perfect to go along with more pepperoni-heavy snacks in general.
---
Grilled Cheese and Tomato Soup
Try: Rich, herbaceous reds like Chilean Carménère or Cabernet Franc
Why It Works:
With their notable levels of pyrazine, these savory wines do double duty by matching the rich, tomato quality of the soup, while also adding an increased complexity to the herbs and spice that it's made with.
The higher acid and tannins in these reds also pair wonderfully with the fat in a grilled cheese: do your best not to dunk it in your wine glass!
---
Chicken Pot Pie
Try: Expressive, high-acid whites like Vinho Verde or Grüner Veltliner
Why It Works:
Acidic, off-dry whites like these contrast brilliantly with creamy, chicken-based gravies and sauces, and the bright, fruity notes in both will complement the sweet vegetables usually found in a pot pie.
Many Grüner Veltliners have notes of pepper and herbal qualities to them, which helps bring out a lot of the spices already in the pie.
---
Sloppy Joes & French Fries
Try: Bold, meaty reds, like New World Cabernet Sauvignon or Shiraz
Why It Works:
The booming black fruits and high tannins in California Cab or Australian Shiraz are more than a match for the rich, red beef and sauce that make up your average Sloppy Joe.
Those same tannins will have wonders worked on them by the saltiness of the fries, as salt has a way of muting the bitterness associated with harsher tannins.
---
Chocolate Chip Cookie a la Mode
Try: Darker, fortified wines like Oloroso Sherry
Why It Works:
The full body of an Oloroso Sherry is going to match the creaminess of your ice cream wonderfully, and its rich toffee and nut flavors will complement the cookie, too; you'll swear it has nuts in it!
There's also a surprising amount of acidity in a Sherry that will cut through the dairy of a cookie a la mode quite nicely.
---
Tuna or Chicken Salad Sandwiches
Try: Clean and light whites like a Pinot Grigio or Verdejo
Why It Works:
The light, straightforward notes of citrus and melon will mix well with the white meat of both of these bound salads, without adding more heaviness.
Their crisp acidity will also serve to balance the richness of the mayonnaise, without being so overwhelming that you're worried it will curdle.
---
Wine and comfort food are totally complementary: they go together like Peanut Butter and Jelly! Or a PB&J and Crémant d'Alsace Rosé, as the case may be!
What are some of your favorite wines to pair with comfort food?